What is Exercise Sea Vigil-22?
Exercise Sea Vigil-22 was organized by the Indian Navy on November 15 and 16 this year. This is the third edition of the Pan-India coastal defence exercise. The previous edition was held in January 2021.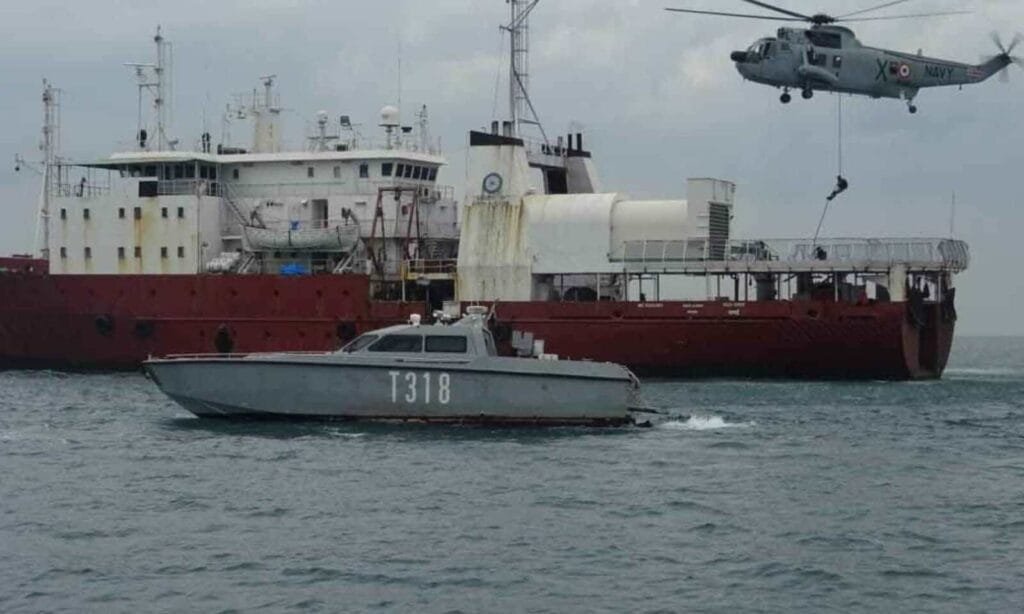 About Exercise Sea Vigil
Exercise Sea Vigil was conceptualized in 2018 to strengthen India's coastal defence by improving coordination between various stakeholders. #Exercise Sea Vigil-22
It is a build-up towards the larger TROPEX exercise.
It covers India's entire 7,516 km coastline as well as 2 million sq km of Exclusive Economic Zone (EEZ).
This national-level exercise provides the opportunity at the apex level to assess India's preparedness in the maritime security domain and coastal defence.
It provides a realistic assessment of India's strengths and weaknesses and helps the country boost its maritime and national security.
The exercise is the largest in India in terms of geographical extent, the number of stakeholders, the number of units involved, and the broad objectives.
Who participated in this exercise?
The national-level coastal defence exercise was organized by the Indian Navy in coordination with the Coast Guard and other government entities involved in the maritime activities of India. The assets of the Indian Navy, Coast Guard, Customs, and other maritime agencies took part in this exercise. It involved the participation of fishing and coastal communities as well. #Exercise Sea Vigil-22
The exercise is facilitated by the Union Ministries of Defence, Home Affairs, Shipping and Waterways, Petroleum and Natural Gas, Fisheries, Animal Husbandry, Dairying, Customs, and other central and state government agencies. #Exercise Sea Vigil-22
About TROPEX
The Theatre Level Readiness Operational Exercise (TROPEZ) is a biennial exercise conducted by the Indian Navy. This theatre-level exercise is conducted in distinct phases that test the Indian Navy's transition from peacetime to hostilities. The first phase is the coastal defence exercise Sea Vigil. This exercise, together with TROPEX, covers the spectrum of maritime security challenges. These exercises validate the Indian Navy's Concept of Operations in various conflict scenarios, improve its warfighting capabilities, and strengthen its role in the maritime security of the wider Indian Ocean Region (IOR).
Best NDA Coaching in Lucknow
Warriors Defence Academy is the Best NDA Coaching in Lucknow. We are the Leading Coaching Institute for NDA/CDS/AFCAT/Army/Air Force/Navy Located in Lucknow. Warriors Defence Academy has the Largest GTO Ground in India. The Aspirants of Defence Services are guided by Ex. Defence Officers. WDA was also Awarded as Best NDA Academy in Lucknow. #Exercise Sea Vigil-22 #Best NDA Coaching in Lucknow
Address: 545-GA/1-CHHA, Chandganj Garden Road, beside Madhuwan Guest house, near Railway crossing, Kapoorthla, Bara Chandganj, Chandralok, Lucknow, Uttar Pradesh 226006
Website: https://warriorsdefenceacademy.com/
Website: https://www.warriorsndaacademy.com/
Call Now: 07081011964
Best NDA Coaching in Lucknow: We offer excellent preparatory training for the entrance examinations to get into the Indian armed forces. #Best NDA Coaching in Lucknow
Best SSB Coaching in Lucknow
Since our inception 7 years ago, under the captaincy of one of India's leading youngest entrepreneurs – Mr. Gulab Singh. Hundreds of our candidates have been selected and many of whom have attained top ranks in final UPSC merit. #Exercise Sea Vigil-22 – #Best NDA Coaching in Lucknow
The institute has highly qualified and reputed team instructors each fully devoted to providing an unparalleled education for NDA/CDS/SSB/AFCAT/CAPF.
The task of teaching transcends the classrooms so as to guide the students to realize their highest potential, and to encourage them to optimise the results.
Involvement and excellence in extracurricular activities like SSB guidance, personality development, debates, team games, lecture, etc feature in the training.
Our aim at the academy is to make the students imbibe discipline and groom moral and ethical values. Come, be a part of this success story and fulfil your desire for joining the reputed Indian Armed forces and serving the nation. #Best NDA Coaching in Lucknow
Best NDA Academy in Lucknow | Join WDA Lucknow – Warriors Defence Academy deeply appreciative and offer you our most grateful welcome. We are happy to announce that Ex. GTO Officer Colonel R. K. Tiwari Sir going to Join our Academy to Guide NDA and CDS aspirants For SSB. WDA is the Best NDA and SSB Coaching in Lucknow India.