Warriors Defence Academy Lucknow | Best CDS Coaching in India | Top CDS Coaching in India
Warriors Defence Academy Lucknow Best NDA Coaching in Lucknow, India @20% Discount for Defence Coaching in Lucknow Join to Call Now 07081011964
Warriors Defence Academy Lucknow | Best NDA Coaching in Lucknow | Best Airforce Coaching in Lucknow | Best Defence Coaching in Lucknow India.
Address: 545-GA/1-CHHA, beside Madhuwan Guest house Chandganj Near Railway crossing, Kapoorthla, Lucknow, Uttar Pradesh 226006
Warriors Defence Academy Lucknow is the Best NDA Coaching in Lko. We are the Leading Coaching Institute for NDA/CDS/AFCAT/Army/Air Force/Navy Located in Lucknow. Warriors Defence Academy Lucknow has the Largest GTO Ground in India. The Aspirants of Defence Services are guided by Ex. Defence Officers. WDA was also Awarded as Best NDA Academy in Lko.
We have complete facilities to Prepare you for Defence Exam…
Faculty – Some of the best names in the field of Defence career coaching are available to impart psychology, GTO and interview training.
Infrastructure – State of the Art infrastructure facility for indoor-outdoor coaching.
Fees – Competitive fee structures have been devised to allow deserving candidates from every strata of society to get an opportunity to avail of a coaching facility.
Computer-aided coaching for NDA/CDS written test
Expert coaching in Personality Development, Leadership, Team Building and Soft Skills Specialized coaching for GTO tasks.
SSB Interview guidance for TGC, NDA, TES, CDSE, SSC
Outdoor task training
Proficiency in Group Discussions
Personal attention and grooming
545-GA/1-CHHA, Chandganj Garden Road, beside Madhuwan Guest house, near Railway crossing, Kapoorthla, Bara Chandganj, Chandralok, Lucknow, Uttar Pradesh 226006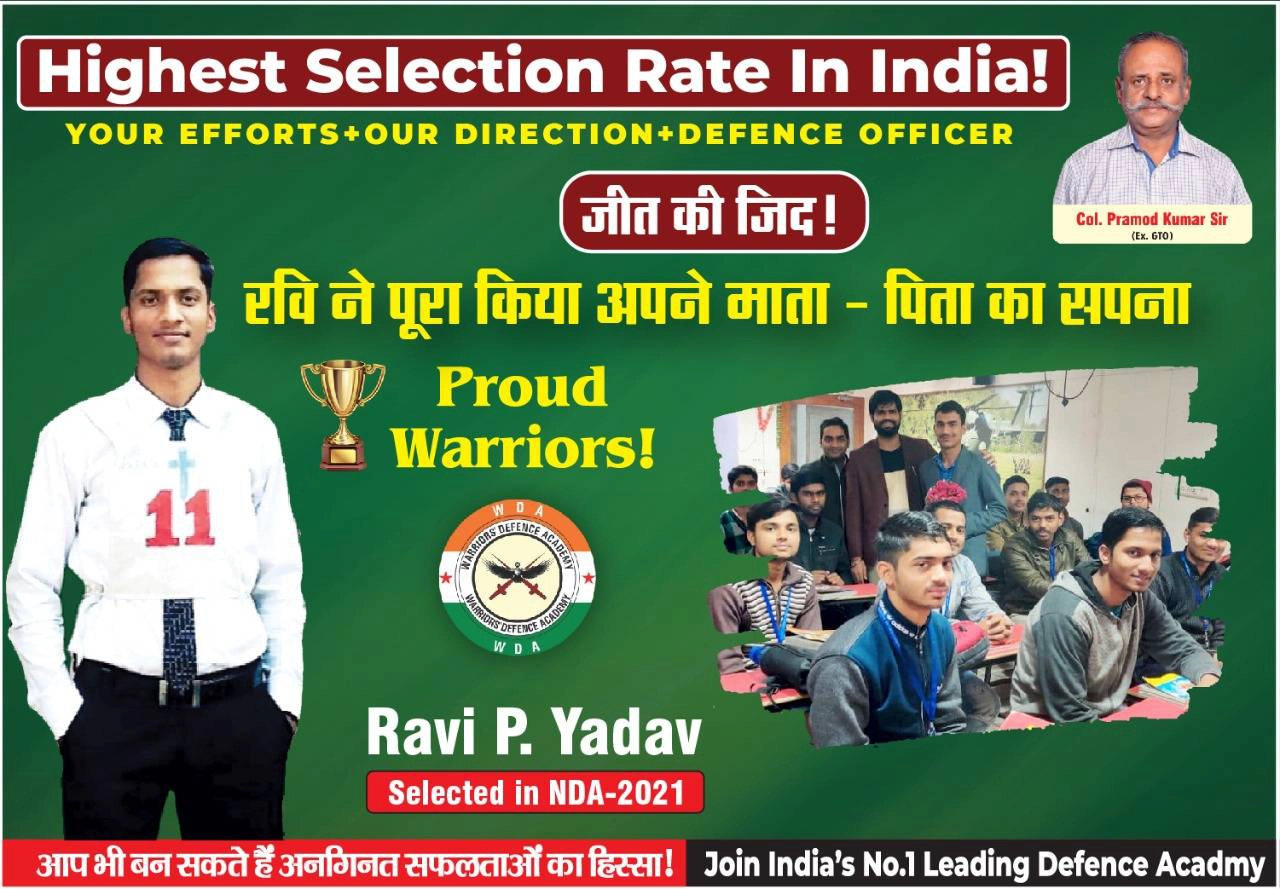 Phone: 07081011964
https://warriorsdefenceacademy.com/
#bestndacoaching #bestnavycoaching #navycoaching #ndacoaching #defencecoaching #defenceacademy #no-1ndacoaching #topndacoaching #topndaacademy #warriorsdefenceacademy #cdscoaching #cdscoachinginlko #Warriors Defence Academy Lucknow

SOLAR GROUP DEVELOPING COUNTER DRONE SYSTEM (CDS)
Countering the threat caused by disruptive drones is now an issue of concern for everyone as hostile countries and non-state actors will try to use drones for surveillance of vital installations and for targeting military assets. Even non-state actors are adept at the use of unmanned aerial systems (UAS) for malicious purposes such as terrorism, violent extremism, espionage, sabotage, propaganda and smuggling of arms, ammunition, drugs, fake currency and other disruptive material. Keeping in view the futuristic requirements of armed forces, EEL is developing a Micro-missile based Counter-Drone System (CDS) with both soft kill and hard kill capability.
The proposed system under development contains a large number of 2 kg micro-missiles which can effectively engage hostile drones up to a range of 2 km. Designed for rapid operational deployment on a highly mobile system, a micro-missile cassette/pod containing 24 / 36 / 48 missiles achieve a heavy and sustained volume of fire and can be seamlessly integrated with a Radar and a Jammer on a 4×4, 2.5 Ton Vehicle or any other vehicle as deemed appropriate like an All Terrain Vehicle. The Radar based detection system will have a detection range of 4-5 km, which would be subsequently 'classified' using an Electro-Optics System at a distance of 2 km. Our Indigenous CDS solution will also be having a Soft Kill capability to jam Satellite-based Navigation Systems and RF Communication Systems of hostile drones supplementing a micro-missiles-based Hard Kill system. This is to also ensure that the kinetic kill option may not always be the preferred option in a sensitive area apprehending collateral damage or for fear of fratricide. The use of high-speed Killer drones as an economical hard kill option is also under development which will be additional to Micro-missile.
A micro-missile-based Hard Kill system will have multiple advantages in comparison to a singular laser-based system in terms of system portability, capability to handle swarms of drones (simultaneous multiple targeting), larger standoff neutralisation of hostile drones, and ruggedness to survive harsh battlefield realities and environment. Another variant of this system under development will be a shoulder-launched missile of weight 1 kg that can be fired by a Jawan to inflict a hard kill up to 600 m range. This will be a good tactical solution along our LC, LAC,IB, coastline or even hinterland.