Top NDA Coaching Institutes in Lucknow: A Comprehensive Guide
Introduction
Are you looking to join the National Defence Academy (NDA) and serve your country with honor and pride? Lucknow, the capital city of Uttar Pradesh, offers excellent coaching institutes to prepare aspiring candidates for the NDA entrance exam. In this comprehensive guide, we will explore some of the top NDA coaching institutes in Lucknow that can provide you with the knowledge, skills, and guidance needed to crack this prestigious exam.
Warriors Defence Academy – Shaping Future Warriors
One of the leading institutes in Lucknow for NDA coaching is the Warriors Defence Academy. With years of experience and a proven track record of success, the academy has earned its reputation for delivering exceptional results. The institute is committed to shaping the future warriors of our nation by providing excellent coaching and guidance to aspiring candidates.
The faculty at Warriors Defence Academy consists of highly qualified and experienced individuals who have cleared the NDA exam and served in the defense forces. Their expertise and in-depth knowledge of the exam pattern, syllabus, and current affairs enable them to provide comprehensive and effective coaching to students.
Why Warriors Defence Academy?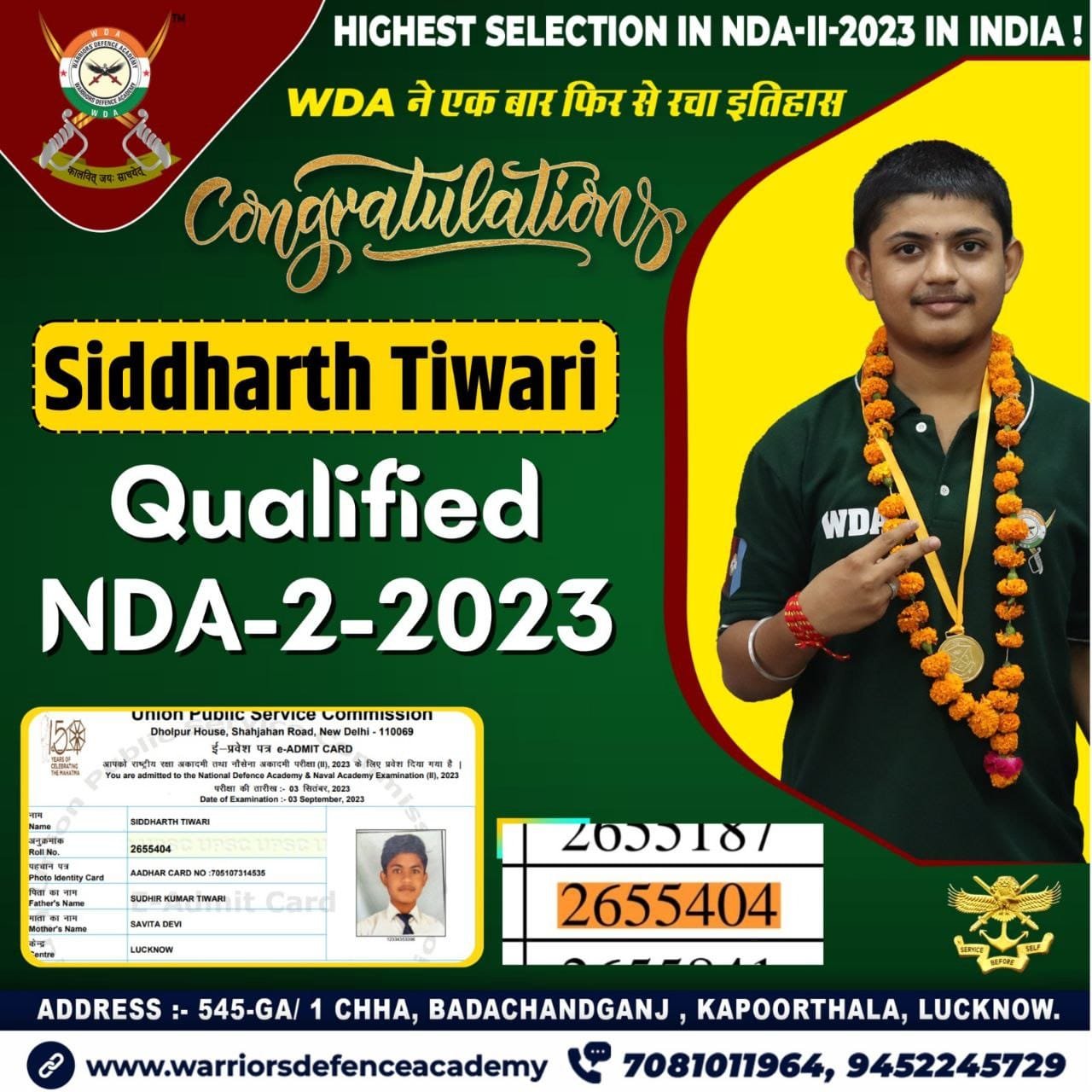 Personalized Coaching and Attention
Warriors Defence Academy believes in providing personalized coaching to its students. Unlike other coaching institutes that have large batch sizes, Warriors Defence Academy keeps its batches small to ensure individual attention to each student. This personalized approach allows the faculty to understand the strengths and weaknesses of every student and tailor their coaching accordingly.
Comprehensive Study Material
To excel in the NDA exam, it is crucial to have access to comprehensive study material. Warriors Defence Academy provides well-researched and up-to-date study material that covers all the necessary topics for the exam. The study material is designed by experts in the field and includes detailed explanations, practice questions, and previous years' question papers.
Mock Tests and Regular Assessments
To gauge the progress of the students and help them identify their areas of improvement, Warriors Defence Academy conducts regular mock tests and assessments. These tests simulate the actual exam environment and enable students to get a feel of the exam pattern and time management. The faculty provides detailed feedback and analysis of the performance after each test, which helps students work on their weaknesses and enhance their strengths.
Physical Fitness Training
Apart from academic coaching, physical fitness is also a crucial aspect of the NDA exam. Warriors Defence Academy understands this and provides physical fitness training to its students. The academy has expert trainers who conduct regular fitness sessions to help students improve their stamina, endurance, and overall physical fitness.
Personality Development
Clearing the NDA exam not only requires academic knowledge but also a strong personality. Warriors Defence Academy focuses on the holistic development of its students by organizing personality development sessions. These sessions help students enhance their communication skills, build confidence, and develop leadership qualities – all of which are vital for success in the defense forces.
Conclusion
Choosing the right coaching institute plays a crucial role in your journey towards joining the NDA. Warriors Defence Academy in Lucknow is a premier institute that provides comprehensive coaching, personalized attention, and excellent study material to help aspiring candidates crack the NDA entrance exam. With their experienced faculty and track record of success, Warriors Defence Academy can be your stepping stone towards a successful career in the defense forces.
So, why wait? Enroll in Warriors Defence Academy today and kickstart your journey towards becoming a proud warrior of the nation!