How to Become a Para Commando Officer?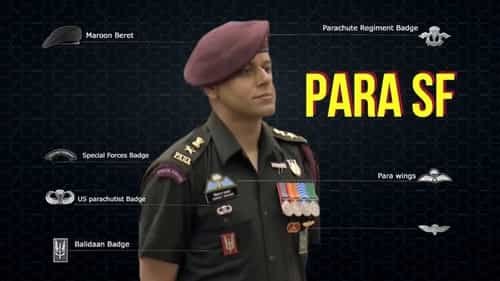 Being a member of the Indian Army is a position of pride and honour. Every year, numerous students aspire to join the defence forces of our country. Since 1966, the Para Commandos have been the largest and the most crucial part of the Special Forces of the Indian Army. One of the special forces units of the Indian Army is Para Commandos. This blog aims to provide you with some guidance to pursue your career as a Para Commando officer.
Who are Para Commando Officers?
Para commando officers are a part of the defence forces who mandate with special operating missions like direct action, hostage rescue, counter-terrorism, unconventional warfare etc.
The Parachute Regiment, consisting of PARA and PARA (SF) battalions, is the elite volunteer force of the Indian Army.
The Parachute Regiment presently has nine special forces, three special forces (airborne), two Territorial Army and one Counter-Insurgency (Rashtriya Rifles) battalions in its fold.
Owing to their critical role, the regiment needs to maintain an optimum level of efficiency and physical fitness which makes recruitment as a Para Commando Officer difficult and rewarding.
Selection Process to be a Para Commando Officer
For getting recruited as the Para Commando Officer, one can either have direct recruitment in the special forces or through transfer from regular army units.They are put through a probationary periods of three months for Paratroopers (Airborne) Battalions (5,6,7,23,29) and six months for Para (Special Forces) battalions (1,2,3,4,9,10,11,12,21 PARA).
Direct Recruitment
The selection process of motivated soldiers to the Para Commando forces is done through rigorous physical strength as well as written tests.
These are conducted by the board of officers of the Pre Recruit Training Course or PRTC at the ARO station.
Successful and eligible candidates i.e. those attaining 100% marks in Physical Fitness tests and 50% marks in Written Test and are in merit will be asked to exercise an option of joining the PARA Regt by AROs just before their despatch. These volunteer candidates will be subjected to additional tests for selection for PARA Regt.
These candidates who have exercised the option of joining the PARA Regt will have the assurance of joining the already allotted Parent Regt if they fail to qualify in the special screening tests for the PARA Regiment.
What is the Indian Army Rally and How Can You Prepare For It?
Eligibility – Para Commando Officer
Candidates must check the eligibility mentioned below to become a Para Commando officer in India.
The vacancies are only for male candidates.
The age criteria are between 18-23 years to apply to be Para Commando.
The minimum height of the candidate should be 157 cm i.e. 5.1 feet in Army and Navy and 162.5 cm in Airforce.
The educational qualification of the candidate should be passed in the 10th and 12th standards.
Must have experience working in the Indian Army for a minimum period of 2 years after passing the rally examination.
Physical Test – Para Commando Officer
Tabulated below is a list of physical tests along with their required qualification standards.
| | |
| --- | --- |
| Physical Test | Qualification Standards |
| 5 Km Run | 20 Mins |
| Chin Up | 14 |
| Push Up | 40 reps in 1 Min |
| Sit Up | 80 reps in 2 Mins |
| Mtr Shuttle | 17 times in 01 Min |
Para Commando Officer
Recruitment Through Army
To understand how to become a Para Commando Officer, one must know the tests required. All personnel are first required to qualify as Paratroopers and the selected candidates may choose to advance to the SF selection, which takes place twice a year in the spring and the autumn term. To become a Para commando, one has to first join the Indian Defence as an officer for which there are exams like
NDA Exam – National Defence Academy
CDS Exam – Indian Military Academy
CDS Exam – Officers Training Academy
If an NDA cadet wishes to be any of the three wings, they should join the respective wings after NDA. Volunteer Gentlemen Cadets from the Indian Military Academy/ Officers Training Academy will be commissioned at the scale of two officers per battalion per year. These officers will be allotted a parent regiment by MS Branch. 
Officers will forward their application in duplicate to MS Branch (MS-2) duly countersigned by the Commanding Officer with a recommendation of higher HQ (one up).
Officers already serving in any Arms and Services can volunteer for the Parachute Regiment. They must have less than five years of service on the day they volunteer and must be SHAPE-I in the medical category and be graded 'EXCELLENT' in BPET. These officers will retain their affiliation to their Regiment/Corps (as parent regiment).
In Para SF Commando, paratroopers are trained for 3 months, while the training of Para Commando Special Forces lasts for 6 months. Para Commando Special Forces are trained for a total of 9 months.
Probation Period During PARA Special Force Selection
All ranks (Officers and PBOR) Volunteering for the Parachute Regiment will undergo probation in respective units, as under
PARA Bns: 90 days
PARA (SF) Bns: 180 days to include continuation training.
All ranks who do not qualify for probation will be reverted to their parent regiment.
Parachute Jump Training. On successful completion of probation, all ranks will undergo a Para Basic course at PTS, Air Force, Agra, on successful completion of which they will be permanently absorbed in the Parachute Regiment. All ranks who do not volunteer to jump will be reverted to their parent Regiments.
Permanent Absorption. On successful completion of probation, the PARA/ PARA (SF) battalions will take action for permanent absorption of the individual through Record Office, The Parachute Regiment. All individual documents will accordingly be forwarded by the unit/Record Office concerned to the Parachute Regiment Record Office
Training of a Para Commando
Para SF Commando has to start their day by running in the field, and during this race, a weight of 60 to 65 kg is placed on their body. With this weight, they have to run for 20 kilometres.
To become Para SF Commando, if you trained in Air Force Training School in Agra, then you have to put 50 jumps from 33000 feet there.
Para SF Commando also trained to fight in the water. For this, they have to train in the Naval Driving Training School Kochi.
They are given full training to operate the weapon in every way.
They are trained to use parachutes, and taught the right way to open the parachute on time. For this, Para SF Commando trained from the training school in Agra. During this training, you have two parachutes. These weigh 15 kg and 5 kg respectively.
Training Centres and Courses
Commando Training Camp, Belgaum, Karnataka
4-week High-Altitude Commando Course, Parvat Ghatak School in Tawang, Arunachal Pradesh
Desert Warfare School, Rajasthan
High Altitude Warfare School (HAWS), Sonamarg, Kashmir
Basic Combat Divers course, Indian Navy's Dive School, Kochi
Counterinsurgency, at the Counter Insurgency and Jungle Warfare School (CIJWS) in Vairengte, Mizoram
Indian Special Forces Training School, Nahan, Himachal Pradesh
Combat free-fall training (HAHO and HALO) at the Parachute Training School, Agra
Check out the famous Indian Freedom Fighters
Salary
The Salary of Para Commando soldiers for holding a position of Sepoy is ₹ 17,300 per month. Army Soldier salary in Para Commando ( Special Forces ) ranges between ₹ 3.6 Lakhs – ₹ 4.6 Lakhs. Special Forces also receive an allowance of ₹ 6000 per month in Para Battalion as Para Pay.
Are you ready to become a Para Commando officer in India? Let us know in the comment section below. We hope that the blog provided all information about the details of a Para Commando. To know more about such exams and job opportunities, keep reading WDA Blog
We are the Leading NDA/CDS Coaching in Lucknow. When some of the most experienced defence career coaches gathered, The Warriors' Defence Academy came into existence. We are a team of career coaching experts, who provide complete grooming to aspirants who appear for written examination for NDA and CDS and SSB interviews to become defence officers.
Warriors Defence Academy | Best NDA Coaching in Lucknow | Best Airforce Coaching in Lucknow | Best Defence Coaching in Lucknow India.
Address: 545-GA/1-CHHA, beside Madhuwan Guest house Chandganj Near Railway Crossing, Kapoorthla, Lucknow, Uttar Pradesh 226006
Phone Call:
Website:
https://warriorsdefenceacademy.com/
https://warriorsndaacademy.com/
https://warriorsndaacademy.com/blog/