No-1 Defence Academy in India
No-1 Defence Academy in India: We offer excellent preparatory training for the entrance examinations to get into the Indian armed forces.
Since our inception 7 years ago, under the captaincy of one of India's leading youngest entrepreneurs – Mr Gulab Singh. Hundreds of our candidates have been selected and many of whom have attained top ranks in final UPSC merit.
The institute has highly qualified and reputed team instructors each fully devoted to providing unparalleled education for NDA/CDS/SSB/AFCAT/CAPF.
The task of teaching transcends the classrooms so as to guide the students to realize their highest potential, and to encourage them to optimise the results.
Involvement and excellence in extracurricular activities like SSB guidance, personality development, debates, team games, lecture, etc feature in the training.
Our aim at the academy is to make the students imbibe discipline and groom moral and ethical values. Come, be a part of this success story and fulfil your desire for joining the reputed Indian Armed forces and serving the nation.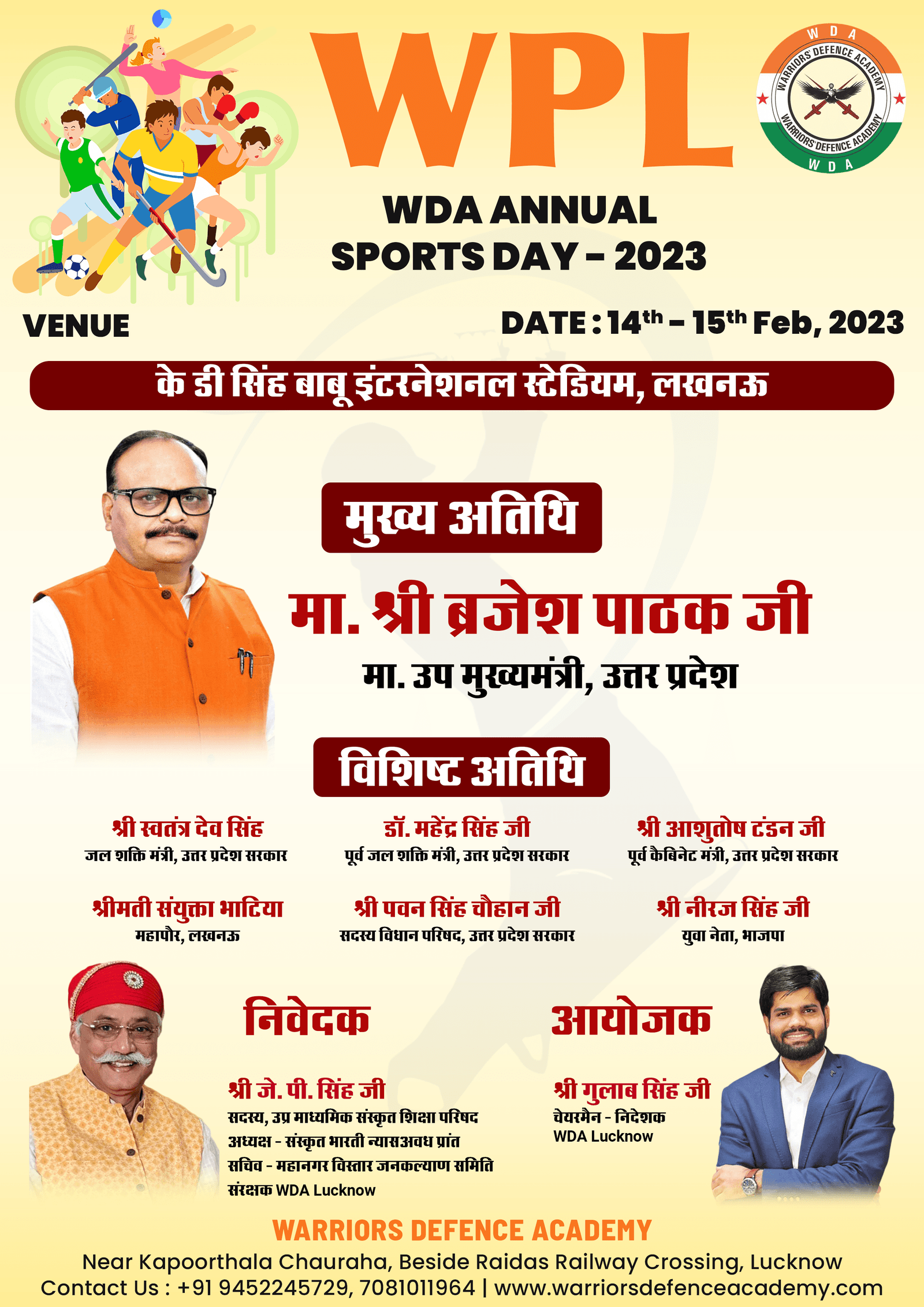 Best NDA Academy in Lucknow | Join WDA Lucknow – Warriors Defence Academy deeply appreciative and offer you our most grateful welcome. We are happy to announce that Ex. GTO Officer Colonel R. K. Tiwari Sir going to Join our Academy to Guide NDA and CDS aspirants For SSB. WDA is the Best NDA and SSB Coaching in Lucknow India. #No-1 Defence Academy in India
Warriors Defence Academy is the Best NDA Coaching in Lucknow. We are the Leading Coaching Institute for NDA/CDS/AFCAT/Army/Air Force/Navy Located in Lucknow. Warriors Defence Academy has the Largest GTO Ground in India. The Aspirants of Defence Services are guided by Ex. Defence Officers. WDA was also Awarded as Best NDA Academy in Lucknow.
Address: 545-GA/1-CHHA, Chandganj Garden Road, beside Madhuwan Guest house, near Railway crossing, Kapoorthla, Bara Chandganj, Chandralok, Lucknow, Uttar Pradesh 226006
Website: https://warriorsdefenceacademy.com/
Website: https://www.warriorsndaacademy.com/
PRIME MINISTER NARENDRA MODI INAUGURATES ASIA'S BIGGEST AIR SHOW AERO INDIA 2023; WHICH WILL BOLSTER THE 'MAKE IN INDIA' CAMPAIGN

Prime Minister Narendra Modi inaugurated the 14th edition of Asia's largest aero show — Aero India 2023 in Bangalore today. The five-day event will focus on displaying indigenous equipment/technologies and forging partnerships with foreign companies.
The event on the theme 'The runway to a billion opportunities' at the Yelahanka Air Force Station is aimed at bolstering the 'Make in India' campaign by displaying India's indigenous equipment and technologies while looking to forge partnerships with foreign companies.
The Defence Research and Development Organisation (DRDO)-developed Medium Altitude Long Endurance class unmanned aerial vehicle TAPAS-BH (Tactical Aerial Platform for Advanced Surveillance – Beyond Horizon) will also make its flying debut at Aero India.
"TAPAS is DRDO's solution to the tri-services ISTAR (intelligence, surveillance, target acquisition, and reconnaissance) requirements. The UAV is capable of operating at altitudes up to 28000 feet, with an endurance of 18 plus hours", according to DRDO. #No-1 Defence Academy in India
Besides TAPAS, the DRDO pavilion will also showcase over 330 products categorised into 12 zones, including Combat Aircraft & UAVs, Missiles & Strategic Systems, Engine & Propulsion Systems, Airborne Surveillance Systems, and Sensors Electronic Warfare & Communication Systems.
The Hindustan Aeronautics Limited (HAL) will display an 'Aatmanirbhar Formation' flight of 15 helicopters consisting of all variants of Advanced Light Helicopter (ALH), 'Prachand' Light Combat Helicopter, and Light Utility Helicopter (LUH).
98 Countries Taking Part
While showcasing India's growth in aerospace and defence capabilities, witness the participation of 98 countries, the Defence Ministers of 32 countries, Air Chiefs of 29 countries and 73 Chief Executive Officers of global and Indian original equipment manufacturers.
According to a statement by the organisers, as many as 809 defence companies will showcase the advancement in niche technologies and growth in the aerospace and defence sectors.
"The major exhibitors include Airbus, Boeing, Dassault Aviation, Lockheed Martin, Israel Aerospace Industry, BrahMos Aerospace, Army Aviation, HC Robotics, SAAB, Safran, Rolls Royce, Larsen & Toubro, Bharat Forge Limited, Hindustan Aeronautics Limited (HAL), Bharat Electronics Limited (BEL), Bharat Dynamics Limited (BDL) and BEML Limited," the statement read.
The event will also include aerial displays by aircraft and helicopters.
The Ministry of Defence is organising a 'CEOs Round Table' on February 13, under the chairmanship of Minister of Defence, Rajnath Singh.
Russian Pavilion
The Sukhoi fifth-generation fighter jet, the Checkmate light tactical fighter and Orlan-30 drones will be among 200 types of the most advanced Russian-made armaments and military hardware that will be displayed at the upcoming Aero India 2023 international air show, Russia's state arms seller said on Thursday.
"Rosoboronexport will feature about 200 types of the most advanced Russian-made armaments and military hardware, including the Su-57E top-notch fifth-generation multirole fighter and the Checkmate light tactical aircraft," state-run TASS news agency reported, citing a statement from the company.