National Defence Academy & Naval Academy Examination (NDA & NA Examination)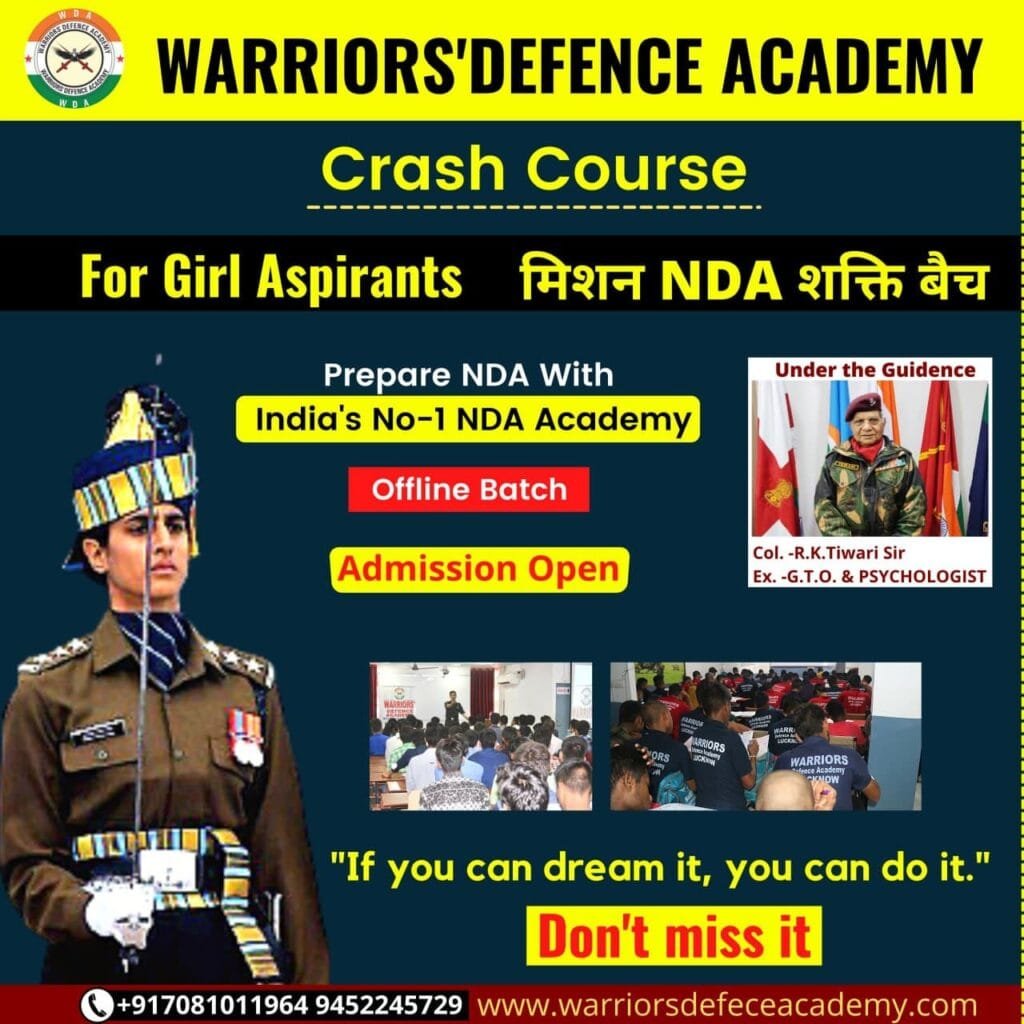 The National Defence Academy (NDA) is the joint services academy of the Indian Armed Forces, where cadets of the three services, the Army, the Navy, and the Air Force, train together before they go on to respective service academies for further pre-commission training. UPSC conducts the NDA & NA examination for admission.
Warriors NDA Academy is Awarded as Best NDA Academy in Lucknow. WDA is the best NDA Coaching in Lucknow India. We are the Leading NDA/CDS Coaching in Lucknow. When some of the most experienced defence career coaches gathered, The Warriors' Defence Academy came into existence. We are a team of career coaching experts, who provide complete grooming to aspirants who appear for written examination for NDA and CDS and SSB interviews to become defence officers.
Warriors Defence Academy | Best NDA Coaching in Lucknow | Best Airforce Coaching in Lucknow | Best Defence Coaching in Lucknow India.
Address: 545-GA/1-CHHA, beside Madhuwan Guest house Chandganj Near Railway Crossing, Kapoorthla, Lucknow, Uttar Pradesh 226006
Phone Call:
+91-7081011964
Website:
https://warriorsdefenceacademy.com/
https://warriorsndaacademy.com/
https://warriorsndaacademy.com/blog/
The NDA & NA examination is a gateway for candidates looking forward to joining Defence Forces. This is a national level exam conducted twice a year: NDA I and NDA II to help candidates make a Defence service career. National Defence Academy & Naval Academy or NDA & NA Examination will be a two-step process where candidates first need to take the exam, then qualify for the personality test or interview conducted by the Service Selection Board (SSB). The UPSC is solely responsible for issuing guidelines for selection and the final conduct of the entrance examination.
The Notification for the NDA & NA Examination is usually released in October and June, and the examinations are conducted in February and November, respectively. Only unmarried graduates are eligible to sit for the exam. Successful candidates are admitted into the respective Academies after an interview conducted by the Services Selection Board (SSB).
Admission Process of NDA & NA Examination
Applicants to the NDA are selected via a written exam conducted by the UPSC in 1995, followed by extensive interviews by the Services Selection Board covering general aptitude, psychological testing, team skills, and physical and social skills, along with medical tests. Incoming classes are accepted twice a year for semesters starting in July and January.
Applicants who join the Air Force through the flying branch also go through a test called Computerized Pilot Selection System or CPSS for short. 
Cadets who are accepted and complete the program are sent to their respective training academies for one year of training before granting of commission: army cadets go to Indian Military Academy (IMA) at Dehradun, air force cadets to Air Force Academy (AFA) at Dundigal, Hyderabad, and naval cadets to Indian Naval Academy (INA) at Ezhimala, Kerala.
Squadrons and Battalions
A cadet is allotted to one of the 18 Squadrons.
No. 1 Battalion: Alpha Squadron, Bravo Squadron, Charlie Squadron, and Delta Squadron.
No. 2 Battalion: Echo Squadron, Foxtrot Squadron, Golf Squadron, and Hunter Squadron.
No. 3 Battalion: India Squadron, Juliet Squadron, Kilo Squadron, and Lima Squadron.
No. 4 Battalion: Mike Squadron, November Squadron, Oscar Squadron, and Panther Squadron.
No. 5 Battalion: Quebec Squadron and Romeo Squadron.
Each squadron has approximately 100 to 120 cadets drawn from senior as well as junior courses under training in the Academy.
As the number of cadets joining the NDA increased annually, the Defence Ministry of India sanctioned the raising of 16th, 17th, and 18th squadrons in 2012, with the initial letter of their names being "P", "Q" and "R" respectively. The newly raised "Panthers" squadron won the Academy cross-country run championship in its first participation in Spring 2012. The rudimentary import of the NDA's motto "Service before Self" is first taught in the environs of the Squadron, where a cadet learns the importance of putting the Squadron's requirements well above his own.
Eligibility:
Nationality: A candidate of NDA & NA Examination must be an unmarried male and must be :
a citizen of India, or
a subject of Nepal, or
a Tibetan refugee who came over to India before the 1st January 1962 intending to settle in India permanently, or
a person of Indian origin migrated from Pakistan, Burma, Sri Lanka, and East African Countries of Kenya, Uganda, the United Republic of Tanzania, Zambia, Malawi, Zaire, and Ethiopia Vietnam intending to permanently settle in India.
Provided that a candidate belonging to categories (ii), (iii), and (iv) above shall be a person in whose favor the Government of India has issued a certificate of eligibility.
However, a certificate of eligibility will not be necessary in the case of candidates who are Gorkha subjects of Nepal.
Age Limit and Marital Status for NDA & NA Examination
To know the detailed information about the age limit of the NDA & NA Examination, go through the following table:
| | |
| --- | --- |
| Age Limit | Age (years) |
| Minimum Age | 15.7 years (not later than 1st January 2005)/ 16 years during the commencement of the course |
| Maximum Age | 18.7 years (not earlier than 2nd January 2002)/ 19 years during the commencement of the course |
It should be noted that only unmarried male candidates, who are not born earlier than July 2, 2001, and not later than July 1, 2004, are eligible to appear for NDA 1 Exam.
For NDA 2 2020, candidates must be born between January 2, 2002, and January 1, 2005.
Married candidates and female candidates are ineligible to apply for NDA Exam.
The date of birth mentioned in the application must be the same as that entered in the Matriculation or Secondary School Leaving Certificate.
In short, candidates should be between the age of 16.5 years and 19.5 years to be eligible for the exam.
Educational Qualifications
For Army Wing of National Defence Academy: 12th Class pass of the 10+2 pattern of School Education or equivalent examination conducted by a State Education Board or a University.
For Air Force and Naval Wings of National Defence Academy and for the 10+2 Cadet Entry Scheme at the Indian Naval Academy: 12th Class pass with Physics, Chemistry, and Mathematics of the 10+2 pattern of School Education or equivalent conducted by a State Education Board or a University.
Candidates who are appearing in the 12th Class under the 10+2 pattern of School Education or equivalent examination can also apply for this examination.
Such candidates who qualify for the SSB interview but could not produce Matriculation/10+2 or equivalent certificate in original at the time of SSB interview should forward duly self attested Photocopies to 'Directorate General of Recruiting, Army HQ, West Block.III, R.K. Puram, New Delhi-110066' and for Naval Academy candidates to 'Naval Headquarters, DMPR, OI&R Section, Room No. 204, 'C' Wing, Sena Bhavan, New Delhi-110011'. All other candidates who have produced their Matriculation and 10+2 pass or equivalent certificates in original at the time of attending the SSB interview and have got the same verified by the SSB authorities are not required to submit the same to Army HQ or Naval HQ as the case may be. Certificates in original issued by the Principals of the Institutions are also acceptable in cases where Boards/Universities have not yet issued certificates. Certified true copies/photostat copies of such certificates will not be accepted.
Physical Standards for NDA & NA Examination
Candidates of the NDA & NA Examination must be physically fit according to physical standards criteria given in the official advertisement.
Union Public Service Commission has set the eligibility criteria For Warriors Defence Academy. Before applying to the CDS exam Candidate must check the eligibility criteria. The basic physical standard for a candidate is:
The candidate should be physically as well as mentally fit.
Permanent tattoos on the body are prohibited.
No sign of hernia anywhere on the body.
No hearing impairment, deformities/disabilities in-ears vestibule-cochlear system.
There is no active congenital venereal disease.
A candidate who has resigned or withdrawn on disciplinary grounds from any of the Armed Forces training academies is not eligible to apply.
Undesirable health issues
The candidate must not be suffering from any of these minor conditions at the time of medical examination –
Wax (Ears)
Deviated Nasal Septum
Hydrocele / Phimosis
Condition of Overweight / Underweight
Under Sized Chest
Piles
Tonsillitis
Gynecomastia
Varicocele
Case of Body Tattoos
The candidate must ensure that any permanent body tattoos are present only on the forearm's inner side. 
Under no circumstances will UPSC accept tattoos on the inside of the elbow to the wrist and the reverse side of the palm/back (dorsal) side of the hand. 
Permanent body tattoos on any other part of the body are also not acceptable.
In case the candidate happens to belong to a tribe where it is customary to have tattoo marks on the face or body, acceptance will be granted on a case-to-case basis, considering the traditions involved. The decision of authorities would be final in such instances.
Height and Weight Requirements
Army and Air Force
Candidates must note that the minimum height measurement specified is 157 cms (162.5 cms for Air Force).
For Gorkhas and those belonging to hills of the North-Eastern areas of India, Garhwal, and Kumaon, the minimum height will be 5 cms less than the usual figure.
On the other hand, for candidates belonging to the Lakshadweep islands, the minimum height standard may be reduced by 2 cms.
The details in this regard are discussed below.
| | | | |
| --- | --- | --- | --- |
| Height in cm | Weight in Kg | | |
| – | 16-17 years | 17-18 years | 18-19 years |
| 152 | 42.5 | 44.0 | 45.0 |
| 155 | 43.5 | 45.3 | 47.0 |
| 157 | 45.0 | 47.0 | 48.0 |
| 160 | 46.0 | 48.0 | 49.0 |
| 162 | 48.0 | 50.0 | 51.0 |
| 165 | 50.0 | 52.0 | 53.0 |
| 167 | 51.0 | 53.0 | 54.0 |
| 170 | 52.5 | 55.0 | 56.0 |
| 173 | 54.5 | 57.0 | 58.0 |
| 175 | 56.0 | 59.0 | 60.0 |
| 178 | 58.0 | 61.0 | 62.0 |
| 180 | 60.0 | 63.0 | 64.5 |
| 183 | 62.5 | 65 | 66 |
Navy
The standards are different for Navy posts and the particulars are summarized below:
| | | | |
| --- | --- | --- | --- |
| Height in cm | Weight in Kg | | |
| – | 16 years | 18 years | 20 years |
| 152 | 44 | 45 | 46 |
| 155 | 45 | 46 | 47 |
| 157 | 46 | 47 | 49 |
| 160 | 47 | 48 | 50 |
| 162 | 48 | 50 | 52 |
| 165 | 50 | 52 | 53 |
| 167 | 52 | 53 | 55 |
| 170 | 53 | 55 | 57 |
| 173 | 55 | 57 | 59 |
| 175 | 57 | 59 | 61 |
| 178 | 59 | 61 | 62 |
| 180 | 61 | 63 | 64 |
| 183 | 63 | 65 | 67 |
In case the candidate wishes to be a pilot in the Air Force, the following requirements will have to be kept in mind due to constraints of the flying vehicle:
Leg Length: Minimum of 99 cms and Maximum of 120 cms
Thigh Length: Minimum is not applicable while Maximum of 64 cms
Sitting Height: Minimum of 81.50 cms and Maximum of 96 cms
Spinal Conditions:
The presence of any of these conditions will disqualify the candidate immediately:
The granulomatous disease of the spine
Arthritis/spondylosis (Rheumatoid arthritis and allied disorders / Ankylosing spondylitis / Osteoarthritis, spondylosis and degenerative joint disease / Non-articular rheumatism (e.g., lesions of the rotator cuff, tennis elbow, recurrent lumbago, etc.) & Miscellaneous disorders including SLE, polymyositis, vasculitis.
Spondylolisthesis / spondylolysis.
Compression fracture of vertebrae.
SC Heuerman's disease (Adolescent kyphosis)
Loss of cervical lordosis when associated with clinically restricted movements of the cervical spine.
Unilateral / Bilateral cervical ribs with demon stable neurological or circulatory deficit.
Scoliosis is more than 15 degrees as measured by Cobb's method.
Degenerative Disc. Disease.
Presence of Schmorl's nodes at more than one level.
Atlanto-occipital and atlantoaxial anomalies.
Hemi vertebrae and/or incomplete block (fused) vertebrae at any level in the cervical, dorsal or lumbar spine and complete block (fused) vertebrae at more than one level cervical or dorsal spine.
Unilateral Sacralisation or summarisation (Complete or incomplete) at all levels and bilateral incomplete sacralization or lubrication.
Any other abnormality, if so considered by the specialist.
X-Ray Exam
There will be a separate presence of any of the following conditions that will disqualify the applicant for posts of Armed Forces:
The granulomatous disease of the spine.
Arthritis / spondylosis
Scoliosis is more than 15 degrees as measured by Cobb's Method (10 degrees for Army and Navy).
More than mild Kyphosis/Lordosis
Spondylolisthesis / Spondylosis / Spondylolysis
Herniated nucleus pulposus.
Compression fracture of the Vertebra.
Sacralisation Disease
Cervical ribs with demonstrable neurological or Circulatory deficit.
Presence of Schmorl's node at more than one level.
Atlanto-occipital and atlanto-axial anomalies.
Incomplete Sacralisation Unilateral or Bilateral
Spina Bifida other than SV 1 and LV 5 if completely Sacralised
Any other abnormality, if so considered by a specialist.
Visual Standards
The distance vision (corrected) of the candidate should be 6/6 in the better eye and 6/9 in the worse eye. 
Myopia should not be more than 2.5 D and hypermetropia not more than 3.5 D, including Astigmatism.
It must be remembered that an internal examination of the eye will be done by means of an ophthalmoscope to rule out any possibility of eye diseases. 
Candidates must possess good binocular vision. The color vision standard for the Army is (CP-III).
The ability to recognize red and green colors is vital. 
A certificate that neither the candidate nor any member of his family has suffered from congenital night blindness, will have to be produced.
Another noteworthy point is that candidates who have undergone Radial Keratotomy, to improve their visual acuity, or Laser Surgery, will be permanently rejected for all Services. 
The details of eyesight levels for different posts are provided below:
| | | |
| --- | --- | --- |
| Condition | Naval | Air Force |
| Uncorrected without glass | 6/6 | 6/6, 6/9 |
| Corrected with glass | 6/6 | 6/6 (only for Hypermetropia) |
| Limits of Myopia | -0.75 | Nil |
| Limits of Hypermetropia | +1.5 | +2.00 D Sph |
| Limits of Colour Perception | I | Nil |
| Binocular Vision | III | Nil |
| Manifest Myopia | N.A. | Nil Re |
| Retinoscopic Myopia | N.A. | 0.5 |
| Colour Vision | N.A. | CP-I (MLT) |
| Astigmatism | N.A. | +0.75 Cyl (within + 2.0 D.Max) |
| Near Vision | N.A. | N-5 each eye |
Other miscellaneous conditions
There are a few other physical conditions besides the criteria mentioned above that candidates should fulfill. These criteria are specific to specific wings of defense forces.
No symptoms of a weak constitution or bodily defects.
A well-developed chest; a fully expanded chest should not be less than 81cms. The minimum range of expansion after full inspiration should be 5 cms.
No mal-development or impairment of the function of the bones or joints.
No past history of mental breakdown or fits.
Normal hearing capabilities – Candidate should hear a forced whisper with each ear at a distance of 610 cms. in a quiet room.
No impediment of speech.
Normal Blood Pressure with no signs of functional or organic disease of the heart and blood vessels.
No enlargement of liver or spleen.
No abnormality in urine examination
No presence of any kind of skin disease, likely to cause disability or disfigurement
No abnormalities in USG abdomen examination
A sufficient number of natural and sound teeth. A minimum of 14 dental points will be accepted.
Routine ECG for Air Force candidates must fall within normal limits.
The fee of NDA & NA Examination
Candidates (excepting SC/ST candidates/Sons of JCOs/NCOs/ORs who are exempted from payment of fee) are required to pay a fee of Rs. 100/- (Rupees one hundred only) either by depositing the money in any Branch of SBI by cash, or by using net banking facility of State Bank of India or by using Visa/MasterCard/Rupay Credit/Debit Card
Scheme Of Examination
The subjects of the written examination, the time allowed and the maximum marks allotted to each subject will be as follows:—
| | | | |
| --- | --- | --- | --- |
| Subject | Code | Duration | Maximum Marks |
| Mathematics | 01 | 2½ Hours | 300 |
| General Ability Test | 02 | 2½ Hours | 600 |
| | Total | | 900 |
| SSBTest/Interview | | | 900 |
The papers in all the subjects will consist of objective-type questions only. The question papers (test booklets) of mathematics and part "b" of the general ability test will be set bilingually in Hindi as well as English.
In the question papers, wherever necessary, questions involving the metric system of Weights and Measures only will be set.
Candidates must write the papers in their own hands. In no circumstances will they be allowed the help of a scribe to write answers for them.
The Commission has the discretion to fix qualifying marks in any or all the subjects at the examination.
The candidates are not permitted to use a calculator or Mathematical or logarithmic table for answering objective-type papers (Test Booklets). They should not, therefore, bring the same inside the Examination Hall.
Two-Stage Selection Procedure
The NDA Selection Process is primarily divided into two stages, the first is a written examination and the second is SSB Interview. The candidates shortlisted on the basis of their performance in the written test are required to participate in the Selection Process of NDA.
The candidates meeting the NDA Cut Off for their respective categories are required to appear for the interview before the selection boards of the Army, Navy, and Air Force.
Written Examination of NDA & NA Examination
The written examination is the first stage of the selection of candidates. The successful candidates from the first stage would be only invited to participate in the next round.
NDA 2020 is a 900 marks test- further divided into two sections: Mathematics and General Ability Test.
The duration of the exam is 180 minutes comprising objective type questions.
Minimum qualifying marks are decided by the commission for participating in the selection process.
Qualifying candidates have to sit for the interview consisting of Psychological Aptitude Test and Intelligence or Personality test.
SSB Interview (Psychological Aptitude Test and Intelligence Test)
The SSB Interview is the second and final round of the NDA Selection Process. The SSB Interview round comprises two separate tests – The psychological Aptitude Test and Intelligence Test.
The two-stage selection procedure based on Psychological Aptitude Test and Intelligence Test has been introduced at Selection Centres. The qualifying candidates have to be put to the stage for tests on the first day of reporting at Selection Centres.
Only those candidates who qualify at stage 1 will be called for the remaining tests. Qualifying candidates have to submit the following Original Certificates along with one photocopy each of:
Original Matriculation pass certificate or equivalent in support of date of birth,
Original 10+2 pass certificate or equivalent in support of educational qualification.
To be acceptable, candidates for the Army/Navy/Naval Academy and Air Force should secure the minimum qualifying marks separately in:
Written examination of NDA as set by the Commission.
Officer Potentiality Test as fixed by SSB at their discretion.
Day wise SSB Interview
Days
Events
Day 1
Picture Perception* test and Description Test
Day 2
Psychology Tests
Day 3
Group Testing Officer's Task
Day 4
Interview
Day 5
Conference
NOTE: Besides, candidates with the first choice for the Air Force, and all the SSB qualified candidates with one choice as Air Force, should separately qualify the PABT (Pilot Aptitude Test) and Computerised Pilot Selection System (CPSS), if fulfill the eligibility for Air Force.
The alumni of NDA include 3 Param Vir Chakra recipients and 12 Ashoka Chakra recipients. NDA has also produced 27 service Chiefs of Staff to date. The current Chiefs of Staff of the Army, the Navy, and the Air Force are all NDA alumni from the same course. The 137th course passed out on 30 November 2019, consisting of 188 Army cadets, 38 Naval cadets, 37 Air Force cadets, and 20 cadets from friendly foreign countries. This is the opportunity for the young generation of this country to serve the country.