Best NDA Coaching in Lucknow | Best Defence Coaching in Lucknow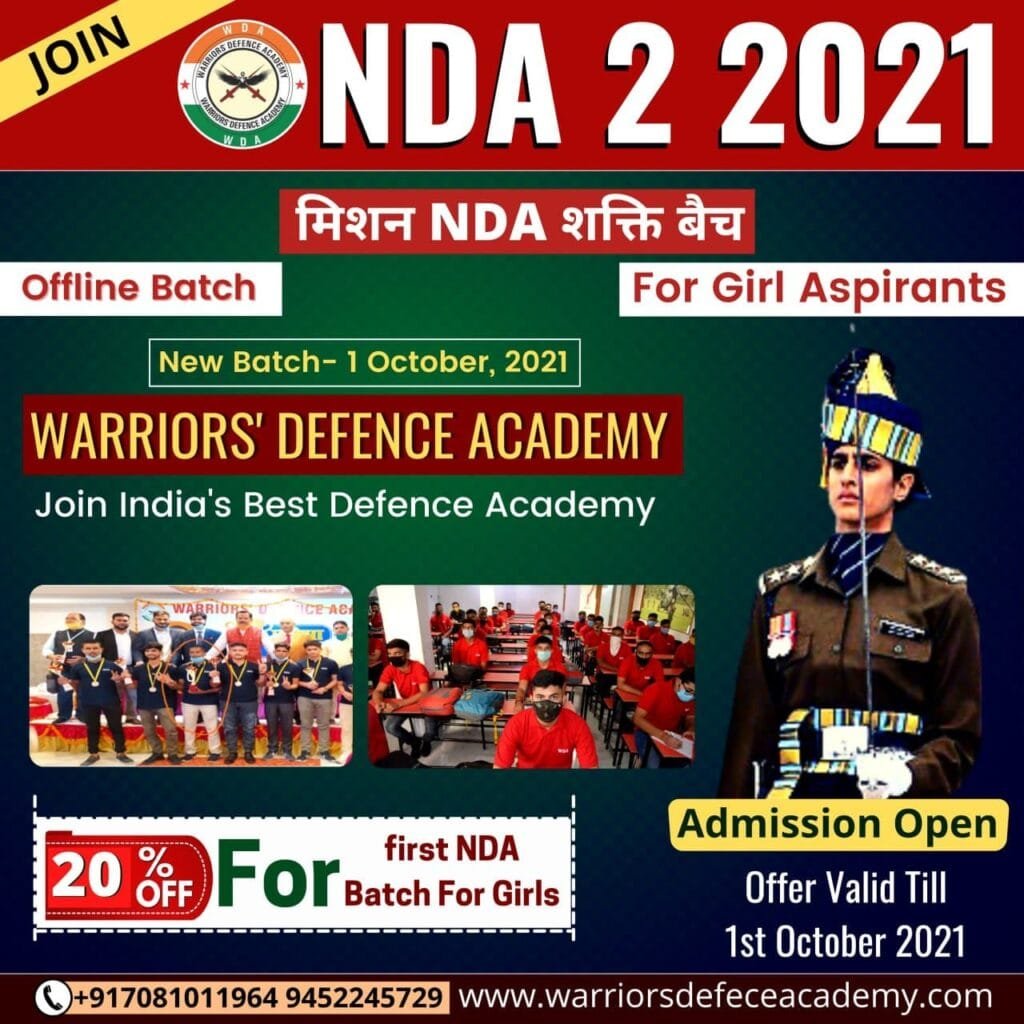 NDA 2021: Application (Released), Dates (Revised), Admit Card, Result
NDA II 2021 Application Form has been released on 24th September 2021 for women candidates. The exam date has been revised. It will now be held on 14th November 2021. The final result has been declared for NDA II 2020. NDA is organized by UPSC (Union Public Service Commission). It is a national-level entrance exam that is held every year. Through the NDA exam, the qualified candidates will become eligible for selection into training academies of the Indian Navy, Indian Military,and Air Force. After clearing the written test, candidates also go through SSB Interview round. Candidates qualifying for the written test, SSB interview & medical test will be considered eligible for entry into NDA. In this article, we have provided complete details regarding NDA 2021 application, dates, pattern, syllabus, result, interview, etc.
NDA 2021 Exam Dates
Know about NDA Exam Dates for various events in the below-given table:
Events
Dates 2021 (Announced)
NDA I
NDA II
Release of Notification
30th December 2020
9th June 2021
Availability of Application Form
30th December 2020
9th June 2021
Last date to apply
19th January 2021
29th June 2021
Option to change test center
–
Till 29th June 2021
Last date to pay the fee by cash
18th January 2021
–
Withdraw of application
27th January to 2nd February 2021
6th July to 12th July 2021
Availability of Admit card
26th March 2021
October 2021
Application form women candidates
–
24th September to 8th October 2021
NDA 2021 Exam
18th April 2021
14th November 2021
Declaration of Result
29th June 2021
November 2021
SSB interview
November/ December 2021
Best NDA Coaching in Lucknow | Best Defence Coaching in Lucknow
NDA 2021 की जानकारी हिंदी में – यहाँ देखें
NDA 2021 Admit Card
The admit card of NDA 2021 was made available for download from 25th March 2021 for NDA Session I. NDA Admit card for session II will be available from October 2021. Candidates can get admit card 3 weeks before the examination. Students are able to download the admit card by entering login credentials.
The admit card contains details like the student's exam center, name, roll number, exam date and timing, exam center address, etc. In case of a discrepancy in the admit card details, contact the officials immediately.
NDA 2021 Result
The result of NDA I 2021 has been declared on 29th June 2021 through online mode. it has been made available in the form of a PDF. For NDA II, the result will be published in the month of November 2021.
The result has been made available in the form of a PDF with have names of the qualified candidates. Students successfully clearing the written test with the qualifying marks will be eligible for further counseling as well as a medical test. Best NDA Coaching in Lucknow | Best Defence Coaching in Lucknow
NDA 2021 Cut Off
Only the candidates who will qualify for the NDA exam by obtaining the cut-off marks will be eligible for an interview. The board will publish the sectional and overall cut-off marks online on the website.
The cut-off will vary for various category candidates. For the written test the cut-off is 342 and the final cut-off is expected to be 708.
NDA 2021 Application Form
Students can know details about NDA 2021 Application Form in the below-given section:
For NDA 2021 Registration, students are required to apply through online mode on the website.
The application process through online mode can be done till 29th June 2021 for NDA II.
application fee has been released from 24th September to 8th October 2021 for women candidates.
No other mode for submission of application is allowed.
Students should submit only one application form. In case of submission of more than one application, the higher registration id (latest) will be considered and the rest of the applications will get canceled automatically.
Candidates must have a photo ID i.e. Aadhaar Card/ voter ID/ PAN card/ Passport/ Driving license etc. at the time of filling the application form.
Candidates are able to complete the online application form in two stages – Part I and Part II.
In Part I of the application process, candidates have to fill in their basic and other details in the application.
In the Part II application process, students are required to upload photographs and signatures, make the choice of exam center and make payment of the application fee.
The correction will not be allowed in the details of the application after the submission of the form.
Application Fee:
The application fee payable for all category candidates is Rs.100/-.
Candidates of ST/ SC/ NCOs/ Sons of JCOs/ ORS are exempted to pay the fee.
There will be no application fee for women category candidates.
Payment mode: The fee can be paid through debit/ credit card/ net banking or SBI bank Challan method.
Check Here– How to Fill NDA 2021 Application Form
NDA 2021 Eligibility Criteria
Know details related to NDA Eligibility criteria in the given below section:
Nationality:
Applicant must be an Indian citizen/ subject of Bhutan/ subject of Nepal or Refugee of Tibetan (came to India before 1st January 1962 with the intention to settle permanently in India).
Those who migrated from Burma, Pakistan, Sri Lanka, and East African countries of Tanzania, Zambia, Uganda, Malawi, Zaire, and Vietnam or Ethiopia with an intention of settling in India are also eligible to apply.
Foreign nationals: Foreign nationals (except Gorkhas) will be required to produce an eligibility certificate issued by the Govt. of India.
Women candidates can also apply For NDA 2021 September examination.
Age, Gender & Marital Status:
Age: The candidate's age should be between 16.5 – 19.5 years. For NDA I he must be born between July 2, 2002 – July 1, 2005. For NDA II, he must be born between January 2nd, 2003 – January 1st, 2006.
Gender: Male/ Female candidates are eligible to apply for NDA.
Marital Status: For NDA, the male/ female candidate should be unmarried. The candidates will not be allowed to get married until completing their training period.
Qualification:
For Army Wing of National Defense Academy: Passed 10th & 12th level from a recognized board or university.
For Air Force and Naval Wings (Cadet Entry Scheme): Passed 10th & 12th level from a recognized board or university with Physics and Mathematics as main subjects.
Appearing: Candidates who are appearing in the 12th level or waiting for results will be eligible to apply.
Physical Fitness:
Those who have resigned or withdrawn from any of the training academies of the Armed Forces on disciplinary grounds will not be considered eligible.
Candidates must be physically fit according to the physical standards set by the commission for admission into NDA.
Warriors NDA Academy is Awarded as Best NDA Academy in Lucknow. WDA is the best NDA Coaching in Lucknow India. We are the Leading NDA/CDS Coaching in Lucknow. When some of the most experienced defence career coaches gathered, The Warriors' Defence Academy came into existence. We are a team of career coaching experts, who provide complete grooming to aspirants who appear for written examination for NDA and CDS and SSB interviews to become defence officers.
Warriors Defence Academy | Best NDA Coaching in Lucknow | Best Airforce Coaching in Lucknow | Best Defence Coaching in Lucknow India.
Address: 545-GA/1-CHHA, beside Madhuwan Guest house Chandganj Near Railway Crossing, Kapoorthla, Lucknow, Uttar Pradesh 226006
Phone Call:
+91-7081011964
Website:
https://warriorsdefenceacademy.com/
https://warriorsndaacademy.com/
https://warriorsndaacademy.com/blog/
NDA 2021 Exam Pattern
Students can check the details of the NDA Exam pattern below:
Exam Mode: NDA exam will be held on twice through in Pen and Paper (offline) mode.
Language of Paper: The language of the paper will be in English or Hindi language.
Type of Questions: The objective type of questions will be asked in the paper.
Number of Sections: The paper will be divided into two sections – Mathematics & General Ability Test.
Total Marks: Paper will be of total of 900 marks (Mathematics – 300; General Ability Test – 600). Also, the interview round (SSB) will be of 900 marks.
Duration of the Exam: The time duration to complete the paper will be of 5 hours (2½ hours each).
Marking Scheme: 33% of the mark assigned to the question will be deducted for each incorrect answer.
Know distribution of marks and time duration for each subject:
Subject
Code
Time Duration
Maximum Marks
Mathematics
01
2 hrs and 30 min
300
General Ability test
02
2 hrs and 30 min
600
Total
900
Best NDA Coaching in Lucknow | Best Defence Coaching in Lucknow
Best NDA Coaching in Lucknow – Best Defence Coaching in Lucknow
NDA 2021 Syllabus
NDA Syllabus will have various topics from Mathematics, English, and General Knowledge subjects. Students can check the complete syllabus online mode on the website.
Students can check the important topics coming in English, Mathematics & G.K subjects in the below-given section:
English:
The question paper of English will be designed for testing the student's understanding of English and workman-like use of words. The syllabus covers various aspects like Grammar, Vocabulary, Comprehension and usage, and cohesion in extended text to test the candidate's proficiency in English.
Mathematics:
Matrices & Determinants, Analytical Geometry of two and three Dimensions, Integral calculus and Differential Equations, Algebra, Trigonometry, Statistics and Probability, Differential Calculus, Vector Algebra, etc.
General Knowledge:
The paper on General Knowledge in NDA will cover various topics from the subjects – Physics, Chemistry, Social Studies, General Science, and Geography & Current Events.
The answers given by the candidates will show their intelligent understanding and knowledge of the subject.
NDA 2021 Preparation Tips
To secure good marks in the exam and qualify for the exam, candidates can take help of the below given NDA preparation tips:
Students should start their preparation for exams earlier.
Plan a study routine and follow it in a disciplined manner.
Solve sample papers and previous year's questions papers.
Study for the exam using good study material which is highly recommended by experienced professionals.
Attempt a mock test and analyze your preparation level.
NDA 2021 Answer Key
NDA Answer Key has been released by various coaching institutions. No official answer key is released by UPSC. It is available in various sets for various subjects. The key will be available only online and cannot be obtained through any other medium.
Through the answer key, candidates are able to calculate their expected score of NDA. It will be present for downloading in PDF format.
NDA 2021 SSB Interview
NDA SSB Interview round will be organized after the written test. Candidates clearing the written test round will be considered eligible for the interview and medical round. SSB will be organized in a number of rounds.
It will be held in five days and candidates have to necessarily appear in all the rounds. On the first day, psychological tests will be done. The second-day test will be of situation reaction test, word association test, self-description test, and Thematic Apperception Test.
Military Planning Exercise, Group Discussion Test, Intergroup Obstacle race, Lecturettes, Snake Race, Progressive Group Task, command task & personal interview, half group task will be done on the third day of interview for candidates by the President.
On the last two days – fourth and fifth tests will be done related to Final Group Task, Individual Obstacles, Interview for remaining candidates, final board conference & announcement of results.
If you have any other queries related to NDA 2021, you can ask your query in the comments section below.
airforce best airforce Coaching in India Best Air Force Coaching in Lucknow Best Airforce X or Y Group Coaching Best CDS Coaching in lucknow Best Defence Academy in India Best Defence Academy in Lucknow Best Defence Coaching in India Best Defence Coaching in Lucknow Best Defence Coaching in Patna Best Navy Coaching in Lucknow Best NDA Coaching Best NDA Coaching in India Best NDA Coaching in Lucknow Best NDA Coaching in Patna best nda coaching institute in lucknow Defence Academy defence coaching Defence Coaching in Lucknow navy navy coaching in lko nda NDA Coaching nda coaching in India NDA Coaching in Lucknow Nda Coaching institute in Lucknow NDA Coaching Near me nda Eligibility 2021 NDA Online Classes NDA Syllabus No-1 NAVY Coaching in India No-1 NDA Coaching in India no-1 NDA Coaching in Lucknow No-1 NDA Coaching in Lucknow | Warriors Defence Academy Top Defence Academy in India Top Defence Coaching in India Top Defence Coaching in Lucknow Top NAVY Coaching in India Top Navy Coaching in Lucknow Top NDA Coaching top nda coaching in india Top NDA Coaching in lucknow Warriors Defence Academy Warriors Defence Academy | Best NDA Coaching in Lucknow | Best Airforce Coaching in Lucknow | Best Defence Coaching in Lucknow India. Address: 545-GA/1-CHHA Warriors NDA Academy