India's Heroes
List of 21 Best Param Vir Chakra (PVC) Medal Awardees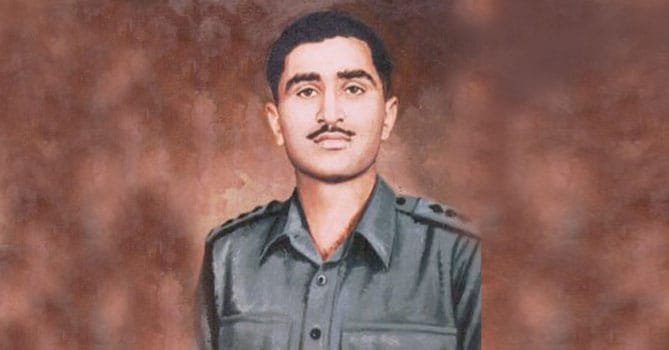 Param Vir Chakra Award is the highest gallantry award in the country.
Param Vir Chakra Award is the highest gallantry award in the country
The best day to remember, pay homage, and celebrate the best and bravest soldiers independent India has produced is the 26th of January, India's Republic Day.
India may not be celebrating this day every year, were it not for the supreme bravery shown by the 21 recipients of the Param Vir Chakra (PVC) Medal, India's highest recognition of the bravest acts on the battlefield.
Here is the complete list of 21 awardees who earned the Param Vir Chakra (PVC):
Major Somnath Sharma, PVC
Maj Sharma's D Company of the 4th Battalion of Kumaon Regiment came under heavy fire at Badgam, as over 700 Pakistani raiders came out of nearby houses in a surprise attack from three sides. Despite having an injured foot in a cast from a hockey match, Maj Sharma took on the raiders. The sheer ferocity of the fight resulted in the death of several raiders as others began to run. Relentless, Maj Sharma continued fighting till he succumbed to his injuries. List of 21 Best Param Vir Chakra
He holds the honour of receiving India's first Param Vir Chakra medal.
Lance Naik Karam Singh, PVC
LN Karam Singh was handling a forward post at Richmar Gali in south Tithwal of Kupwara district in J&K when he came under heavy fire by Pakistani intruders. Despite heavy mortar shelling and being severely wounded, he continued to fight on, repelling attack after attack and held on to his post.
3. 2nd Lieutenant Rama Raghoba Rane, PVC
Lieutenant Rama Raghoba Rane
Wounded and under heavy shelling through the night, 2nd Lt Rane continued to crawl on his stomach, clearing mine after mine by hand. His painstaking actions at high risk to his life cleared the way between Naushera and Rajouri enabling the Indian tanks and troops to advance safely. His timely action was crucial in helping the Indian troops repel and finally evict the Pakistani raiders.
Naik Jadunath Singh, PVC
Naik Jadunath Singh's nine-man forward post came under heavy attack through the night. Wounded and heavily outnumbered, he single-handedly charged toward the raiding Pakistani militia with his Sten gun, causing causalities and forcing them to retreat. #List of 21 Best Param Vir Chakra
5. Company Havildar Major Piru Singh Shekhawat, PVC
Major Piru Singh Shekhawat
Assigned to capture a crucial Pakistani post in Tithwal, CHM Piru Singh led his section amid heavy fire from the enemy. The battle raged, and he lost all his men. Alone and wounded, he made a last attempt at neutralizing the  Medium Machine Gun (MMG) post of the enemy. He achieved his objective but took a bullet in the head. #List of 21 Best Param Vir Chakra
Captain Gurbachan Singh Salaria, PVC
Captain Salaria and his troops were tasked to clear the road to Elizabethville Airport, which was blocked by two armored vehicles and 150 rebel forces of the Secessionist State of Katanga. He attacked and destroyed the two armored vehicles and took on a large number of rebels. Fighting hand-to-hand combat with Khukris, he and his men killed over 40 rebels before he was shot twice in the neck.  He remains the only Indian soldier to receive the PVC for a UN mission. #List of 21 Best Param Vir Chakra
Major Dhan Singh Thapa, PVC
Leading the 1st Battalion of the 8th Gorkha Rifles, Major Dhan Sigh Thapa held the post-Srijap 1, Pangong Lake when the Chinese attacked in large numbers. Outnumbered and under heavy fire, he fought on till his post was overrun. Most of his men died and he was wounded and taken prisoner by the Chinese. He endured torture at their hands but eventually handed it over to the Indian forces.
Subedar Joginder Singh Sahan, PVC
Sub Joginder Sigh was holding a post at Bum-La along with a platoon of 20 men of 1 Sikh. The post stood in the way of the advancing Chinese moving toward Tawang. They attacked in three waves of 200 men. #List of 21 Best Param Vir Chakra
Sub Joginder Singh successfully repelled the first and second waves of attacks despite suffering causalities. Heavily outnumbered and short of ammunition, they fought to the last man. Sub Joginder Singh's last brave act was to take on the Chinese in a Bayonet charge.
Major Shaitan Singh, PVC
Major Shaitan Singh led the C Company of 13 Kumaon at Rezang-La when the Chinese attacked the post. Despite being surrounded and under heavy fire, Maj Shaitan Singh kept moving positions, distributing ammunition, and motivating his men to fight. Outnumbered, he finally succumbed to his injuries.
Company Quarter Master Havildar Abdul Hamid, PVC
The fateful night of 9-10 September 1965, saw the famous Battle of Assal Uttar unfold in the Khem Karan sector. The battle raged as the Pakistani tanks advanced menacingly. CHM Abdul Hamid, part of 4 Grenadiers, engaged and destroyed six Pakistani tanks before he was martyred engaging the seventh.
Lieutenant Colonel Ardeshir Burzorji Tarapore, PVC
Commanding 17 Horse, the legendary Poona Horse, Lt Col Tarapore led from the front in the Battle of Chawinda while attacking Phillora in the Sialkot sector, Pakistan. The fierce counterattack by a large number of Pakistani tanks saw some of the most brutal tank battles.
Despite being wounded, Col Tarapore continued to lead his forces, destroying sixty Pakistani tanks. The Indian side suffered nine tank casualties. A great victory but the nation lost Col Tarapore.
Second Lieutenant Arun Khetrapal, PVC
In the early hours of 16 December, 2nd Lt Arun Khetrapal, Squadron Commander of 'A' Squadron of the legendary 17 Poona Horse, responded to an urgent call for reinforcement by his colleague commanding Squadron 'A' in the Shakargarh sector.
As he crossed over the heavily mined banks of River Basantar, his Squadron came under heavy fire from the newly acquired US-made Pakistani Patton tanks. The battle saw 2nd Lt Khetrapal spearheading the charge on the enemy tanks.
His Commander was killed, 2nd Lt Khetrapal took command despite his tank being damaged, and he was severely wounded. The subsequent fierce engagement destroyed ten enemy tanks before he was martyred.
Major Hoshiar Singh Dahiya, PVC
Maj Hoshiar Singh Dahiya, the Commander 'C' Company, was tasked with establishing a bridgehead at River Basantar. He came under heavy shelling as the Pakistani forces launched several counter-attacks on his position. Severely wounded, he refused medical evacuation and kept moving from trench to trench motivating his troops to hold firm against the enemy advance.
Lance Nail Albert Ekka, PVC
The Battle of Hilli involved 14 Guards tasked with securing high ground close to Akhuara Railway station in Gangasagar in the eastern theatre. LN Ekka saw Pakistani troops moving along the railway tracks and challenged them.
The ensuing firefight saw LN Ekka attack and kill two troops manning the Light Machine Gun (LMG) but one Medium Machine Gun (MMG) position kept firing from a nearby building. Badly wounded, LN Ekka took upon himself to attack and silence the MMG position. He succeeded but could not survive his wounds.
Flying Officer Nirmal Jit Singh Sekhon, PVC
On 14 December 1971, six Pakistani F-86 Sabre jets attacked the Srinagar airfield. In response, Flying Officer Sekhon of No 18 'Flying Bullets' Squadron and 'Lofty' to his colleagues, took off in his Gnat to engage the enemy in a 1:6 dogfight.
He managed to shoot down one enemy Sabre and damaged the other one before his aircraft took fire. Unable to eject in time, he went down with his Gnat on the Indian side. His brave and timely sacrifice saved Srinagar.
Naib Subedar Bana Singh, PVC
On 18 April 1987, Pakistani forces holding Quaid Post, the highest peak in the Siachen glacier, fired down on Indian positions, killing two soldiers. 8 JAK Light Infantry made two attempts to evict the enemy and failed, resulting in the death of several soldiers Indian, including 2nd Lt Rajiv Pande (Operation Rajiv named after him).
NB Sub Bana Singh, along with five men, achieved the impossible. Scaling the steep 457-meter high ice wall, they surprised the enemy. The ensuing hand-to-hand combat resulted in the killing of six Pakistani soldiers while others jumped off the cliff.
Major Ramaswamy Parameswaran, PVC
Maj Paramweswaran's column came under fire from Tamil rebels as they returned late at night after conducting a search operation. His troops immediately engaged them while he surprised the rebels attacking from the rear. The resulting hand-to-hand combat saw all five rebels killed but Maj Paramweswaran took a bullet in the chest
Captain Vikram Batra, PVC
The legendary acts of Capt Vikram Batra are captured in JP Dutta's memorable movie 'Kargil,' in which his part is reprised by Abhishek Bachchan. Leading 'D' company of 13 JAK Rifles, he made history by capturing Point 5140, paving the way for the capture of other peaks from the entrenched Pakistani forces.
It was the battle for the capture of Point 4875 that was to be his last. Leading from the front, he successfully scaled the steep peak under heavy MMG fire, before engaging with the enemy in hand-to-hand combat. A Pakistani sniper took a shot at him, wounded he continued fighting but could not survive the RPG rocket splinter.
Lieutenant Manoj Kumar Pandey, PVC
1st Battalion of the 11 Gorkha Rifles was tasked with the capture of Jubar Top in the Batalik sector. Lt MK Pandey, commanding No 5 Platoon, led the attack. The Battle of Khalubar witnessed some of the fiercest battles during the Indo-Pak conflict of 1999.
Crawling up the inhospitable terrain against a barrage of relentless machine gun fire, Lt Pandey was wounded in the shoulder and leg. Undaunted, he continued to lead his men up towards the enemy positions. The resulting hand fighting was merciless and brutal but Lt Pandey and his men prevailed. A badly wounded Lt Pandey bravely fought on until he fell to a hail of machine gunfire.
Rifleman Sanjay Kumar, PVC
On 4 July 1999, Rifleman Sanjay Kumar of 13 JAK Rifles led his scout team in the attack to capture Point 4875 in Mushkoh Valley. The enemy dug deep at various positions along the higher ridges, keeping up relentless fire on the advancing Indian troops. Completely disregarding personal safety, Rifleman Kumar charged an enemy position killing three Pakistani intruders.
Grievously wounded, he refused to back down and proceeded to the next position from where another machine gun continued firing. Surprised to see him charging towards the post, the enemy soldier left his machine gun and began running. Rifleman Kumar picked up his gun and shot him as he ran. The Indian flag flew at Point 4875.
Grenadier Yogendra Singh Yadav, PVC
Grenadier Yogendra Singh Yadav of 18 Grenadiers will always be remembered as the hero who paved the way for the capture of Tiger Hill. He volunteered to lead a Ghatak Commando team on the snow-covered 1000 feet steep slope leading to Tiger Hill.
He slowly made his way up, fixing rope points so others could climb. Just 60 feet short from the top, the enemy spotted him opening machine gunfire. His platoon commander and two other colleagues were martyred and he took bullets in the groin and shoulder.
He didn't stop. Making his way to the top, he charged the enemy position, killing four Pakistani soldiers. In all, he took 14 bullets and survived to see the Indian flag go up on Tiger Hill.