Param Vir Chakra | Best NDA Coaching in Lucknow, India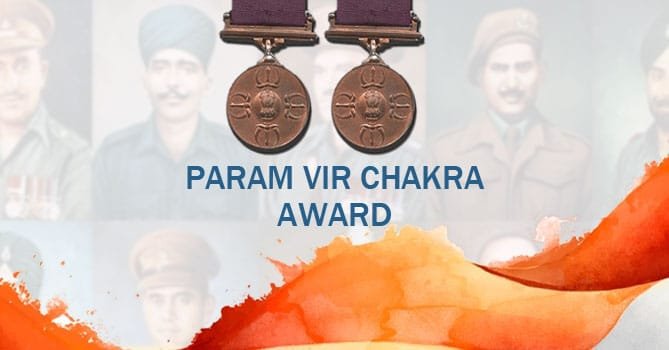 Conditions of Eligibility
Awarded for most conspicuous bravery or some daring or pre-eminent act of valour or self-sacrifice, in the presence of the enemy, whether on land, at sea, or in the air. The decoration may be awarded posthumously. #Best NDA Coaching in Lucknow

If any recipient of the Chakra shall again perform such an act of bravery as would have made him or her eligible to be recorded by a Bar to be attached to the ribbon by which the Chakra is suspended, and for every such additional act of bravery, an additional Bar shall be added, and any such Bar or Bars may also be awarded posthumously. For every Bar awarded a replica of the 'Indra's Vajra' in miniature shall be added to the ribbon when worn alone. Param Vir Chakra
Eligible Categories – Param Vir Chakra
Officers, men and women of all ranks of the Army, the Navy and the Air Force, of any of the Reserve Forces, of the Territorial Army Militia and of any other lawfully constituted Armed Forces.

Matrons, Sisters, Nurses and the staff of the Nursing Services and other Services pertaining to Hospitals and Nursing, and Civilians of either sex serving regularly or temporarily under the orders, directions or supervision of any of the above-mentioned Forces.
Design of the Medal and Ribbon
Medal. Circular in shape, made of bronze, one and three eighth inches in diameter and on obverse four replicas of 'Indra's Vajra' with the State Emblem (including the motto) embossed in the centre. On its reverse, it shall have embossed Param Vir Chakra both in Hindi and English with two lotus flowers between Hindi and English. The fitting will be swivel mounting. #Param Vir Chakra

Ribbon. Plain purple coloured ribbon.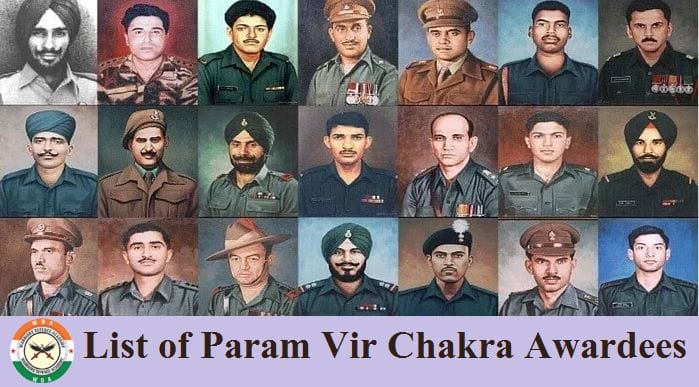 Warriors Defence Academy | Best NDA Coaching in Lucknow | Best Airforce Coaching in Lucknow | Best Defence Coaching in Lucknow India.
Address: 545-GA/1-CHHA, beside Madhuwan Guest house Chandganj Near Railway Crossing, Kapoorthla, Lucknow, Uttar Pradesh 226006
List of Param Vir Chakra awardees
| | | |
| --- | --- | --- |
| Name | Regiment | Date |
| Major Somnath Sharma | 4th Battalion, Kumaon Regiment | 3 Nov 1947, Posthumous |
| Second Lieutenant Rama Raghoba Rane | Bombay Engineers | 8, April 1948 |
| Naik Jadu Nath Singh | 1st Battalion, Rajput Regiment | 6 February 1948, Posthumous |
| Company Havildar Major Piru Singh Shekhawat | 6th Battalion, Rajputana Rifles | 18 July 1948, Posthumous |
| Lance Naik Karam Singh | Sikh Regiment | 13 October 1948 |
| Captain Gurbachan Singh Salaria | 3/1 Gorkha Rifles | 5 December 1961 |
| Major Dhan Singh Thapa | 1st Battalion, 8th Gorkha Rifles | 21 October 1962 |
| Subedar Joginder Singh | 1st Battalion, Sikh Regiment | 23 October 1962, Posthumous |
| Major Shaitan Singh | 13th Battalion, Kumaon Regiment | 18 November 1962, Posthumous |
| Company Quarter Master Havildar Abdul Hamid | 4th Battalion, The Grenadiers | 10 September 1965, Posthumous |
| Lieutenant-Colonel Ardeshir Burzorji Tarapore | 17th Poona Horse | 11 September 1965, Posthumous |
| Lance Naik Albert Ekka | 14th Battalion, Brigade of the Guards | 4 December 1971, Posthumous |
| Flying Officer Nirmal Jit Singh Sekhon | No.18 Squadron, Indian Air Force | 14 December 1971, Posthumous |
| 2/Lieutenant Arun Khetarpal | 17 Poona Horse | 16 December 1971, Posthumous |
| Major Hoshiar Singh | 3rd Battalion, The Grenadiers Regiment | 17 December 1971 |
| Naib Subedar Bana Singh | Jammu and Kashmir Light Infantry | 23 May 1987 |
| Major Ramaswamy Parameshwaran | 8th Battalion, Mahar Regiment | 25 November 1987, Posthumous |
| Captain Manoj Kumar Pandey | 1st Battalion, 11th Gorkha Rifles | 3 July 1999, Posthumous |
| Grenadier Yogendra Singh Yadav | 18th Battalion, The Grenadiers | 4 July 1999 |
| Rifleman Sanjay Kumar | 13th Battalion, Jammu & Kashmir Rifles | 4 July 1999 |
| Captain Vikram Batra | 13th Battalion, Jammu & Kashmir Rifles | 7 July 1999, Posthumous |
Param Vir Chakra | Best NDA Coaching in Lucknow, India