Top NDA Coaching in India – Best NDA Coaching in Lucknow
Warriors Defence Academy is the Best Institute for NDA Classes in Lucknow, India. We offer excellent preparatory training for the entrance examinations to get into the Indian armed forces. Top NDA Coaching in India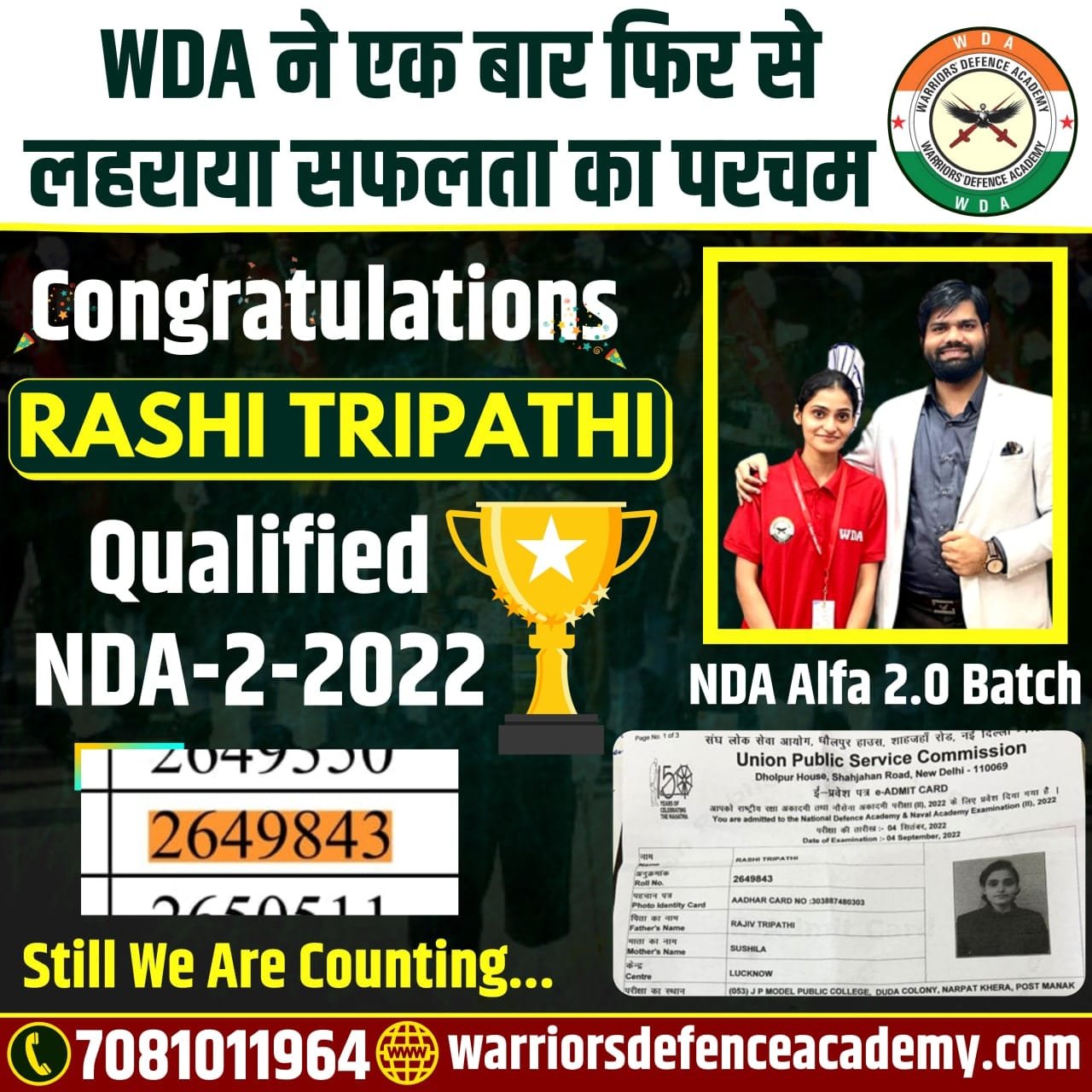 Since our inception 7 years ago, under the captaincy of one of India's leading youngest entrepreneurs – Mr. Gulab Singh. Hundreds of our candidates have been selected and many of whom have attained top ranks in final UPSC merit.
The institute has highly qualified and reputed team instructors each fully devoted to providing an unparalleled education for NDA/CDS/SSB/AFCAT/CAPF.
The task of teaching transcends the classrooms so as to guide the students to realize their highest potential, and to encourage them to optimize the results.
Involvement and excellence in extracurricular activities like SSB guidance, personality development, debates, team games, lecture, etc feature in the training.
Our aim at the academy is to make the students imbibe discipline and groom moral and ethical values. Come, be a part of this success story, and fulfil your desire for joining the reputed Indian Armed forces and serving the nation.
Vaccination
Candidates should be vaccinated against the Chickenpox virus. Candidates who undergo the vaccination prior to joining will be required to produce a medical certificate duly signed by an authorized medical practitioner. Cadets who do not get vaccinated on their own will be inoculated with two shots of Chickenpox vaccines at an interval of 6-8 weeks in addition to the existing ones.
At the time of joining the Academy, the following vaccines are administered to the cadets through Govt expenses:-
Injection TT Vaccine – 02 doses.
Injection Typhoid Vaccine – 02 doses.
Injection Hepatitis B Vaccine – 03 doses.
If the candidate is exposed to any infectious or contagious disease, he should inform the Adjutant, National Defence Academy telephonically, immediately after receiving the Joining Instructions. On no account will he join the Academy until formal permission to do so has been obtained from National Defence Academy?
A thorough check for permanent body tattoo(s) of all the cadets will be carried out at Military Hospital, Khadakwasla on their arrival with details as given in their dossiers. Any deviation on this will entail the cancellation of the candidature of cadets.
Risk Certificate
No candidate or his parents/guardians will be entitled to claim compensation for any injury, bodily infirmity, or death which may be sustained in the course of/as a result of training or surgical operation or anaesthesia given to the cadet at the National Defence Academy during the course of his medical treatment.
COVID-19
All necessary precautions are being taken by this Academy to contain the spread of COVID-19 on the premises.
The following items have been made available to the cadets:-
(a) Adequate quantity of masks.
(b) Immunity Boosting tablets.
Strict monitoring by Med staff is being carried out. Adequate infrastructure in terms of quarantine facility, hospital facility, and post-recovery is available within the Academy to take proper care of the cadets.
Content Writer by PRASHANT SINGH
Faculty of personality development | 5+ years of experience in teaching | Masters in English literature | 10 times CDS qualified, | Defence enthusiast, educator, and explorer