From Dream to Reality: Achieving NDA Success with the Top Coaching Institute in Lucknow
Introduction:
For many young individuals, the dream of joining the National Defense Academy (NDA) and serving the country is the epitome of their ambition. However, cracking the NDA entrance exam is no easy feat. It requires a combination of dedication, hard work, and expert guidance to turn this dream into a reality. That's where the Best NDA Coaching in Lucknow, Warriors Defence Academy, comes into play. In this blog post, we will explore the invaluable role played by this esteemed coaching institute in helping aspiring candidates achieve NDA success. Top Coaching Institute in Lucknow
Step into the World of Excellence:
With a multitude of coaching institutes claiming to be the best, it is imperative to choose the one that truly stands out. Warriors Defence Academy in Lucknow has earned its reputation as the frontrunner in the field of NDA coaching, thanks to its exceptional track record and student success rate. This coaching institute is not just any ordinary teaching center; it is a place where lofty dreams are nurtured and transformed into tangible achievements.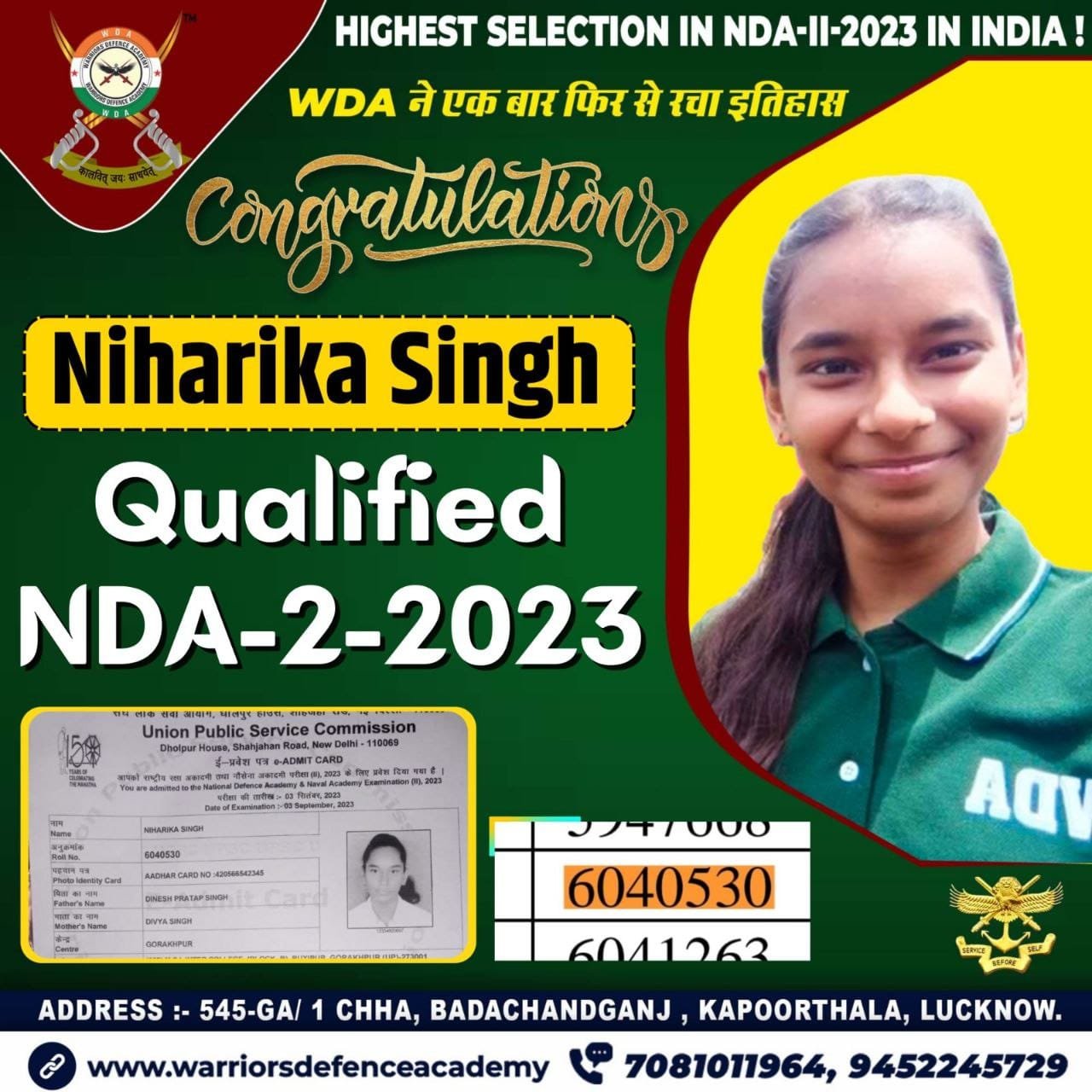 Expert Faculty: The Backbone of Success:
At Warriors Defence Academy, experienced faculty members serve as the driving force behind their students' success. The coaching institute takes pride in its exceptional team of mentors, who are not only highly qualified but also possess vast experience in guiding NDA aspirants. These mentors go above and beyond to ensure that students are equipped with comprehensive knowledge, an analytical mindset, and the required discipline to excel in the NDA exam.
Comprehensive Course Structure:
The success of any coaching institute lies in its ability to design a comprehensive and tailored course structure. Warriors Defence Academy excels in this aspect, offering a well-rounded curriculum that covers all the essential subjects and topics required for the NDA examination. From mathematics and English to general knowledge and current affairs, their meticulously designed course helps students develop a strong foundation in each subject area.
Effective Study Materials:
Warriors Defence Academy leaves no stone unturned when it comes to providing students with the best study materials. These materials are well-researched, comprehensive, and specifically curated to meet the standards of the NDA exam. They include in-depth notes, practice questions, mock tests, and previous years' question papers, enabling students to gain a competitive edge over their peers.
Strategic Test Series and Mock Interviews:
Cracking the NDA exam not only requires knowledge but also the ability to perform well under pressure. Warriors Defence Academy ensures that students are well-prepared for the challenges that lie ahead by conducting regular test series and mock interviews. These assessments simulate the actual exam scenario, allowing students to refine their time management skills, identify areas of improvement, and gain confidence before the final examination.
Transforming Dreams into Reality:
The journey from dream to reality is never easy, but with the support and guidance of the best coaching institute in Lucknow, aspiring NDA candidates can confidently embark on their path to success. Warriors Defence Academy has proven time and again that their commitment to excellence and unwavering support makes all the difference in turning dreams into reality.
Conclusion:
When it comes to achieving NDA success, the choice of coaching institute plays a pivotal role. With an outstanding faculty, comprehensive course structure, effective study materials, and strategic mock assessments, Warriors Defence Academy emerges as the top-tier provider of NDA coaching in Lucknow. By choosing this esteemed institution, aspiring candidates can be confident that their dreams of serving the nation will undoubtedly transform into a glorious