india's domestic expertise takes centre stage as Star Jets bridge intelligence gap
The integration of cutting-edge technology and domestic expertise positions India to be at the forefront of aerial surveillance capabilities
In a strategic move to bolster its aerial surveillance capabilities, India is set to acquire three Bombardier Global 6000 private jets, intended for conversion into cutting-edge Intelligence, Surveillance, Targeting Acquisition, and Reconnaissance (ISTAR) platforms. These aircraft will be outfitted with state-of-the-art sensor packages developed by India's Defense Research and Development Organization (DRDO), aimed at elevating the reconnaissance capabilities of the Indian Air Force (IAF). Domestic Expertise Takes Centre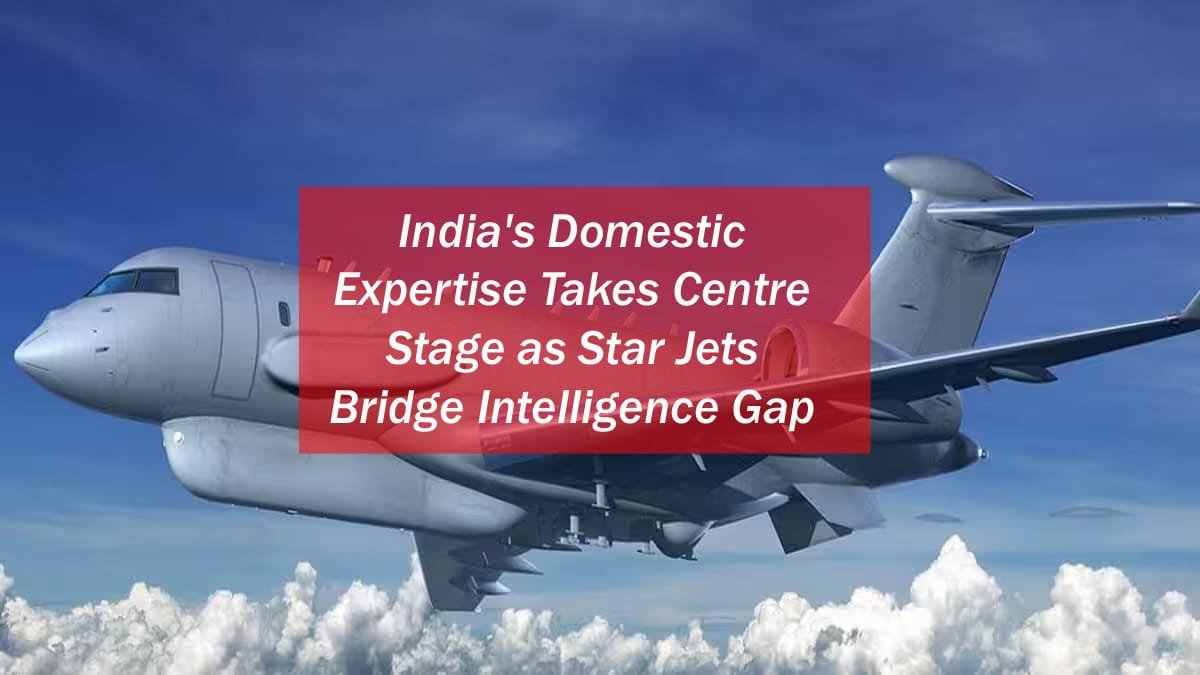 Airforce
,
Best NDA Coaching in India
,
Best NDA Coaching in Lucknow
,
Calendar
,
Defence Coaching
,
Latest News
,
NDA
,
NDA Coaching
,
NDA Syllabus
,
Popular News
,
Selection
,
Warriors Defence Academy
India's DRDO, specifically the Center for Airborne Systems (CABS) laboratory, will play a pivotal role in the development of sensors tailored for these ISTAR platforms. The sensor package comprises a Multispectral (EO-IR) Long-Range Oblique Photography (LOROP) sensor, a geospatial intelligence processing and exploitation suite, high data-rate line-of-sight (LOS) and Satcom data-links, an onboard mission communications suite, and the integration of artificial intelligence/machine learning (AI/ML) capabilities. These capabilities encompass image intelligence, automatic target recognition, change detection, and the establishment of a Common Operational Picture (COP).ISTAR's Vital Function in National Security Domestic Expertise Takes Centre
While India had initially planned to procure these aircraft directly from US defense contractor Raytheon, with Raytheon providing the technology for the ISTAR program, recent developments indicate a shift. DRDO's CABS is set to lead the program, emphasizing domestic development to create advanced surveillance capabilities.

Bombardier Global 6000
The ISTAR platform serves a crucial role in intercepting enemy signals and furnishing critical information to ground commanders. This empowers decision-makers to make informed choices regarding counterstrikes. By providing precise targeting data, the ISTAR platform assists ground forces in determining the optimal deployment of weapons with precision. Seamless Coordination for Enhanced Situational Awareness Domestic Expertise Takes Centre
The ISTAR-equipped aircraft will establish a robust two-way communication link with all reconnaissance platforms. This network includes satellites, other aircraft, unmanned aerial vehicles (UAVs), helicopters, and ground reconnaissance vehicles. This seamless coordination ensures real-time intelligence sharing among all relevant assets. This, in turn, elevates situational awareness and enhances response capabilities. Domestic Expertise Takes Centre
India's pursuit of these advanced ISTAR platforms underscores its commitment to national security and defence readiness. The integration of cutting-edge technology and domestic expertise positions India to be at the forefront of aerial surveillance capabilities. This proactive approach ensures that India can effectively respond to evolving security challenges and continue to safeguard its territorial integrity. Domestic Expertise Takes Centre
Warriors Defence Academy is the Best NDA Coaching in Lko. We are the Leading Coaching Institute for NDA/CDS/AFCAT/Army/Air Force/Navy Located in Lucknow. Warriors Defence Academy has the Largest GTO Ground in India. The Aspirants of Defence Services are guided by Ex. Defence Officers. WDA was also Awarded as Best NDA Academy in Lko. Making Urea Deliver More
We have complete facilities to Prepare you for the Defence Exam…
Faculty – Some of the best names in the field of Defence career coaching are available to impart psychology, GTO and interview training.
Infrastructure – State of the Art infrastructure facility for indoor-outdoor coaching.
Fees – Competitive fee structures have been devised to allow deserving candidates from every strata of society to get an opportunity to avail coaching facility.
Computer-aided coaching for NDA/CDS written test
Expert coaching in Personality Development, Leadership, Team Building and Soft Skills Specialized coaching for GTO tasks.
SSB Interview guidance for TGC, NDA, TES, CDSE, SSC
Outdoor task training
Proficiency in Group Discussions
Personal attention and grooming
545-GA/1-CHHA, Chandganj Garden Road, beside Madhuwan Guest house, near Railway crossing, Kapoorthla, Bara Chandganj, Chandralok, Lucknow, Uttar Pradesh 226006