Making Urea Deliver More
Fortification of urea, DAP and other commodity fertilisers with micronutrients is the way forward for boosting crop yields and maximising the use efficiency of imported nutrients
LATE LAST month, Prime Minister Narendra Modi officially launched the 'Urea Gold' fertiliser. Developed by the state-owned Rashtriya Chemicals and Fertilizers Ltd (RCF), it is basically urea fortified with sulphur. Making Urea Deliver More
Normal urea contains 46% of a single plant nutrient: Nitrogen or N. Urea Gold has 37% N plus 17% sulphur or S and aims at two things. The first is to deliver S along with N. Indian soils are deficient in S, which oilseeds and pulses-the country is significantly import-dependent in both – particularly require.
The second is to improve the nitrogen use efficiency (NUE) of urea. Coating of S over urea ensures a more gradual release of N. With the prolonged urea action, the plants stay greener for a longer time. Farmers tend to apply urea when they notice the leaves turning yellowish. If the crop retains green- ness for an extended period, they would reduce the frequency of application and use- say, only two bags, as against three, for an acre of paddy or wheat. "Making Urea Deliver More"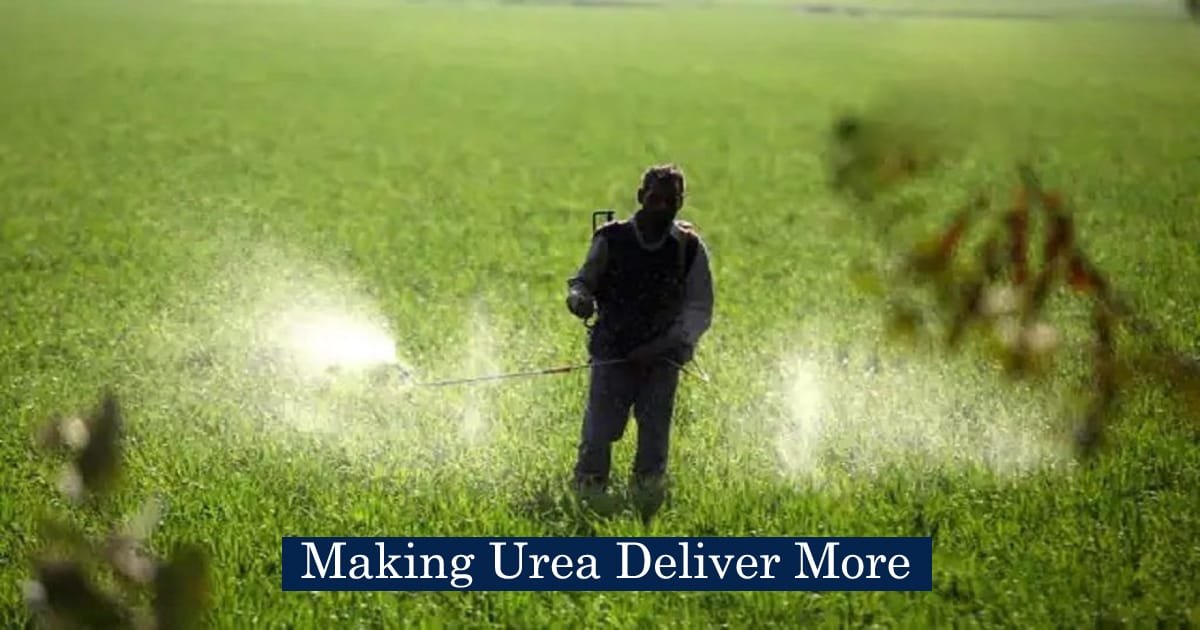 RCF has yet to commercially introduce Urea Gold or reveal any pricing details. The maximum retail price (MRP) for a 45-kg bag of ordinary neem-coated urea is around Rs 254, net of local taxes. Indications are that Urea Gold, given its higher NUE from the slow-release mechanism, may be sold in 40-kg bags. The MRP is expected to be fixed at Rs 400- 500 per 40-kg bag. [Making Urea Deliver More]
The problem
 Urea is India's most widely used fertiliser, with its consumption/sales rising from 26.7 million tonnes (mt) to 35.7 mt between 2009- 10 and 2022-23. The Modi government's measures, such as mandatory coating of all urea with neem oil and reducing the size of bags from 50 to 45 kg, enabled a slight dip from 2013-14 to 2017-18. But the subsequent period has shown a renewed uptrend (Chart 1).
There are two concerns over rising urea consumption. The first is imports, which accounted for 7.6 mt out of the total 35.7 mt sold last fiscal. Even with regard to domestically manufactured urea, the feedstock used – natural gas- is mostly imported. India's nearly 36-mt annual consumption of urea is today next only to China's 51 mt, with the latter's production largely coal-based.
The second concern is NUE. Barely 35% of the N applied through urea in India is actually utilised by crops to produce harvested yields. The balance 65% N is unavailable to the plants, much of it "lost" through release into the atmosphere as ammonia gas or leaching below the ground after conversion into nitrate. Declining NUE, from an estimated 48% in the early 1960s (Chart 2), has resulted in farmers applying more and more fertiliser for the same yield. Making Urea Deliver More
The fortification solution
There is growing consensus, including in the government, that India cannot sustain the above increase in consumption of urea, or even di-ammonium phosphate (DAP), muri- ate of potash and other fertilisers containing just primary nutrients: N, P (phosphorus) and K (potassium).
A country with hardly any natural gas or rock phosphate, potash and sulphur reserves shouldn't, beyond a point, encourage the consumption of these commodity fertilisers in plain-vanilla form. Instead, they must be coated with secondary nutrients (S, calcium and magnesium) as well as micronutrients (zinc, boron, manganese, molybdenum, iron, copper and nickel). Making Urea Deliver More
The coating allows urea or DAP to be used as "carrier products" for delivering secondary and micronutrients to crops. In addition, it improves their own N and P use efficiency through synergetic effects and controlled re-lease that, in the case of urea, helps reduce losses through ammonia volatilisation and nitrate leaching. Making Urea Deliver More
Yara International, a $24.1 billion-revenue Norwegian crop nutrition company, has a proprietary 'Procote' technology for coating all commodity fertilisers with any micronutrient. Its Indian subsidiary – which has a 1.2-mt urea plant at Babrala in Uttar Pradesh's Sambhal district – launched 'Procote Zn' for coating urea with zinc oxide during the 2022 kharif season. Making Urea Deliver More
"Punjab and #Haryana farmers growing paddy usually mix 5 kg of zinc sulphate (having 33% Zn content) with a 45-kg bag of urea per acre 10-12 days after transplanting. Here, they need to apply just 325-350 ml of Procote Zn (containing 39.5% Zn), again by mixing with 45 kg of urea," said Sanjiv Kanwar, managing director, Yara Fertilisers India Pvt. Ltd.
Being a powder, zinc sulphate is prone to losses during mixing and application. Also, the micronutrient particles don't get uniformly distributed over all the urea prills, which are 1-2 mm in diameter. Procote Zn, by contrast, is a palm oil-based suspension concentrate that farmers can simply pour, mix and rub in their urea before application. Making Urea Deliver More
"There's no dust loss and every single urea prill will now carry a thin lining of Zn, even with only 325-350 ml and not 5 kg of coating material," claimed Kanwar. Yara is planning next to commercialise 'Procote B' (boron) and 'Procote BMZ (boron, manganese and zinc) in India based on the same dust-free mi- macronutrient coating technology platform- for which field trials are underway.
Best Defence Academy in India
,
Best Defence Academy in Lucknow
,
Best Defence Coaching in India
,
Best Defence Coaching in Lucknow
,
Best Defence Coaching in Patna
,
Best NDA Coaching
,
Best NDA Coaching in India
,
Best NDA Coaching in Lucknow
,
Best NDA Coaching in Patna
,
best nda coaching institute in lucknow
,
Defence Academy
,
defence coaching
,
Defence Coaching in Lucknow
,
Defence Industrial Corridor
,
Different types of Indian Army Uniforms | Best Defence Coaching in Lucknow
,
National Defence Academy
,
nda
,
NDA Coaching
,
nda coaching in India
,
NDA Coaching in Lucknow
,
Nda Coaching institute in Lucknow
,
NDA Coaching Near me
,
NDA Online Classes
,
NDA Syllabus
,
No-1 NDA Coaching in India
,
no-1 NDA Coaching in Lucknow
,
No-1 NDA Coaching in Lucknow | Warriors Defence Academy
,
No1 Defence Academy in Lucknow
,
Top Defence Academy in India
,
Top Defence Academy in Lucknow
,
Top Defence Coaching in India
,
Top Defence Coaching in Lucknow
,
Top NDA Coaching
,
top nda coaching in india
,
Top NDA Coaching in lucknow
,
Warriors Defence Academy
,
Warriors Defence Academy | Best NDA Coaching in Lucknow | Best Airforce Coaching in Lucknow | Best Defence Coaching in Lucknow India. Address: 545-GA/1-CHHA
,
Warriors Defence Academy Lucknow
,
Warriors NDA Academy
The hurdle has to do with pricing.
The government currently permits the coating of urea with zinc (for which fertiliser concerns can recover an extra Rs 542 per tonne or about Rs 24 for a 45-kg bag) and sulphur (for which the MRP is still to be finalised). Urea apart, an additional subsidy of Rs 300 and Rs 500 per tonne is being provided for P&K fertilisers fortified with boron and zinc, respectively. Making Urea Deliver More
These additional rates aren't attractive enough for companies to market zincated urea, boronated DAP or any of the 20-odd fortified products recognised under the Fertiliser Control Order.
This is despite the proven benefits of micronutrient fortification: Yara's field trials have demonstrated average paddy yields for the 'PR-126' variety in Punjab increasing – from 24-25 to 26-27 quintals per acre when farmers apply zinc sulphate on top of urea. It goes up further to 30 quintals with Procote Zn. Sulphur-coated urea has been similarly found by the Indian Agricultural Research Institute to boost wheat yields by roughly 10% and enhance nitrogen efficiency by 60%.
For now, there's not much incentive for fortification. Yara is selling urea and Procote Zn separately. Farmers are paying the controlled MRP of Rs 254 for a 45-kg bag of urea and Rs 530-550 for 325-350 ml of Procote Zn. The latter price is marginally higher than the Rs 500 that 5 kg of zinc sulphate is costing them. Making Urea Deliver More
"Ideally, the coating should be carried out at the factory itself, which will guarantee even more uniform distribution of micronutrients and save the farmer the hassles of mixing. The government can probably set free the MRPS for all coated fertilisers. Since the regular urea or DAP will continue to be sold at heavily subsidised rates, companies cannot charge too much of a premium on their fortified fertiliser products," Kanwar pointed out. Making Urea Deliver More
TERMING COURT vacations a "colonial legacy", a parliamentary panel has recommended that High Court judges take turns going on vacation to tackle the mounting pendency of cases."…entire court going on vacation en masse causes deep inconvenience to the litigants," the Parliamentary Standing Committee on Personnel, Public Grievances, Law and Justice has said.
What is this report?
In its 133rd report, "on the subject of judicial processes and their reforms", the parliamentary panel headed by BJP MP Sushil Kumar Modi reiterated a suggestion made by former Chief Justice of India (CJI) RM Lodha on court vacations earlier. Making Urea Deliver More
The demand for doing away with court vacations is primarily due to two factors, the report says: one, the "huge pendency of cases in our courts", and two, the inconvenience faced by the litigants during court vacations. Making Urea Deliver More
"A common man holds a perception that despite having such a huge pendency of cases, their judges go on long vacations. Further, during the vacations, the litigants have to suffer a lot despite having a handful of vacation courts/benches," the report said. Making Urea Deliver More
Is this the first time the Centre has expressed such a view?
The Centre has brought up the issue of court vacations earlier too. On December 15, 2022, then-Law Minister Kiren Rijiju criticised the judiciary for taking long vacations amid a high number of pending cases. Making Urea Deliver More
Responding to questions relating to pendency, Rijiju told Rajya Sabha that the prob-lem could not be resolved until a "new system" on the appointment of judges was put in place.
The government has learnt to have re-quested High Courts to ensure that courts functioned for at least 222 working days. However, the parliamentary panel found that High Courts functioned for only 210 days on average. Before this, in 2014, when the Supreme Court notified its new Rules, it said that the period of summer vacation shall not exceed seven weeks, from the earlier 10-week period. This came after the Law Commission's 230th Report and the Malimath Committee Report made similar suggestions. Making Urea Deliver More
What did these reports recommend? In 2009, the Law Commission, in its 230th report on 'Reforms in the Judiciary – Some suggestions', suggested that court vacations be cut down by 10-15 days at all levels of the judiciary to help cut the backlog of cases. Before that, in 2000, the Atal Bihari Vajpayee government appointed a "Committee on Reforms of Criminal Justice System" under Justice VS Malimath, former Chief Justice of the Karnataka and Kerala High Courts, which in its report submitted in 2003 recommended that the period by 21 days, keeping in mind the long pendency of cases. The Malimath Committee of vacation should be reduced and suggested that the Supreme Court should work for 206 days, and the High Courts for 231 days every year. Making Urea Deliver More
For how long do Indian courts go on vacation currently?
The Supreme Court has 193 working days a year for its judicial functioning, the High Courts function for approximately 210 days, and trial courts for 245 days.
High Courts have the power to structure their calendars according to the service rules.
The Supreme Court breaks for its annual summer vacation, which is typically for seven weeks starting at the end of May. The court reopens in July. The SC also takes week-long breaks for Dussehra and Diwali, and two weeks at the end of December. Making Urea Deliver More
Despite the vacations, however, the Supreme Court has many more working days compared with the highest courts in other countries. For instance, the United States Supreme Court sits for 79 days with no oral arguments scheduled for a few months in between. The apex courts in Australia, the United Kingdom, and Singapore sit for a total of 97, 189, and 145 days respectively.
What happens to important cases during court vacations?
Generally, a few judges are available to hear urgent cases even when the court is in recess. "Vacation Benches" comprising two or three judges hear important cases that cannot wait. Cases such as bail, eviction, etc., often find precedence in listing before vacation benches. Making Urea Deliver More
It is also not uncommon for courts to hear important cases during vacations.
For example, in 2015, a five-judge Bench of the Supreme Court heard the challenge to the constitutional amendment setting up the National Judicial Appointments Commission during the summer vacation. Making Urea Deliver More
In 2017, a Constitution Bench led by then CJI JS Khehar held a six-day hearing in the case challenging the practice of triple talaq during summer vacation.
Warriors Defence Academy is the Best NDA Coaching in Lko. We are the Leading Coaching Institute for NDA/CDS/AFCAT/Army/Air Force/Navy Located in Lucknow. Warriors Defence Academy has the Largest GTO Ground in India. The Aspirants of Defence Services are guided by Ex. Defence Officers. WDA was also Awarded as Best NDA Academy in Lko. Making Urea Deliver More
We have complete facilities to Prepare you for the Defence Exam…
Faculty – Some of the best names in the field of Defence career coaching are available to impart psychology, GTO and interview training.
Infrastructure – State of the Art infrastructure facility for indoor-outdoor coaching.
Fees – Competitive fee structures have been devised to allow deserving candidates from every strata of society to get an opportunity to avail coaching facility.
Computer-aided coaching for NDA/CDS written test
Expert coaching in Personality Development, Leadership, Team Building and Soft Skills Specialized coaching for GTO tasks.
SSB Interview guidance for TGC, NDA, TES, CDSE, SSC
Outdoor task training
Proficiency in Group Discussions
Personal attention and grooming
545-GA/1-CHHA, Chandganj Garden Road, beside Madhuwan Guest house, near Railway crossing, Kapoorthla, Bara Chandganj, Chandralok, Lucknow, Uttar Pradesh 226006