Best NDA Coaching in UP
Best NDA Coaching in UP: We offer excellent preparatory training for the entrance examinations to get into the Indian armed forces.
Since our inception 7 years ago, under the captaincy of one of India's leading youngest entrepreneurs – Mr. Gulab Singh. Hundreds of our candidates have been selected and many of whom have attained top ranks in final UPSC merit.
The institute has highly qualified and reputed team instructors each fully devoted to providing unparalleled education for NDA/CDS/SSB/AFCAT/CAPF.
The task of teaching transcends the classrooms so as to guide the students to realize their highest potential, and to encourage them to optimize the results.
Involvement and excellence in extracurricular activities like SSB guidance, personality development, debates, team games, lecture, etc feature in the training.
Our aim at the academy is to make the students imbibe discipline and groom moral and ethical values. Come, be a part of this success story, and fulfill your desire for joining the reputed Indian Armed forces and serving the nation.
Best NDA Academy in Lucknow | Join WDA Lucknow – Warriors Defence Academy deeply appreciative and offer you our most grateful welcome. We are happy to announce that Ex. GTO Officer Colonel R. K. Tiwari Sir going to Join our Academy to Guide NDA and CDS aspirants For SSB. WDA is the Best NDA and SSB Coaching in Lucknow India.
Warriors Defence Academy is the Best NDA Coaching in Lucknow. We are the Leading Coaching Institute for NDA/CDS/AFCAT/Army/Air Force/Navy Located in Lucknow. Warriors Defence Academy has the Largest GTO Ground in India. The Aspirants of Defence Services are guided by Ex. Defence Officers. WDA was also Awarded as Best NDA Academy in Lucknow.
Address: 545-GA/1-CHHA, Chandganj Garden Road, beside Madhuwan Guest house, near Railway crossing, Kapoorthla, Bara Chandganj, Chandralok, Lucknow, Uttar Pradesh 226006
Shehbaz talks offer: what to make of Pak PM's statement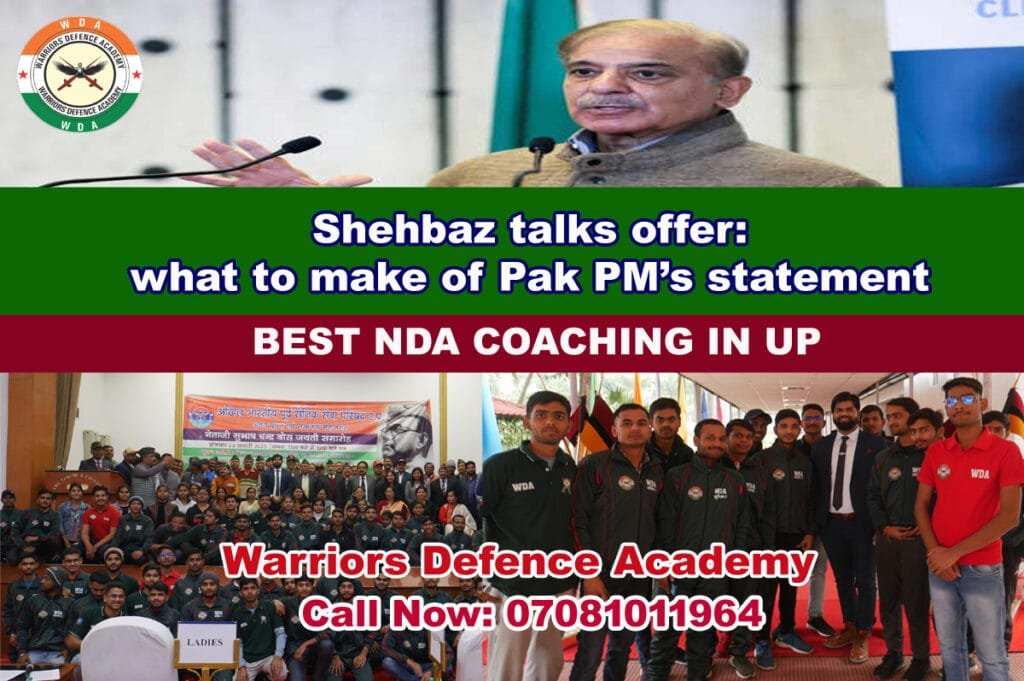 By Prashant Sir WDA
IN AN interview with Dubai-based Al Arabiya, Prime Minister Shehbaz Sharif said that Pakistan wanted "serious and sincere talks" with India and that he had asked Sheikh Mohamed bin Zayed, the President of the United Arab Emirates (UAE), to use his friendly ties with New Delhi to bring the two sides to the table to discuss all outstanding issues – Sharif mentioned the "human rights violation in Kashmir", and India's revocation of the special status of Jammu and Kashmir. #Best NDA Coaching in UP
As he has drawn in a third country to which Pakistan is beholden for periodic economic bailouts and whose relationship with India can be described as excellent, Sharif's comments would appear to hold more significance than routine statements about wanting peace with India.
This is particularly because the UAE has earlier claimed to have played a role in bringing India and Pakistan to the table. In 2021, a top UAE diplomate had made public his country's role as facilitator in a backchannel process between the two countries, supported reportedly by the United States, the United Kingdom, and France. #Best NDA Coaching in UP
The timing of the remarks is also important. They come amid reports of Pakistan nearing a situation akin to that of Sri Lanka, with its dollar reserves running low and concerns rising that it might default on its debts. During his two-day visit to the UAE last week, Sharif asked Pakistan's "brother" country for help one more time. The UAE has promised to roll over a $2 billion debt, and has topped that up with another $1 billion. #Best NDA Coaching in UP
Separately, the Saudi Fund for Development has agreed to chip in with $1 billion on overdue payments for Pakistan's oil imports from that country.
Sharif's visit followed closely after a tour of both countries by Army chief Gen Asim Munir. The general, while praising the UAE and Saudi for coming to Pakistan's help "like a brother", also said Pakistan could not keep holding out its hand for a dole, and had to learn to stand on its own feet.
Not an unfamiliar line
Sharif's reachout to Prime Minister Narendra Modi in the Al Arabiya interview included what sounded like an apparent condition: Pakistan wants "to live in peace with India provided we are able to solve our genuine problems" – "to resolve our burning issues like Kashmir where flagrant human rights are taking place day in and day out, and two, they (India) reversed whatever semblance of autonomy was given to the Kashmiris in their Constitution through Article 370, they have revoked that, and minorities are being grossly mishandled… this must stop". #Best NDA Coaching in UP
He did not spell out exactly what he was asking India to do, although in earlier backchannel conversations, Pakistan had reportedly indicated that the restoration of J&K's statehood was a requirement. Pakistani journalists Javed Chaudhry and Hamid Mir recently revealed that it had been agreed in these backchannel conversations to "freeze the Kashmir issue" for 20 years.
Pakistan's Prime Minister has made similar remarks earlier. Both he and his brother, former Prime Minister Nawaz Sharif, have consistently said that Pakistan ahs to make peace with India, and that normalising ties would benefit Pakistan's economy.
However, this is the first time that a Pakistani leader has specifically said that "Pakistan has learnt its lessons" from its three wars with India, which had only brought "more miseries, unemployment, poverty".
Pakistan Army's position
The last time the Army made substantive remarks on relations with India was when its former chief Gen Qamar Javed Bajwa (retd) made a strong case for trade between the countries in a landmark speech in 2021 – pitching for "geoeconomics" rather than geostrategy. #Best NDA Coaching in UP
The only remark that Gen Munir, who took over from Gen Bajwa on November 29, 2022, has made on India came during a tour of the LoC – if attacked, Pakistani forces would "defend every inch of our motherland", he said.
A clarification on Sharif's interview to Al Arabiya issued post-haste from the Prime Minister's Office on Tuesday, stressed that the reversal of India's "illegal actions" in Kashmir was a non-negotiable precondition. This suggests that the Pak Army may not have taken kindly to the PM's remarks, especially the "lesson-learnt-from-three wars" part of it – as this points directly to the Army's mistakes, and to its role in setting up an agenda of hostility with India.
"Without India's revocation of this step [in Kashmir], negotiations are not possible," the Pak PMO said in its clarification. #Best NDA Coaching in UP
Assessment of statement
So what do we make of Prime Minister Sharif's statement?
Over the past few years, Pakistan's economic difficulties have prompted a greater acceptance of the idea of normalising relations with India. Changes in West Asian geopolitics have seen Pakistan's "brothers", the UAE and Saudi, draw closer to India – and these two key players of the region have also pushed this shift.
The political and military leadership of Pakistan also know that India will not revoke its August 2019 actions in J&K and that the maximum concession in this context would be a restoration of statehood. #Best NDA Coaching in UP
What remains is for both to convince their constituencies that normalising relations with a country that most Pakistanis continue to describe as "dushman humasaya" is no longer an option, but a necessity.
The Imran Khan-Gen Bajwa combination tried and failed, as elements within the establishment scuttled a planned move to restart some trade between the two countries.
How Sharif's statements play out politically, and how the Army responds in the coming days, will provide a clearer picture. #Best NDA Coaching in UP
Seasoned observers in India are also sceptical about the "lessons" that Sharif claims Pakistan has learnt. In the past, military and civilian leaders have spoken eloquently about the blowback that Pakistan had to suffer for nurturing militant groups to achieve its regional strategic objectives, but this did not prevent tha Pakistan Army from pushing on with getting the Taliban back in power in Afghanistan. #Best NDA Coaching in UP