Best Defence Coaching Lucknow
Warriors Defence Academy is the Best Defence Coaching Lucknow, India. We offer excellent preparatory training for the entrance examinations to get into the Indian armed forces.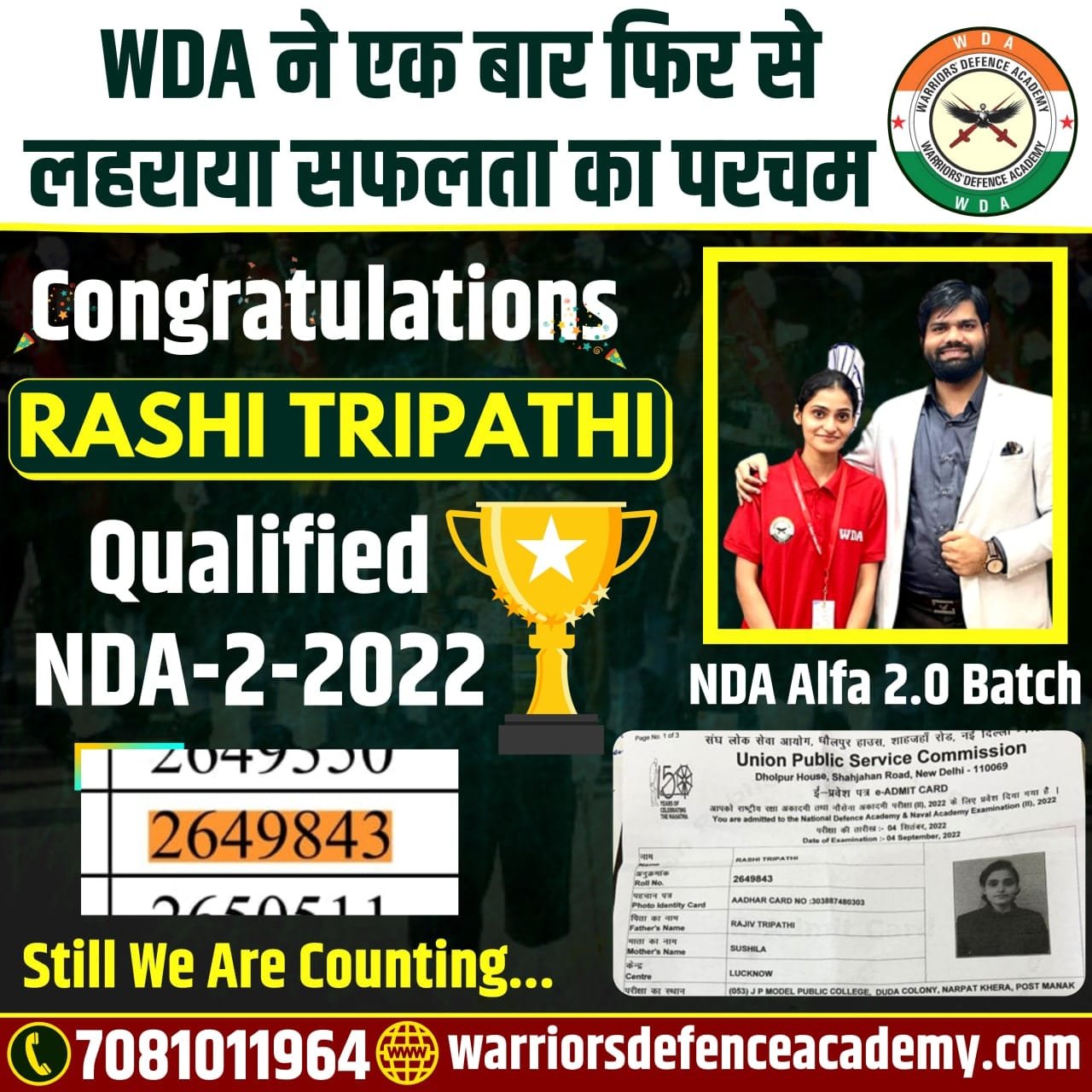 Since our inception 7 years ago, under the captaincy of one of India's leading youngest entrepreneurs – Mr. Gulab Singh. Hundreds of our candidates have been selected and many of whom have attained top ranks in final UPSC merit.
The institute has highly qualified and reputed team instructors each fully devoted to providing an unparalleled education for NDA/CDS/SSB/AFCAT/CAPF.
The task of teaching transcends the classrooms so as to guide the students to realize their highest potential, and to encourage them to optimize the results.
Involvement and excellence in extracurricular activities like SSB guidance, personality development, debates, team games, lecture, etc feature in the training.
Our aim at the academy is to make the students imbibe discipline and groom moral and ethical values. Come, be a part of this success story, and fulfil your desire for joining the reputed Indian Armed forces and serving the nation.
Best NDA Coaching in Lucknow | Join NDA Coaching WDA Lucknow – Warriors Defence Academy deeply appreciative and offer you our most grateful welcome. We are happy to announce that Ex. GTO Officer Colonel R. K. Tiwari Sir going to Join our Academy to Guide NDA and CDS aspirants For SSB. WDA is the Best NDA and SSB Coaching in Lucknow India.
Warriors Defence Academy is the Best NDA Coaching in Lucknow. We are the Leading Coaching Institute for NDA/CDS/AFCAT/Army/Air Force/Navy Located in Lucknow. Warriors Defence Academy has the Largest GTO Ground in India. The Aspirants of Defence Services are guided by Ex. Defence Officers. WDA was also Awarded Best NDA Coaching in Lucknow.
Address: 545-GA/1-CHHA, Chandganj Garden Road, beside Madhuwan Guest house, near Railway crossing, Kapoorthla, Bara Chandganj, Chandralok, Lucknow, Uttar Pradesh 226006
Website: https://warriorsdefenceacademy.com/
Website: https://www.warriorsndaacademy.com/
Call Now: 07081011964
DEFENCE PRIORITIES – ADDRESS PANEL'S CONCERNS ABOUT IMPORTS, PROJECT DELAYS
The Parliamentary Standing Committee on Defence, in its document tabled in the Lok Sabha on Tuesday, has flagged a slew of challenges being confronted by way of India's armed forces. The panel has expressed the situation over 'considerable delay' in the furnishing of forty TEJAS Light Combat Aircraft (LCA) by way of Hindustan Aeronautics Limited. It has encouraged the authorities to have to think about shopping for ultra-modern fifth-generation fighter planes 'over the counter barring dropping time. The TEJAS— an all-weather, multi-role fighter plane that can be deployed for offensive air support, shut fight and floor assaults — is of essential significance for the country's navy readiness.
Two years ago, some other parliamentary panel had highlighted that lack of coordination amongst stakeholders and an informal method of the monitoring groups in the direction of implementing timelines had led to delays in the implementation of the Tejas programme. It is inexcusable that troubles pertaining to the premier fighter jet's design, structures and weapons have nonetheless no longer been resolved. #Best Defence Coaching Lucknow
Wedged between two adversarial neighbours, India wants to keep an excessive stage of defence preparedness at all times. In a thinly veiled reference to Pakistan and China, the committee has advised that the Army's capital finances must be extended so as to decorate its ability to ward off challenges from throughout the borders. Ample cash is one of the conditions to make sure that the initiatives associated with defence modernisation and indigenisation are now not held up. Optimum, time-bound utilisation of these dollars additionally has to be prioritised.
Another vicinity of the subject is the hefty import bill. The parliamentary panel has requested the Ministry of Defence to come up with methods and capacity to no longer solely limit imports, but additionally supply a push to indigenous merchandise for exports. Incentivising indigenisation can assist in lowering the dependence of the armed forces on overseas sources. The key right here is to supply aircraft, weapons, tools etc. within the deadline. Indian companies need to be desired if they can do the needful. In 21st-century warfare, the centre of attention is on the ultimate in advance of the recreation in phrases of brand-new technological know-how and ready-to-use weaponry. India has to understand that laggards are sure to cease up as losers in any armed conflict. #Best Defence Coaching Lucknow