Best Defence Academy in Lko India
Best Defence Academy in Lko India: We offer excellent preparatory training for the entrance examinations to get into the Indian armed forces.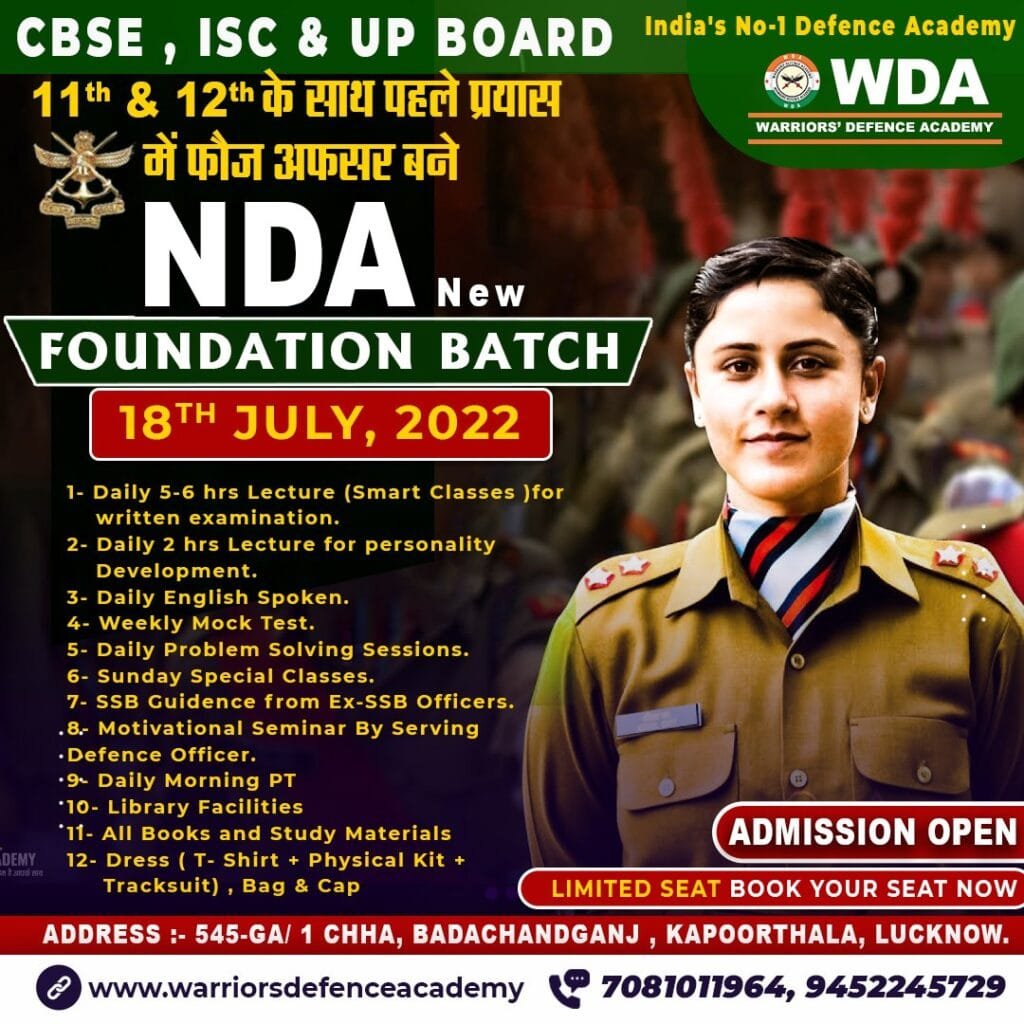 Best Defence Academy in Lko India: Since our inception 7 years ago, under the captaincy of one of India's leading youngest entrepreneurs – Mr. Gulab Singh. Hundreds of our candidates have been selected and many of whom have attained top ranks in the final UPSC merit.
The institute has highly qualified and reputed team instructors each fully devoted to providing unparalleled education for NDA/CDS/SSB/AFCAT/CAPF.
The task of teaching transcends the classrooms so as to guide the students to realize their highest potential, and to encourage them to optimize the results.
Involvement and excellence in extracurricular activities like SSB guidance, personality development, debates, team games, lecture, etc feature in the training.
Our aim at the academy is to make the students imbibe discipline and groom moral and ethical values. Come, be a part of this success story and fulfill your desire for joining the reputed Indian Armed forces and serving the nation.
Best NDA Academy in Lucknow | Join WDA Lucknow – Warriors Defence Academy deeply appreciative and offer you our most grateful welcome. We are happy to Announce that Ex. GTO Officer Colonel R. K. Tiwari Sir going to Join our Academy to Guide NDA and CDS aspirants For SSB. WDA is the Best NDA and SSB Coaching in Lucknow India.
Warriors Defence Academy is the Best NDA Coaching in Lucknow. We are the Leading Coaching Institute for NDA/CDS/AFCAT/Army/Air Force/Navy Located in Lucknow. Warriors Defence Academy has the Largest GTO Ground in India. The Aspirants of Defence Services are guided by Ex. Defence Officers. WDA was also Awarded as Best NDA Academy in Lucknow.
Address: 545-GA/1-CHHA, Chandganj Garden Road, beside Madhuwan Guest house, near Railway crossing, Kapoorthla, Bara Chandganj, Chandralok, Lucknow, Uttar Pradesh 226006
Website: https://warriorsdefenceacademy.com/
Website: https://www.warriorsndaacademy.com/
Call Now: 07081011964
Elements at the center of India – Australia deal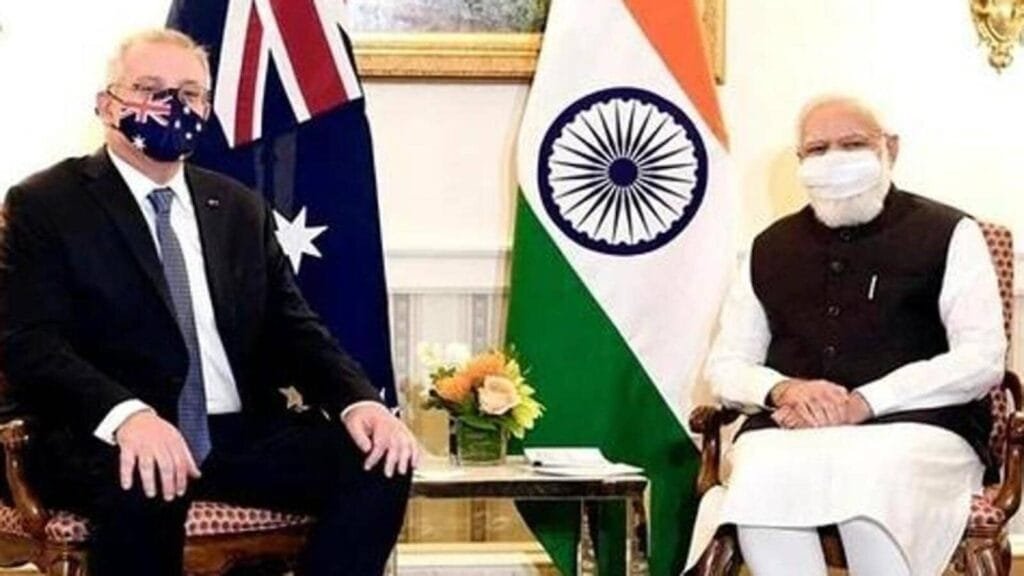 ON MONDAY, India and Australia decided to strengthen their partnership in the field of projects and supply chains for critical minerals. As part of his tour of Australia, Union Coal and Mines Minister Prahlad Joshi met his counterpart, Resources, and Northern Australia Minister Madeleine King, after which Australia confirmed that it would "commit A$5.8 million to the three-year India-Australia Critical Minerals Investment Partnership".
THE MINERALS: Critical minerals are elements that are the building blocks of essential modern-day technologies, and are at risk of supply chain disruptions. These are now used everywhere from making mobile phones, and computers to batteries, electric vehicles, and green technologies like solar panels and wind turbines. Different countries create their own lists, which mostly include graphite, lithium, and cobalt, which are used for making EV batteries; rare earth that is used for making magnets and silicon which is a key mineral for making computer chips and solar panels. Aerospace, communications, and defense industries also rely on several such minerals as they are used in manufacturing fighter jets, drones, radio sets, and other critical equipment.
WHY CRITICAL: As countries around the world scale up their transition towards clean energy and digital economy, these critical resources are key to the ecosystem that fuels this change. Any supply shock can imperil the economy and strategic autonomy of a country over-dependent on others to procure critical minerals.
These supply risks exist due to rare availability, growing demand, and complex processing value chains. Many times, the complex supply chain can be disrupted by hostile regimes, or due to politically unstable regions.
AUS government statement in February noted: "As the world transitions to a clean energy economy, global demand for these critical minerals is set to skyrocket by 400 600 percent over the next several decades, and, for minerals such as lithium and graphite used in electric vehicle (EV) batteries, demand will increase by even more-as much as 4,000 percent."
CONCERNS OVER CHINA: According to the 2019 USGS Mineral Commodity Summaries report, China is the world's largest producer of 16 critical minerals. And according to a report on the role of critical minerals by the International Energy Agency, China is "responsible for some 70% and 60% of global production of cobalt and rare earth elements, respectively, in 2019. The level of concentration is even higher for processing operations… China's share of refining is around 35% for nickel, 50-70% for lithium and cobalt, and nearly 90% for rare earth elements".
In 2010, China suspended rare earth exports to Japan for two months over a territorial dispute. The decision, according to the Brookings Institution, made the market prices of RRES jump between 60% and 350%. The prices returned to normal only after a year of China resuming shipments.
ADDRESSING THE CONCERNS: In 2021, the US ordered a review of vulnerabilities in its critical minerals supply chains and found that an over-reliance on "foreign sources and adversarial nations for critical minerals and materials posed national and economic security threats". It has since shifted its focus on expanding domestic mining, production, processing, and recycling of critical minerals and materials.
India has set up KABIL or the Khanij Bidesh India Limited, a joint venture of three public sector companies, to "ensure a consistent supply of critical and strategic minerals to the Indian domestic market".
Australia's Critical Minerals Facilitation Office (CMFO) and KABIL had recently signed an MoU aimed at ensuring a reliable supply of critical minerals to India.
The UK on Monday unveiled its new Critical Minerals Intelligence Centre to study the future demand for and supply of these minerals.
In June last year, the US, Canada, and Australia launched an interactive map of critical mineral deposits with an aim to help governments to identify options to diversify the sources of their critical minerals
IT Act Sec 69A: when social media content is blocked, and Twitter lawsuit
IN ITS latest faceoff with the Ministry of Electronics & Information Technology (MeitY), Twitter has initiated legal action against some of the government directives ordering it to take down certain content on the site, according to sources. Alleging disproportionate use of power by officials, Twitter company moved the Karnataka High Court Tuesday against the Ministry's content-block-ing orders issued under Section 69(A) of the Information Technology Act, 2000. Last month, the Ministry had written to Twitter, asking it to comply with its orders by July 4 or lose its safe harbour protection under the intermediary rules.
What is Section 69(A)?
Section 69(A) of the IT Act, 2000 allows the Centre to issue blocking orders to social media intermediaries "in the interest of sovereignty and integrity of India, defence of India, security of the state, friendly relations with foreign states or public order or for preventing incitement to the commission of any cognizable offence relating to above".
As per rules that govern these blocking orders, any request made by the government is sent to a review committee, which then issues these directions. Blocking orders issued under Section 69(A) are typically confidential in nature.
Why has Twitter filed the lawsuit?
It is learnt that in its filing, Twitter has claimed that many of the blocking orders are procedurally and substantively deficient under Section 69(A) These include aspects such as not giving prior notice to users before taking down content posted by them. According to another source, the company alleged that MeitY has failed to demonstrate how some of the content it wants taken down falls under the purview of Section 69(A)
In several cases, Twitter has claimed that the basis on which multiple accounts and posts have been flagged by the Ministry is either "overbroad and arbitrary" or "disproportionate".
According to Twitter, some of the content flagged by the Ministry may pertain to official accounts of political parties, blocking which could be violative of the right to free speech, a source said.
What were the events preceding the lawsuit?
Twitter's lawsuit against the Ministry comes days after MeitY had given the company "one last opportunity" to comply with its blocking orders.
In a letter issued late last month, the Ministry warned that if content flagged by it is not taken down, Twitter will risk losing its immunity as an intermediary. The Ministry had given Twitter time until July 4 to comply with its blocking orders.
The MeitY notice, addressed to Twitter's chief compliance officer, had said that while a designated officer of the Ministry has issued various directions for blocking certain pieces of content and accounts under Section 69(A) of the IT Act, the company has "failed to com ply with the directions on multiple occasions".
On June 26, Twitter submitted a list of over 80 accounts and tweets that it had blocked based on a request from the government in 2021. While the request from the government was to block multiple accounts and some tweets from the international advocacy group Freedom House, journalists, politicians and supporters of the farmers' protest, a senior official at MeitY said that the company was yet to comply with many take down notices.
How has the government reacted?
While it is yet to formally respond to Twitter's claims in the lawsuit, Rajeev Chandrasekhar, Minister of State for Electronics & Information Technology. made an apparent reference to the case in a Twitter post: "In India, all including foreign Internet intermediaries/platforms have right to court and judicial review. But equally ALL intermediary/platforms operating here, have unambiguous obligation to comply with our laws and rules."
Speaking to media at the Entrepreneurship Development Institute of India in Gandhinagar, Ashwini Vaishnav, Union Minister for Railways, Communications and Electronics & Information Technology, said countries across the world, including India, are moving towards making social media accounts.
"Social media is a powerful medium. It has a lot of influence on our lives today. Its accountability is a valid question across the world. Countries and societies across the world are moving in the direction to make social media accounts," he said.
What is Twitter's track record in complying with government orders?
According to Twitter's latest global transparency report, between January and June 2021, India accounted for the fourth highest number of legal content takedown requests to the company. In this reporting time frame, Twitter received 43,387 legal demands to re-move content specifying 196,878 accounts, with India accounting for 11% of global legal demands.
In the same period, Twitter saw a 1,060% increase in blocking accounts, and said that the "spike in accounts withheld was particularly the result of Twitter's compliance of an Indian blocking order issued under India's Information Technology Act, 2000".