Acing the Army Wing of NDA Syllabus: Your Gateway to Success at Warriors Defence Academy
Introduction:
Welcome to Warriors Defence Academy – The best NDA coaching in Lucknow. We understand that aspiring to join the prestigious National Defence Academy (NDA) Army Wing requires precision, dedication, and a comprehensive understanding of the syllabus. In this blog post, we will delve into the intricacies of the Army Wing syllabus and highlight how Warriors Defence Academy equips you with the knowledge and skills needed to excel.
Mastering Mathematics:
One of the fundamental aspects of the NDA Army Wing syllabus is mathematics. Warriors Defence Academy, renowned for its expertise in mathematics coaching, provides you with the perfect platform to strengthen your mathematical abilities. Our experienced faculty breaks down complex concepts into easily understandable chunks, ensuring your proficiency in algebra, trigonometry, calculus, and geometry.
Building Strong General Ability:
The General Ability Test in the NDA Army Wing syllabus assesses your overall intelligence and knowledge. Warriors Defence Academy offers comprehensive guidance in this area, covering English, physics, chemistry, biology, history, geography, current affairs, and general science. Our highly qualified faculty provides exclusive study material, conducts regular mock tests, and encourages interactive learning to help you develop a strong foundation in these subjects.
Enhancing Psychological Aptitude:
Warriors Defence Academy recognizes the significance of psychological aptitude in the NDA selection process. Our training program includes guidance on verbal and non-verbal reasoning, logical reasoning, and spatial reasoning. We also focus on improving your problem-solving skills, decision-making abilities, and time-management techniques – all of which are crucial to excel in the Psychological Aptitude Test.
Nurturing Physical Fitness:
The Army Wing of NDA has rigorous physical requirements, demanding candidates to be physically fit and mentally tough. Warriors Defence Academy provides regular physical training sessions, including outdoor activities, drills, and sports, to enhance your overall fitness levels. Our team of dedicated trainers ensures that you are prepared for the NDA's physical standards, including tests in running, push-ups, sit-ups, and obstacle courses.
Personality Development and Group Discussion:
Apart from academic excellence, Warriors Defence Academy believes in honing your personality traits to make you a well-rounded individual. We conduct regular personality development classes and group discussion sessions to improve your communication skills, leadership qualities, and ethical values. Our aim is not just to prepare you for the NDA exams, but to mould you into a confident and responsible officer.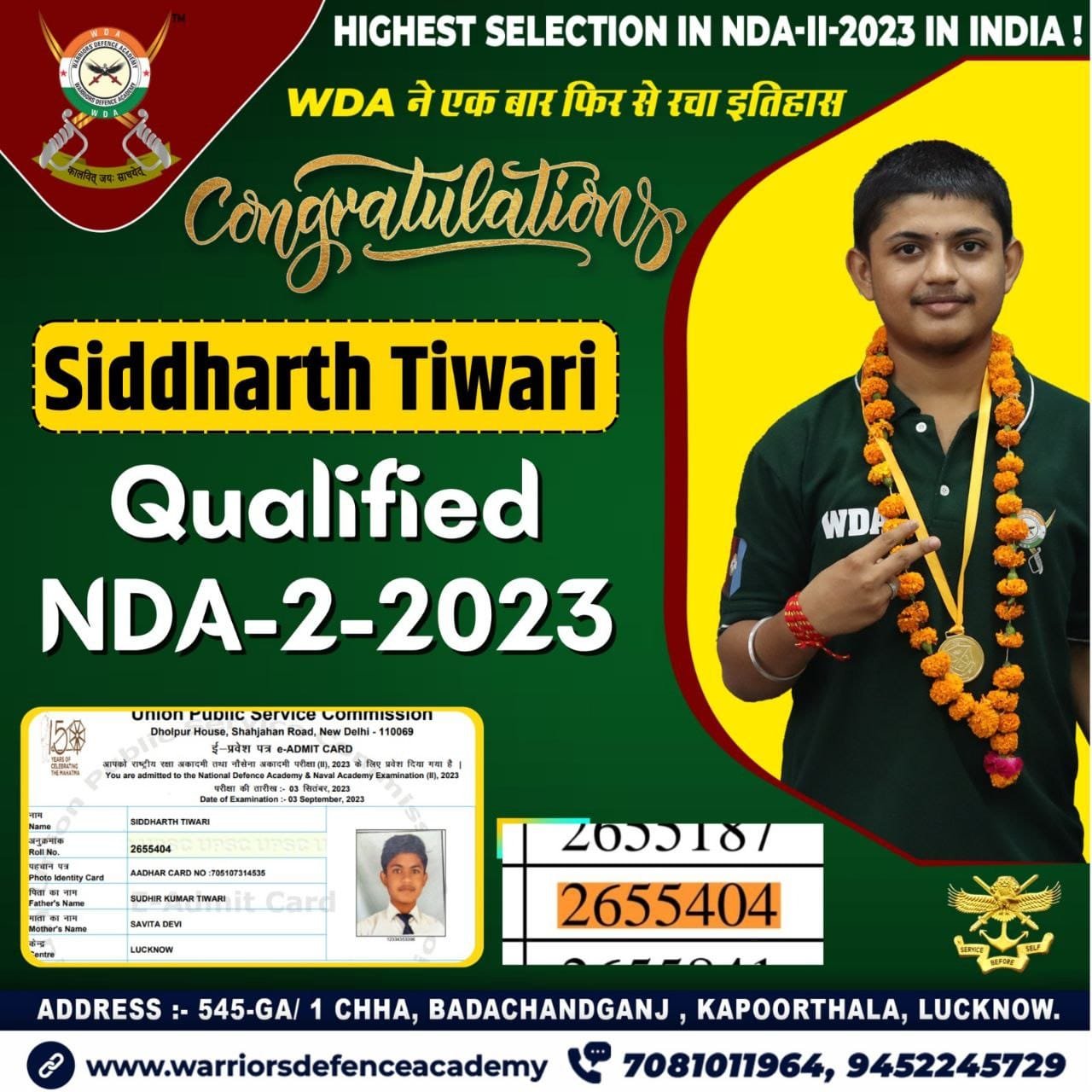 Conclusion:
At Warriors Defence Academy, we understand that a successful career in the Army Wing of NDA requires a comprehensive and holistic approach to training. By providing excellent coaching, comprehensive study material, and personalized attention, we ensure that you are well-prepared to face the challenges of the NDA selection process. Join us today at the best NDA coaching in Lucknow, and let us guide you towards fulfilling your dream of serving the nation as a respected warrior.