NDA Coaching Document – Warriors Defence Academy, Lucknow
Overview of Warriors Defence Academy Top NDA Coaching in India
Warriors Defence Academy, located in Lucknow, is widely regarded as one of the best coaching institutes for NDA preparation. With a team of highly experienced and dedicated faculty, Warriors Defence Academy has consistently produced remarkable results in the National Defence Academy entrance exams.
#Why Choose Warriors Defence Academy for NDA Coaching?
Choosing Warriors Defence Academy for NDA coaching comes with a multitude of benefits that set it apart from other coaching institutes. First and foremost, Warriors Defence Academy boasts a track record of success. Over the years, they have consistently helped students achieve top ranks in the NDA entrance exams, making them one of the most reliable and trusted coaching institutes in Lucknow.
NDA Coaching at Warriors Defence Academy
At Warriors Defence Academy, NDA coaching is provided with utmost dedication and commitment. The faculty at Warriors Defence Academy has extensive experience in training students for the NDA entrance exams and are well-versed with the exam pattern, syllabus, and requirements.
They provide a structured and comprehensive curriculum that covers all the necessary topics and subjects required for the NDA exams.
The coaching at Warriors Defence Academy is designed to develop the overall personality of the students, focusing not only on academic knowledge but also on physical fitness and mental strength. Through rigorous training sessions, mock tests, and regular evaluations, students are prepared to tackle the challenges of the NDA exams with confidence and ease.
Program Structure for NDA Coaching in Lucknow
The NDA coaching program at Warriors Defence Academy in Lucknow follows a well-defined structure to ensure maximum effectiveness and success for the students.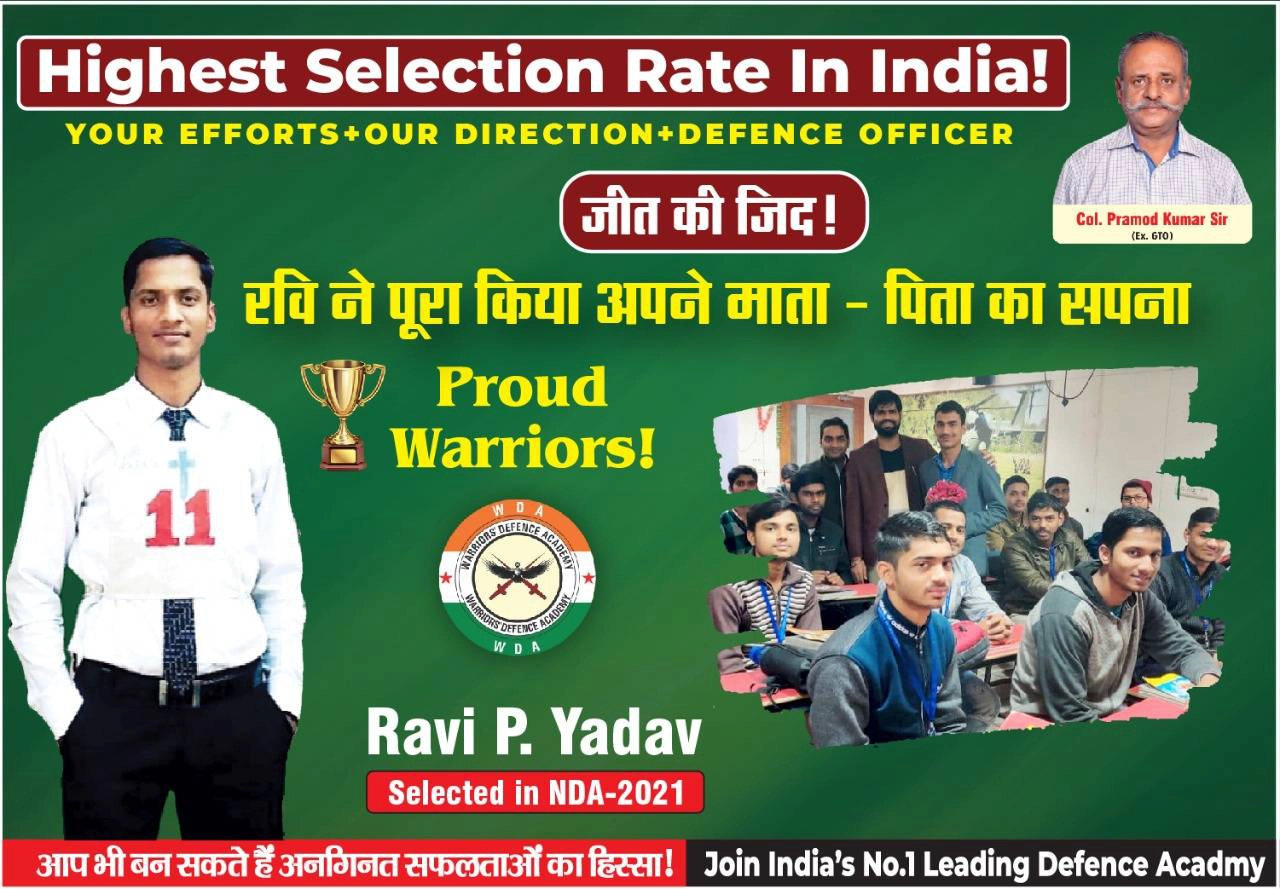 The program includes:
1. Classroom Sessions: Students attend regular classroom sessions where they are taught by experienced faculty members. The faculty members at Warriors Defence Academy use innovative teaching methods and techniques to make the learning process engaging and effective.
2. Study Material: Warriors Defence Academy provides comprehensive study material that covers all the important topics and concepts required for the NDA exams. The study material is carefully curated by subject matter experts, ensuring that students have access to reliable and up-to-date resources.
3. Physical Training: In addition to academic coaching, Warriors Defence Academy recognizes the importance of physical fitness in the NDA exams. Therefore, they provide specialized physical training sessions to help students improve their stamina, endurance, and overall physical fitness.
4. Mock Tests and Practice Sessions: To assess the progress and readiness of the students, Warriors Defence Academy conducts regular mock tests and practice sessions. These tests provide students with an opportunity to simulate the exam environment and familiarize themselves with the format and types of questions.
5. Individual Attention and Doubt Clearing: At Warriors Defence Academy, we understand that each student has unique learning needs and capabilities.
Review of Best NDA Coaching Centers in Lucknow
When it comes to NDA coaching in Lucknow, Warriors Defence Academy stands out as one of the best options available. Their dedication to providing comprehensive coaching, their experienced faculty members, and their focus on overall development make them a top choice for aspiring NDA candidates. At Warriors Defence Academy, students receive personalized attention and guidance to ensure that their doubts are clarified and their individual learning needs are met.
545-GA/1-CHHA, Chandganj Garden Road, beside Madhuwan Guest house, near Railway crossing, Kapoorthla, Bara Chandganj, Chandralok, Lucknow, Uttar Pradesh 226006