Warriors Defence Academy | Best NDA Coaching in India | Best NDA Coaching in Lucknow
Best NDA Coaching in Lucknow, India | Warriors NDA Academy Best NDA Coaching in Lucknow, India @20% Discount for Defence Coaching in Lucknow Join to Call Now 07081011964
Warriors Defence Academy | Best NDA Coaching in Lucknow | Best Airforce Coaching in Lucknow | Best Defence Coaching in Lucknow India.
Address: 545-GA/1-CHHA, beside Madhuwan Guest house Chandganj Near Railway crossing, Kapoorthla, Lucknow, Uttar Pradesh 226006
Phone: 07081011964
https://warriorsdefenceacademy.com/
Warriors Defence Academy | Best NDA Coaching in Lucknow, India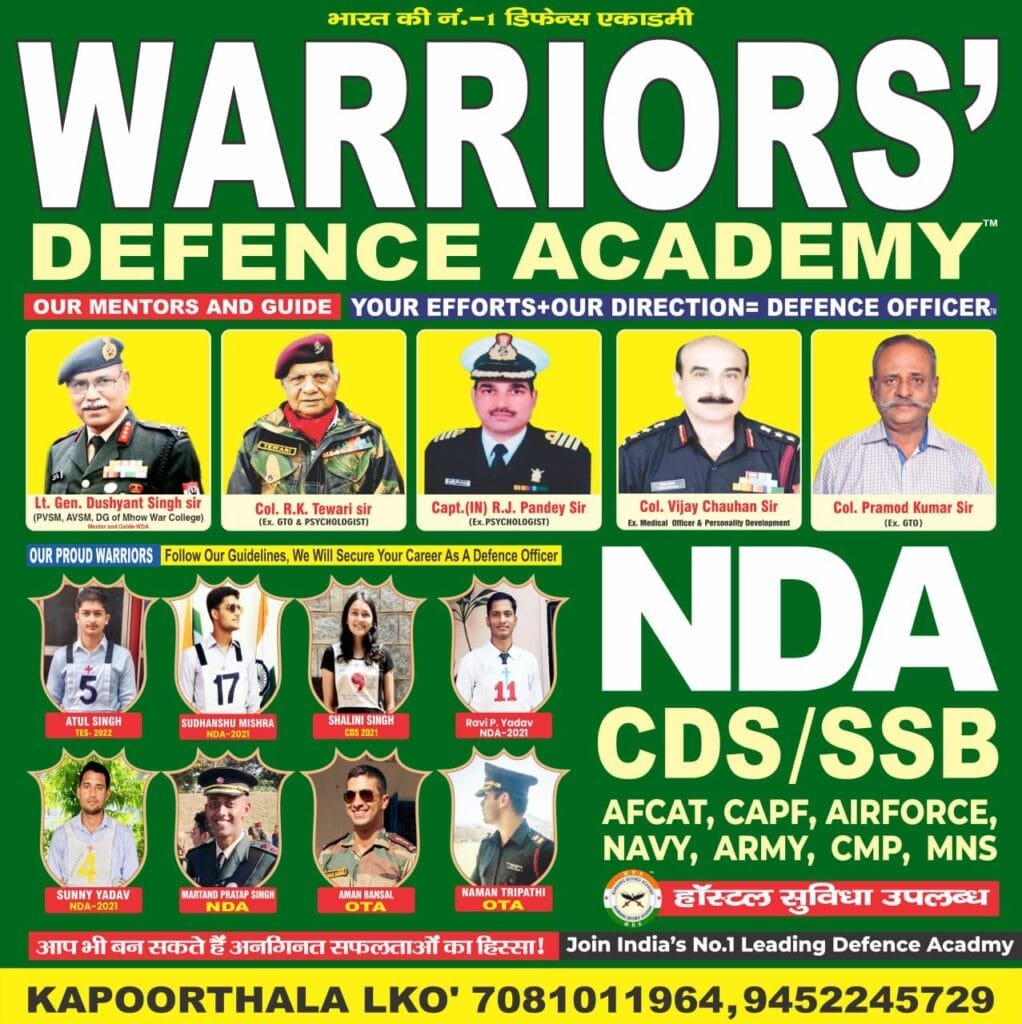 Warriors Defence Academy is the best NDA Coaching in Lucknow India. In the list of top NDA Coaching institutes, Warriors Defence Academy is the Leading Coaching institute in India.
As a premier institute in NDA coaching, we believe that our six traits are our hallmarks of strength :
1. Outright Coverage of Syllabus:
At Warriors Defence Academy, we follow the ideology that the syllabus for the exam must be scrupulously explained to each and every student and nothing should be left in the initial stages. The combined hard work from us and the student at this time makes it easier for the student in the last days.
2. Practice Sessions:
As they say, "Practice is the key to perfection", we walk on the same path and let our students practice as much as they can. Innumerable Mock tests are conducted offline (in the institute) as well as online (on our e-portal). There are previous years' paper practice sessions being conducted every now and then so that the students develop a vision about the types of questions to be asked in the finals.
3. Doubt-Clearing sessions:
We believe in the ideology that "If a student doesn't have doubts, he's most probably doing it the wrong way". We are committed to clear every topic during the classroom session but sometimes the student doesn't grasp the roots of the concept. These sessions are conducted to make sure the student is understanding each and every concept effectively and not just cramming it. In addition to that, the students at our academy are encouraged to maintain an error log so that they can keep a track of their mistakes and don't repeat them in the future.
4. Weekly tests and Assessments:
Regular tests are held at Warriors Defence Academy on Saturdays and the results are announced on Mondays. The scores of these tests are under the scrutiny of our valuable faculty so that proper assessment of students is done. We ensure that the graph of these tests is always on the rise.
5. High-end study material:
The study material of Warriors Defence Academy is one of the best study materials in the country presently. Its prepared by the wizards of this sphere and the elite material has been prepared such that students can grasp even the most onerous concepts with utmost ease.
6. Shortcuts Methods and Time Management Techniques:
Our classroom sessions prioritize time management in all aspects. Proper shortcuts and methodologies are enlisted in our study materials which aid our students to manage their time in a competent way.
When some of the most experienced defense career coaches gathered, the Warriors' Defence Academy came into existence. We are a team of career coaching experts, who provide complete grooming to aspirants who appear for written examinations for NDA and CDS, and SSB interviews to become defense officers.
Short-term and long-term coaching for NDA/CDS and SSB aspirants. Our study material is updated as per the current exam pattern of the UPSC. Well-equipped audio-visual aids and meticulously designed study material. Computerized coaching. Use of LCD projector, Atlas, Maps & Mnemonics to make the academic lessons easy to grasp. Personalized attention to each candidate to overcome his or her shortcomings.
We have complete facilities to Prepare you for Defence Exam…
Faculty – Some of the best names in the field of Defence career coaching are available to impart psychology, GTO, and interview training.
Infrastructure – State of the Art infrastructure facility for indoor-outdoor coaching.
Fees – Competitive fee structures have been devised to allow deserving candidates from every stratum of society to get an opportunity to avail coaching facilities.
Computer-aided coaching for NDA/CDSE written test
Expert coaching in Personality Development, Leadership, Team Building, and Soft Skills
Specialized coaching for GTO tasks.
SSB Interview guidance for TGC, NDA, TES, CDSE, SSC
Outdoor task training
Proficiency in Group Discussions
Personal attention and grooming
Best NDA Coaching in India Having Highest Selection Rate