Vir Chakra Awards: Top NDA Coaching in Lucknow
Vir Chakra Awards: Best NDA Coaching in Lucknow – The Indian Government awards the Vir Chakra (VrC) in recognition of acts of bravery and gallantry against the enemy on the battlefield – land, air, or sea. The Vir Chakra (VrC) is the third-highest medal of honour after Param Vir Chakra (PVC) and Maha Vir Chakra (MVC), in that order.
India has a long tradition of fighting some of the fiercest battles in history, and its independence and security stand on the brave sacrifices of its military personnel.
As of Jan 2020, there are 21 Param Vir Chara, 218 Maha Vir Chakra, 1,322 Vir Chakra, 83 Ashok Chakra, 458 Kirti Chakra, and 1,997 Shaurya Chakra Awardees in India.
Of the 1,322 Vir Chakra Awardees, here is a list of some brave hearts, selected randomly
Vir Chakra Awards: Best Army GD Coaching in Lucknow
Maj Gen Lachman Singh Lelhl, Vir Chakra Awards
Operation: Indo-Pak Kashmir War, 1947
Date of Award: 19 March 1948
Capt. Lachman Singh was part of the 50 Para Brigade deployed as forwarding Observation Officer at Jhangar. On 15 March, the 3 Maratha Light Infantry Battalion came under heavy enemy fire. Not caring for personal safety, Capt Lachman Singh bravely kept directing artillery fire on enemy positions and finally managed to extricate 3 MLI. 16th March was a crucial day for saving Jhangar from an enemy takeover. Capt Lachman Singh was again at the forefront of the battle of This. The enemy was successfully repelled and Jhangar was saved.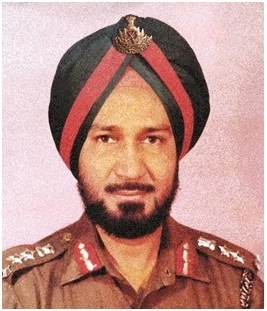 Brig Sukhdev Singh, Vir Chakra Awards
Operation: Indo-Pak Kashmir War, 1947
Date of Award: 1 December 1948
The man who defended Zoji-La, Dras, and Kargil. No, this wasn't 1999 but 1947. The enemy had advanced into Dras and Kargil and was moving forward to take the crucial Zoji-La. Lt Col Sukhdev Singh, Commanding Officer 1 Patiala, stood firm with his men defending Zoji-La for four months under heavy fire, without artillery support and biting cold. Leading from the front, he not only defended Zoji-La but pushed back the enemy from Dras and Kargil.
Lt Col Dhan Singh, Vir Chakra Awards
Operation: Indo-Pak Kashmir War, 1947
Date of Award: 11 December 1947
On 11 December 1947, the enemy raiders entered URI. Jemadar Dhan Singh led a patrol of a Company of the Kumaon Regiment against the raiders under heavy fire. The fierce battle involving bayonet-charge took the enemy by surprise and forced them to flee with heavy casualties.
Maj General Ashwani Dewan, Vir Chakra Awards
Operation: Leg Horn, 1962
Date of Award: 18 Nov 1962
Capt AK Dewan commanded his tank to take on advancing Chinese forces in the Battle of Gurung Hill. Indian infantry forces were holding positions under heavy enemy fire. Capt AK Dewan's aggressive fire on the enemy enabled the infantry forces to withdraw from the forward positions.
Air Commodore Anthony Ignatius Kenneth Suares, Vir Chakra Awards
Operation: UN-Congo, 1961
Date of Award: 26 January 1962
Wing Commander Anthony Ignatius Kenneth Suares commanded a Canberra unit in the UN Operation in Congo in 1961. On 6 December, while on a mission to attack ground forces while flying over Katanga, his aircraft received enemy fire. His co-pilot Sq Leader Tackle was injured in the thigh. Wg Cdr Suares set the aircraft on auto-pilot and immediately offered first-aid to his injured colleague and managed to land the aircraft safely.
Brig Arjun Singh Narula, Vir Chakra Awards
Operation: May-Ablaze, 1965
Date of Award: 12 August 1965
In August 1965, Pakistani forces intruded into the Kalidhar sector in J&K. Capt AS Narula was sent with a company to assist the JAK Rifles fighting the enemy to defend the crucial Balwinder Suspension Bridge which was the lifeline to the rest of the area. Between 12 and 19 December, Capt Narula led his men to defend the bridge and counter-attack the enemy despite his men and he was exhausted, low on food and water, and ammunition.
Brig Amarjeet Singh Brar, Vir Chakra Awards
Operation: Cactus Lily, 1971
Date of Award: 10 December 1971
During the 1971 war, Lt Colonel Amarjeet Singh Brar commanded a Rajputana Rifles battalion in the eastern sector, now Bangladesh. On 6 December, under heavy fire from the enemy, his battalion was tasked to engage and draw out the enemy, which it successfully carried out. The move enabled the other Indian battalion to move in and occupy the enemy base without firing a shot. On 9 December, his battalion was again engaged in a fierce battle to destroy and capture the enemy positions in Mynamati.
Hav PK Kamalasannan, Vir Chakra Awards
Operation: Pawan, 1987
Date of Award: 4 Nov 1987
On 4 November 1987, in Sri Lanka, Hav PK Kamalasannan led No 2 Platoon on a search mission along the Chavakcheri-Savasalai-Meesalai road when they came under heavy fire from some houses next to the stretch. Though his platoon remained pinned down under heavy fire, Hav PK Kamalasannan kept firing as he charged towards the house from where the firing was emanating. Seeing him, the militants fled while continuing to fire at him. He was martyred as he took bullets in the stomach.
Squadron Leader Ajay Ahuja, Vir Chakra Awards
Operation: Safed Sagar, 1999
Date of Award: 1 January 1999
On 27 May 1999, during the Kargil Operations, Sq Ldr Ajay Ahuja flew out in search of Flt Lt Nachiketa, whose MiG-21 had an engine flame-out and was forced to eject. Despite warnings of the presence of shoulder-fired surface-to-air missiles in the area, Sq Ldr Ahuja risked his life and proceeded to locate Flt Lt Nachiketa. Unfortunately, his MiG-21 was hit and he too was forced to eject. On landing, he was captured by the Pakistani forces and shot at point-blank range. His body was later returned to India.
Wing Commander Abhinandan Varthaman, Vir Chakra Awards
Operation: Indo-Pak Standoff, 2019
Date of Award: 15 August 2019
On 27 February 2019, Wg Cdr Abhinandan Varthaman took off in his MiG-21 Bison in response to incoming Pakistani fighter aircraft and challenged the F-16 to a dogfight. In the ensuing battle, he shot down the F-16 but was hit by a Pakistani surface-to-air missile on his return. He ejected but landed in POK and was captured. After hectic diplomatic pressure, Pakistan agreed to return him to India on 1 March 2019 in a much-publicized ceremony at the Wagah border.