UPSC- NDA/ NA WRITTEN EXAMINATION COACHING
WHY COACHING IS A MUST FOR NDA/NA WRITTEN EXAMINATION:
UPSC Coaching in Lucknow In order to prepare oneself for a competitive exam like NDA, coaching is a must to get the edge above others. In today's competitive exams like NDA, COACHING IS A MUST BECAUSE:
More than 3,00,000 students sit for this exam and the number is increasing drastically year by year. Hence making the exam more and more competitive and one mark difference could mean selection or rejection of the candidate. There are anywhere between 300- 400 seats, so students who are serious, must get the edge above others for which coaching is a must.
Students can take advantage of the vast experience of subject and examination expert faculty.
Examination specific and comprehensive study material of notes, practice sets, assignments and worksheets provides the right material for preparation.
Any concept doubts can be cleared right away, thus students can build strong fundamentals.
Meeting other candidates who are sitting for the same exam can be a great motivator. Students can exchange knowledge and also have an idea of their competition.
Regular mock tests ensure students are mentally prepared for exam day and know exactly how to approach the exam and what to expect.
Students are able to discipline themselves, develop good concentration, and form study habits, which is not easy to do with self-study.
WHEN TO JOIN:
Since Warriors' Defence Academy runs year-round batches for NDA examinations, students should take coaching as soon as they are able to spare time from their daily routines. It is advised to take coaching a few months before the exam to ensure enough time is left for practice, revision, and self-study. Seats are limited and available on a first-come first served basis.
WHY WARRIORS' DEFENCE ACADEMY?
The Warriors' Defence Academy offers to coach for the UPSC NDA/NA written examinations. The faculty at WDA is highly qualified and vastly experienced in successfully coaching students for NDA examinations. The standards of excellence followed by WDA ensure that each student who opts for coaching with us feels confident and well-prepared for the exam. Not only do we cover the entire syllabus subject by subject as per UPSC, but we also prepare our students with mock tests, previous year question papers, and doubt-clearing sessions which are conducted each week to monitor each student's progress. Mock test/ weekly test results are also discussed to pinpoint where the student may be lacking. This ensures that the students know what to expect in the examination, how to approach the examination, manage time efficiently and get the best possible results. Experienced and updated faculty teaches students how to handle the NDA examination specifically; they focus on the format and type of questions likely to be asked in the exam. Students can learn many formulae and shortcuts to get quick and accurate answers while attempting the examination. Apart from this, we provide extensively researched study material that helps students easily access, organize, and systematically approach the vast syllabus. Every 10th officer in the Indian Armed Forces has been a student of Warriors'
WHY CHOOSE WARRIORS' DEFENCE ACADEMY FOR NDA WRITTEN EXAM COACHING:
Warriors' Defence Academy is India's Oldest and Largest Armed forces Preparatory Institute and has over several years of experience in successfully coaching candidates to be commissioned into the armed forces. UPSC Coaching
Defence Academy.
Infrastructure: The Warriors' Defence Academy campus provides unmatched infrastructure, spread in lush green, pollution-free, SSB-like environment with a hostel and mess. Our classrooms for written coaching are air-conditioned and well-supported by modern Audio Visual technological aids and 24 hrs power back.
Faculty: The highly qualified, experienced, and updated faculty for NDA written coaching provides students with the right guidance to get the best results in the exam. Students are coached by permanent faculty members, not part-time teachers (working on per class basis) as in many other institutes. UPSC Coaching
Fully equipped library: Only Warriors' Defence Academy offers the facility of a fully equipped library offering 1000+ relevant and important books pertaining to the syllabus of the examination and competitive exam preparation. Students can issue these books for self-study, revision, practice, etc. UPSC Coaching
Study Room/ Reading Room: On-campus study/ reading rooms are available to provide students with a quiet and peaceful environment, perfect for self-study and preparations. These rooms are open daily till late hours.
Motivational lectures and movies: Warriors' Defence Academy specializes in motivating the youth towards serving our great nation. Students interact with candidates from all over the country working towards a common goal. UPSC Coaching
Motivational lectures and movies shown, leave the students inspired to do something for the country and become better human beings.
Discipline & Time Management: Warriors' Defence Academy is a Defence preparatory institute with strict rules that all students must abide by. All students are expected to follow the Honour Code and Discipline Code of Conduct of Warriors' Defence Academy, failing which they may be expelled without refunds. These guidelines enforced by the academy inculcate good values and discipline in the students. Students also learn the importance and benefits of proper time management. Sundays and other holidays are not observed to maintain continuity and to ensure students can focus on upcoming exams without distractions. UPSC Coaching
Physical Fitness: Only Warriors' Defence Academy offers a fully equipped Football ground, Basketball court, Volley ball court, Cricket field, and badminton court along with a dedicated Obstacle course and vast open grounds to encourage physical fitness among candidates as endurance and stamina are a pre-requisite for SSB which is the next step after the exam.
Only Warriors' Defence Academy runs Year Round Batches for NDA written exam unlike other institutes that only open for a few months before the examination
Exam-specific coaching: Since exam patterns varies for each examination, Warriors' Defence Academy offers exam-specific coaching for NDA, CDS, AFCAT AIRFORCE X&Y GROUP etc.
TERM DATES & DURATION:
The comprehensive course covers all aspects and the entire syllabus of the examination. The course is divided into 6 independent modules therefore, students can report for admission on any working day. Admission takes place on arrival. The Academy admissions office is open 24 hours a day. Seats are limited and available on a first-come first served basis. UPSC Coaching
COMPREHENSIVE COURSES:
UPSC Coaching course includes
Exhaustive Classroom preparation: With 150+ classroom sessions and 300+ study hours covering all aspects and the entire syllabus of the examination as prescribed by the UPSC.
Comprehensive Study Material: With 11+ books covering the various subjects, Question banks, and practice sets of each subject, ready reference notes for important topics, all extensively researched and prepared after an analysis of previous years' exam patterns. UPSC Coaching
Revision and Doubt clearing: 100+ worksheets and practice sets help students assess their own progress. Previous year's question papers are also covered. Doubt-clearing sessions are held to answer all queries of students. UPSC Coaching
Testing: Weekly practice tests of each subject to prepare students for upcoming competitions and provide them with vital self-assessment tools. Mock tests are also held to prepare the student for the NDA exam. UPSC Coaching in Lucknow
Extensive coverage of current affairs: Special weekly updates on defense-related news, and the latest developments, events, and people in news. General Knowledge is taken up thoroughly.
Subjects covered: in the NDA written exam coaching include English, General Knowledge & Current Affairs, Mathematics, Physics, Chemistry, Biology, History, Geography, Polity, Economics, Biodiversity, etc.
DAILY TIMINGS: Classes are held from Monday to Saturday from 8 AM to 8 PM (with breaks for morning and afternoon tea and lunch)
Sunday is reserved for mock tests and weekly tests, extra classes, and doubt-clearing sessions.
WHAT TO BRING?
UPSC Coaching For Class: Students are not required to bring any books. All study material is issued to the students upon admission. Students must bring personal registers or notebooks and stationery like pens, pencils, etc. to take notes during class.
UPSC Coaching For Hostels: Lockers are provided for valuables. Beds and mattresses are provided, but students should bring their own bedding i.e. bed sheets (2 Nos.) and Pillow (with pillow covers). For winter months students should bring thick blankets and razai.
Personal items: Students are expected to dress smartly for class, please bring personal clothing accordingly. Students should carry all personal toiletries. Sports shoes are a must. Please avoid bringing expensive personal items or cash. Even though lockers are provided, students are responsible for their own personal belongings.

CRASH COURSES: We offer crash courses close to exam dates. Please call us for crash course term dates.
CAUTION
UPSC Coaching should be taken from an Academy of repute. Students would be well advised to check the credentials of the Academy before joining as there are many operators in the market out to make a quick buck.
Candidates who want to take up coaching are advised to first check from references or visit any institute they may be considering and then make their final decisions. Candidates should not to be convinced by clever advertisements and misleading photos published on pamphlets and websites.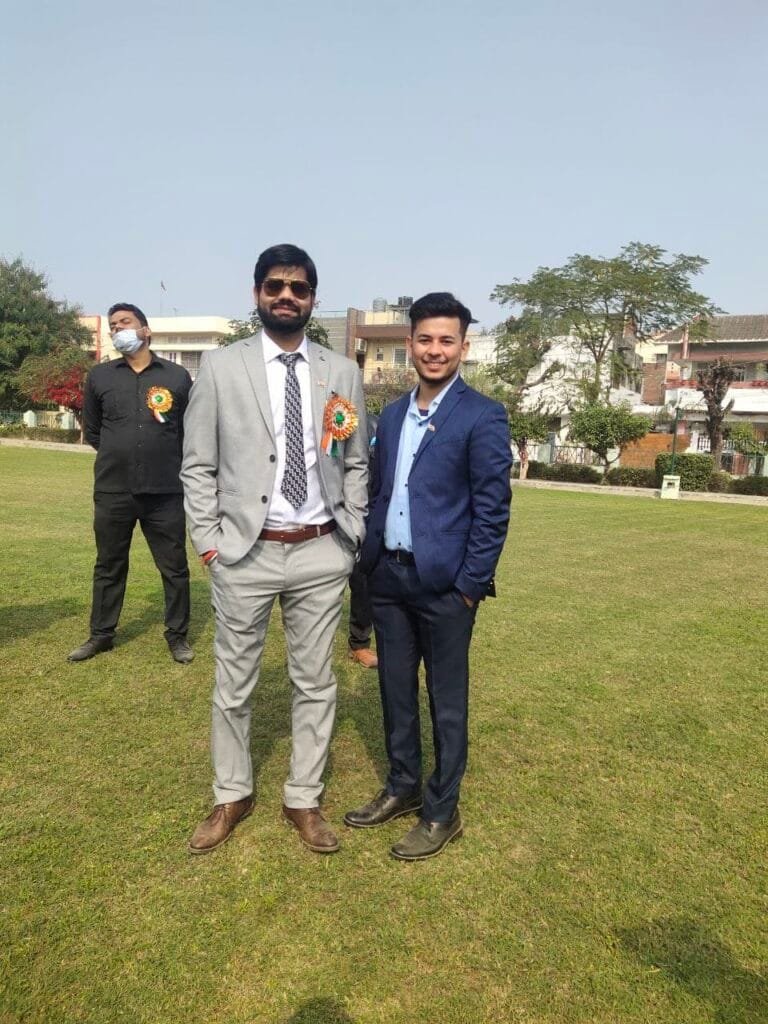 Prashant Singh
Faculty of personality development
5+ years of experience teaching
Masters in English literature
10 times CDS qualified,
Defense enthusiast, educator, and explorer