Top NDA College in India | Best NDA College in India | Best NDA Academy in Lucknow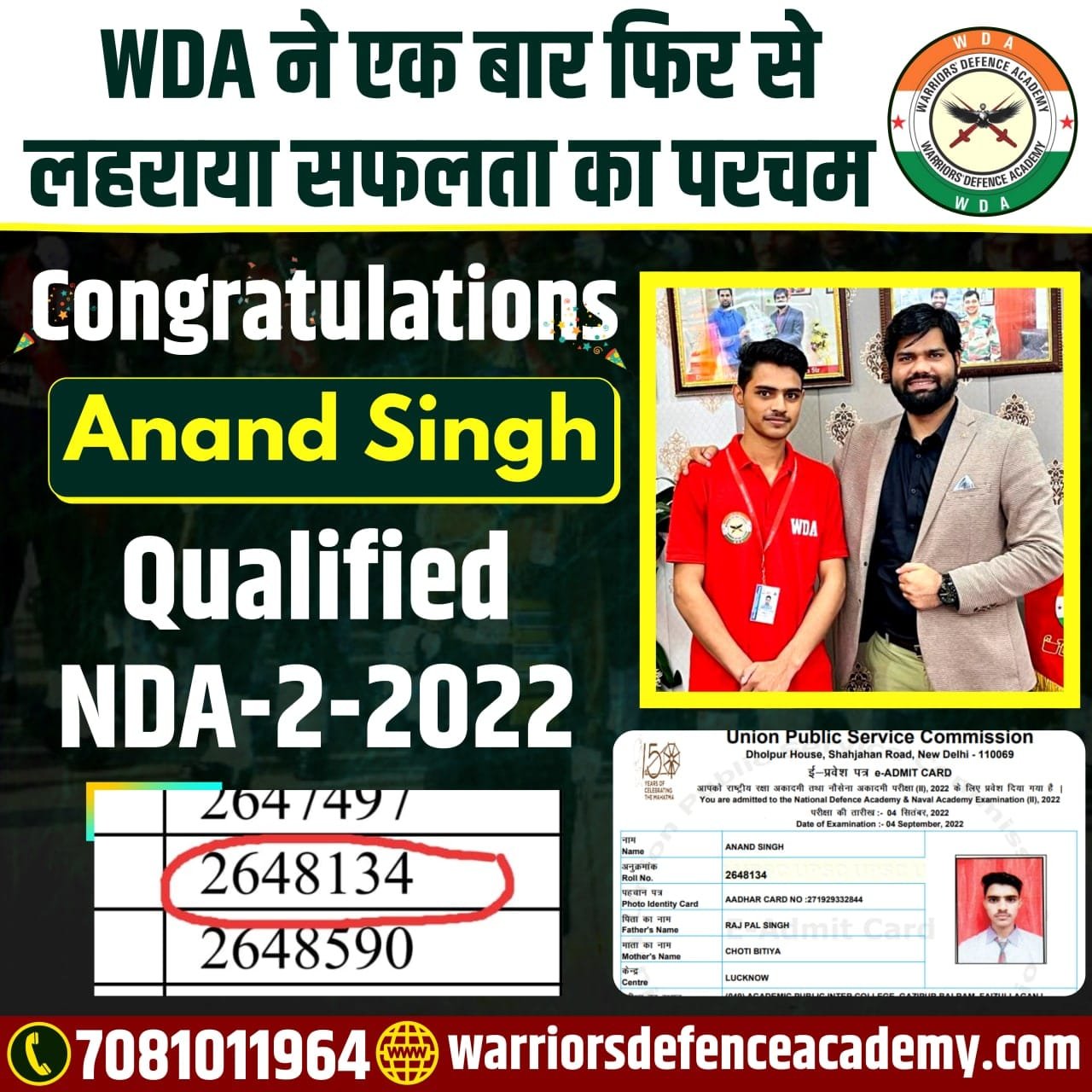 Warriors Defence Academy is the Top NDA College in India. We provide an outstanding preparatory education for the entrance examinations to get into the Indian armed forces.
Since our inception 7 years ago, below the captaincy of one of India's main youngest entrepreneurs – Mr. Gulab Singh. Hundreds of our candidates have been chosen and many of whom have attained pinnacle ranks in ultimate UPSC merit. #Top NDA College in India
The institute has fairly certified and reputed group instructors each thoroughly committed to supplying unparalleled schooling for NDA/CDS/SSB/AFCAT/CAPF. #Defence Coaching India
The undertaking of educating transcends the lecture rooms so as to inform the college students to recognize their perfect potential and to inspire them to optimize their results.
Involvement and excellence in greater curricular things to do like SSB guidance, character development, debates, group games, lecture, and so on characteristics in the training.
Our goal at the academy is to make college students imbibe self-discipline and groom ethical and moral values. Come, be a phase of this success story, and fulfill your want for becoming a member of the reputed Indian Armed forces and serving the nation. #Top NDA College in India
Best NDA Academy in Lucknow | Join WDA Lucknow – Warriors Defence Academy deeply appreciative and provide you with our most grateful welcome. We are glad to announce that Ex. GTO Officer Colonel R. K. Tiwari Sir going to Join our Academy to Guide NDA and CDS aspirants For SSB. WDA is the Best NDA and SSB Coaching in Lucknow India. #Top NDA College in India
Warriors Defence Academy is the Best NDA Coaching in Lucknow. We are the Leading Coaching Institute for NDA/CDS/AFCAT/Army/Air Force/Navy Located in Lucknow. Warriors Defence Academy has the Largest GTO Ground in India. The Aspirants of Defence Services are guided via Ex. Defence Officers. WDA was additionally Awarded as Best NDA Academy in Lucknow.
Address: 545-GA/1-CHHA, Chandganj Garden Road, beside Madhuwan Guest house, near Railway crossing, Kapoorthla, Bara Chandganj, Chandralok, Lucknow, Uttar Pradesh 226006
Website: https://warriorsdefenceacademy.com/
Website: https://www.warriorsndaacademy.com/
Call Now: 07081011964
MADE-IN-INDIA PASSENGER AIRCRAFT DEVELOPMENT ON TRACK; NAL DIRECTOR REVEALS $2 BILLION PRICE TAG

The challenge is presented in the definition phase, after which a DPR will be furnished to the authorities for approval and full-scale launch of the engineering development.
The National Aerospace Laboratories (NAL) director has printed that the improvement of India's first Regional Transport Aircraft (RTA) will take at least $2 billion in funding.
The NAL director Dr. Abhay A Pashilkar used to be giving an interview, the place he stated that the 90-seater RTA will be achieved with the aid of a one-of-a-kind cause automobile at an estimated value of $2 billion. #Top NDA College in India
Dr. Pashilkar said, "Typically $1 billion for full-scale engineering development, and then subsequent manufacturing will be carried out with the aid of industry.
"So typically, overall, it is something like $2 billion of funding for an easy sheet design, as they name it. So the spinoff graph the place we take a present plane would be probably much less luxurious in that feel however that is the variety of ballpark figure."
Explaining the popularity of the task Dr. Pashilkar said:
"As of now, we are in the assignment definition phase, it started out remaining April and will conclude in September of this year. Once the task definition segment is over, we will be imparting a specific undertaking document to the government. #Top NDA College in India
"The distinctive assignment record if truth be told carries what desires to be made, designed, how it desires to be done, and who are feasible companions inside India and overseas who can work on this project."
"So, once that file is typical by using the government, that is when the full-scale engineering improvement will be launched. So, you can anticipate that to be taken up someday after the targeted task file is launched," he added. #Top NDA College in India
In addition, Dr. Pashilkar additionally stated that the RTA will be developed no longer solely with Hindustan Aeronautics Limited (HAL) and Defence Research and Development Organisation (DRDO), but additionally with personal area companies.
"For the RTA, from the beginning, we are planning to have this improvement in a partnership mode preserving in view that it is a higher aircraft. So, we presently have HAL and the DRDO as our companions in the conceptual format stage and we are actively searching for the enterprise each in India and overseas to come ahead and grow to be an associate in the provide chain, graph development, and finally in the manufacturing after the plane receives certified," Dr. Pashilkar said.
Explaining the improved reputation of SARAS MK II, Dr. Pashilkar said, "SARAS MK-II, which is our huge venture proper now, is present in the distinct design, and very quickly we have to begin getting the drawings after which we will get it fabricated in India." #Top NDA College in India
"We count on that as soon as the drawings are released, steadily we will begin our manufacturing method and someday subsequent year, we have to have the factors coming collectively and we are then capable to if truth be told roll out the plane and as soon as that is complete, then the flight trying out phase will start," he added.
The SARAS MK-II Aircraft is the first Indian multi-purpose civilian plane in the mild transport plane class being designed by way of the CSIR-NAL.
The 19-seat multi-role mild transport aircraft, with its first flight deliberate around 2025, will be perfect for commuter connectivity below the government's area connectivity UDAN scheme for a range of functions like air taxi, govt transport, mild package deal carrier, border patrol, air ambulance, and different neighborhood services, in accordance to NAL.
Dr. Pashilkar additionally defined that a complete 15 planes will be produced by means of HAL and the timeline of the challenge is 2026. #Top NDA College in India
Just closing week, an Indian non-public defence business enterprise 'Paras Defence', signed a contract with NAL to furnish an avionics suite really worth Rs sixty-four crore for SARAS MK-II.
Additionally, the NAL is additionally working on any other plane undertaking — HANSA-NG — a two-seater coach plane for civilians aspiring to turn out be pilots in the business aviation market.
Dr. Pashilkar said, "We have been working on a two-seater HANSA aircraft, the HANSA Next Generation or NG. #Top NDA College in India
"This plane is centered for ab initio training, which capacity that all the younger pilots or those who desire to emerge as pilots, who prefer to get a business pilot license, this plane is intended for them.
"We have just performed all the testing, design, and closing yr and we are simply ready for the closing kind certificates to be issued to us from the Indian DGCA (directorate typical of civil aviation)."