Top NDA Coaching in Lucknow
WHAT IS NDA
NDA stands for National Defence Academy and is one of the most prestigious defence institutes or training centres situated in Khadakwasla Pune, Maharashtra that trains young boys to become officers in of Indian Armed Forces. Every year almost 1000 candidates get admission to this reputed institution to get the training of becoming an officer by means of an examination with the same name called NDA conducted by UPSC.
WHAT IS NDA EXAMINATION
The examination for National Defence Academy is conducted by UPSC twice a year usually in the month of April & September.
ELIGIBILITY CRITERIA FOR NDA EXAMINATION
Nationality:
Must be a citizen of India, a subject of Nepal or Bhutan, A Tibetan Refugee who came before Jan 1962 with an intention of settling permanently. #Top NDA Coaching in Lucknow
Marital Status:
Age-Limit:
Educational Qualification:
For Air Force and Naval Wing – Passed or appearing class 12th with Physics and Mathematics
For Army Wing – Passed or appearing class 12th.
Candidates appearing in class 11th are not eligible.
Physical Standards: #Top NDA Coaching in Lucknow
Height – Minimum 157 cm, For Air Force, it is 162.5 cm
SELECTION PROCESS:
Application: The candidates first have to apply for the examination. They can apply online only. Candidates can apply on the official website of UPSC i.e. www.upsc.gov.in
Written Examination: Candidates on the basis of their application will get an admit card for their written examination. The written examination will be held at the centres allotted in the admit card.
Paper Pattern & Marking System
Paper I – Mathematics – 300 Marks – 120 Questions – 2.5 marks for each.
Paper II – GAT (General Ability Test) – 600 Marks – 150 Questions – 4 marks for each.
* 1/3rd negative marking for each wrong answer.
SSB Interview: Those candidates who qualify for the written examination will further go for SSB Interview. It is a five days interview process taken by three different officers i.e. Psychological Officer, Interviewing officer and GTO (group Task Officer). #Top NDA Coaching in Lucknow
Medical Test: Those who get recommended by SSB interview will go for a Medical Test.
Final Merit List: The final list will be made on the basis of a written examination and SSB Interview. The final selected students will qualify to go for the training of five years in NDA situated in Pune.
Lucknow, a large city in northern India, is the capital of the state of Uttar Pradesh. Being the capital of such a big state it has huge amount students those who want to prepare for the NDA exam and search for the best coaching for NDA. We suggest Warriors Defence Academy is the best option for every such student searching for the best NDA coaching.
Here are some of the facilities provided by Warriors Defence Academy which make it the best coaching institute for NDA:
Warriors Defence Academy provides the best knowledge on NDA and is backed by actual Officers of the Indian Armed Forces which provides the proper and genuine guidance to the students.
Warriors Defence Academy has its proper study materials and books so that students shouldn't have to roam around here and there for those. As these are the most important thing through which a student prepare for their NDA examination.
Faculty is the backbone of any best Defence Institute; Warriors Defence Academy has the best NDA faculty which is experienced and professional in the NDA examination. They impart quality knowledge, communication skill and personality development to train students completely with full efficiency and reliability. #Top NDA Coaching in Lucknow
Any student who wants to join NDA has to be physically fit. Hence, Warriors Defence Academy provides regular Physical Fitness training to the students.
SSB is the most important phase a candidate has to cross to become an officer through NDA. Warriors Defence Academy has its own GTO ground for the practice of GTO tasks of the candidates. Along with that it also has Ex. Col. Pramod Kumar Sir SSB officers like Wing Cdr. (Ex. GTO Officer) and Col. R.K. Tewari Sir (Ex. Interviewing Officer).
An academy proves itself the best when its students get actually selected for the posts. No matter what if an academy is unable to provide a selection to its candidates then all its efforts are wasted. Warriors Defence Academy has given more than 550 numbers of officers to the Indian Armed Forces. It also has a passing ratio of 1:10 in the NDA examination.
After the completion of a topic, the WDA conducts classes for the student to clarify their doubts regarding that topic. This promotes a high selection ratio of the student.
Personality is something that is of utmost importance for any NDA aspirant. Warriors Defence Academy Provides personality development classes to their students that lay high emphasis on improving communication skills. #Top NDA Coaching in Lucknow
It is to be believed that the environment in which a Student study has an important aspect of effective learning to a student. Warriors Defence Academy ensures their Students study in an enabling environment equipped with proper classrooms to keep them stress-free.
Along With the best infrastructure for studying it is also necessary for the institutes to provide full comfort to their students which they can, by providing them with furnished hostel with boarding & lodging facilities and especially to those students who came to study for NDA in their Academy from different cities. WDA provides the same to their students. #Top NDA Coaching in Lucknow
For any queries write us in the comment section below. You can also contact Warriors Defence Academy at the numbers provided below or get free counselling at your nearest centre of Warriors Defence Academy.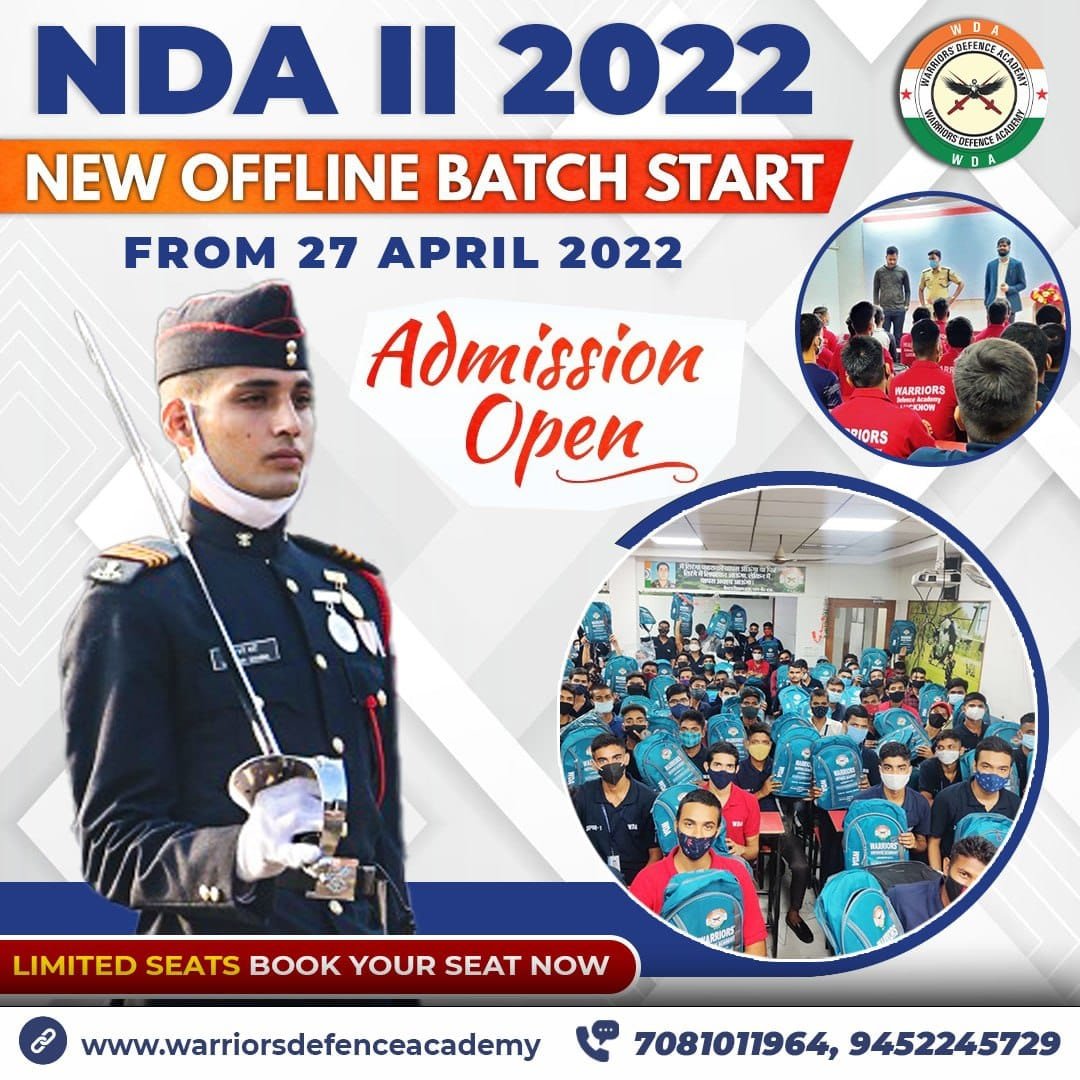 Warriors Defence Academy Lucknow
Address: 545-GA/1-CHHA, beside Madhuwan Guest house Chandganj Near Railway crossing, Kapoorthla, Lucknow, Uttar Pradesh 226006
Phone: 07081011964
https://warriorsdefenceacademy.com/
https://www.warriorsndaacademy.com/