Top NDA Coaching in Lucknow | Best NDA Coaching Lucknow | No-1 NDA Coaching in Lucknow
Best NDA Academy in Lucknow | Join WDA Lucknow – Warriors Defence Academy deeply appreciative and offer you our most grateful welcome. We are happy to announce that Ex. GTO Officer Colonel R. K. Tiwari Sir going to Join our Academy to Guide NDA and CDS aspirants For SSB. WDA is the Best NDA and SSB Coaching in Lucknow India.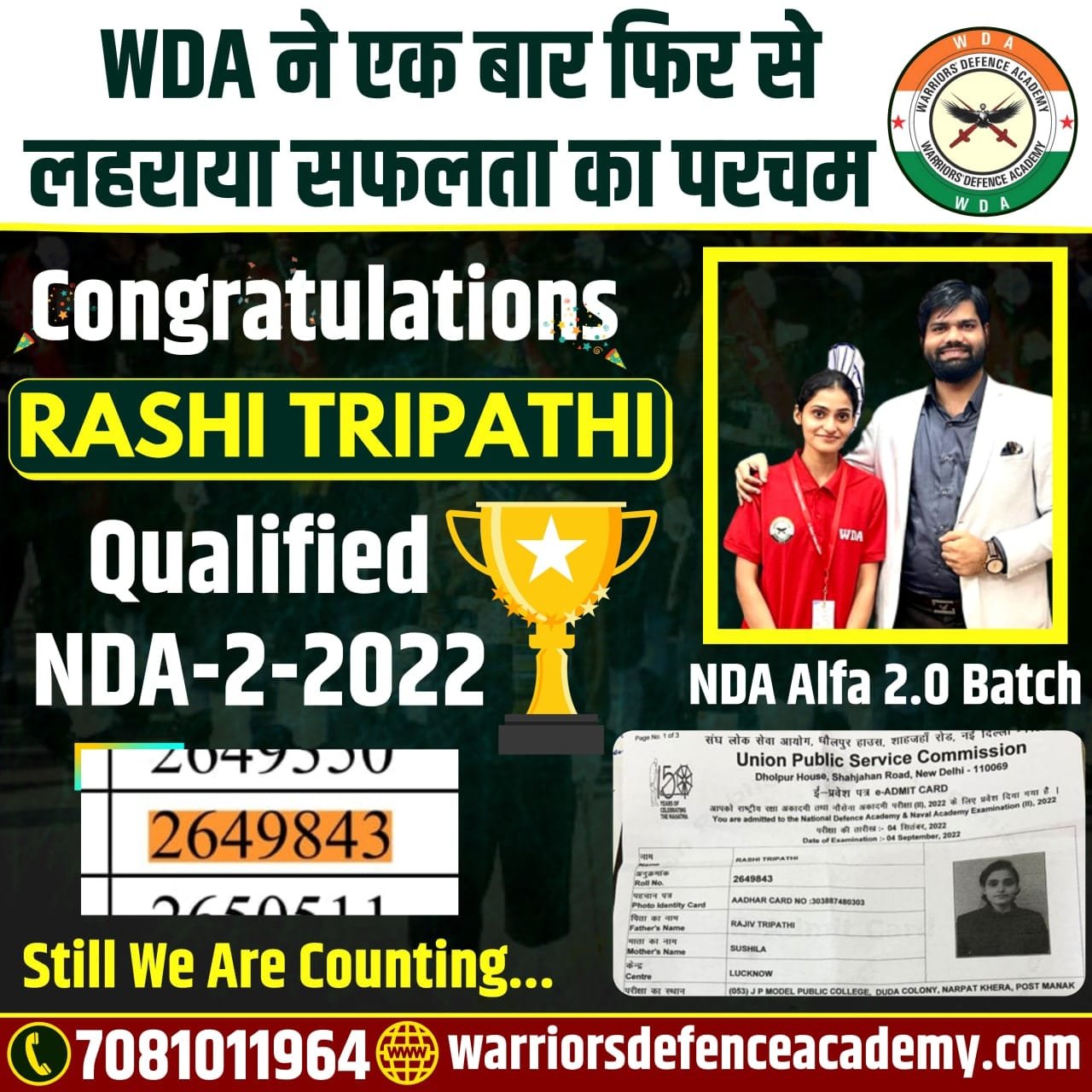 ARMING THE WORLD AND AIMING HIGH
A series of measures by the government helped raise the country's defence exports from Rs 1,521 crore in 2016-17 to Rs 15,920 crore in 2022-23
Hours after a TEJAS pierced the Bangalore sky during Aero-India 2023, C B Ananthakrishnan, chairman and managing director of Hindustan Aeronautics Limited shared two pieces of news on the home-grown combat jet. One, it lost the last leg of the selection for an order from the Royal Malaysian Air Force after making it to the final shortlist. Second, the interest of foreign customers in TEJAS is still intact – Argentina wants 15 aircraft and Egypt needs 20 to start with. Other interested nations include the United States of America, Australia, Indonesia and the Philippines.
New Delhi has sold BrahMos cruise missile to Manila, Pinaka rocket and launchers to Yerevan, and offshore patrol vessel Barracuda to Port Louis. Other export items include simulators, night vision devices, lightweight torpedoes, armoured protection vehicles, weapons locating radar, high-frequency radio and coastal surveillance radar. Riding high on such sales, India's defence export shot up by 10 times in the last seven years to touch almost Rs 16,000 crore in FY23.
The Ministry of Defence says that India exports military hardware to 85 countries and the items include Akash air defence missiles and 155 mm advanced towed artillery guns, though the recipients of these two items are unknown. Ajay Bhatt, the minister of state for defence, said that the names of countries with whom contracts have been signed could not be divulged due to strategic reasons.
The growth, no doubt, is creditable and India may well be on course to achieve the immediate target of Rs 35,000 crore of defence exports (of 1.75 lakh crore defence production) by 2025. But from a global perspective, the figures are minuscule. Among the world's top 25 arms-exporting countries, Jordan with 0.2% of the global export market sits in the 25th position. India doesn't figure in the list.
"At $1.8 billion or $2.0 billion, our exports are not even a drop from the ocean, as the global defence business is worth $630 billion," said S P Shukla, president of the Society of Indian Defence Manufacturers. "Our Government and Services will have to find suitable means to promote Indian military platforms and weapon systems to all friendly foreign countries."
The government, in a series of steps since 2014-15, has simplified the defence export procedures and made it clear to the defence public sector units and ordnance factory board (now corporatized) that a part of their revenue would have to come from export. The public sector behemoths, which survived all these years on captive customers, now have a task cut out to make their products top-class and cost-competitive if they have to go global.
The real growth, however, would have to come from the private sector, which started late but is being induced by the Centre not only to "make in India", but also to "make in India and make for the world". The draft Defence Production policy has been modified accordingly into the draft Defence Production and Export Promotion Policy, (DPEPP), which is currently under consideration by a group of ministers before it goes to the Cabinet for approval.
"The DPEPP has laid emphasis on building a robust defence industry with the inclusion of the private sector on a level playing basis with the public sector to address the nation's targeted growth aspirations," noted Arun Ramchandani, chair, of FICCI Defence Committee and executive vice president and head of the L&T Defence.
The road ahead is poke-marked with challenges like the absence of R&D and the requirement of big-time capital. But the industry insiders are of the opinion that a beginning has been made and the government needs to handhold for some more time. Another way to improve exports is to provide components to the global supply chains of arms majors as Indian companies would in any case make those components as a part of the offset deal in case the original equipment manufacturer bags an Indian contract.
"The recent policy developments for the space sector have been very encouraging for the industry. The objective should be to create at least 10 companies with an annual turnover of 5 billion USD in these sectors," Shukla summed up.