NDA Selection Process 2023: Stages
The NDA selection process for NDA 2023 involves the following stages:
Written Exam
SSB Interview
Written Exam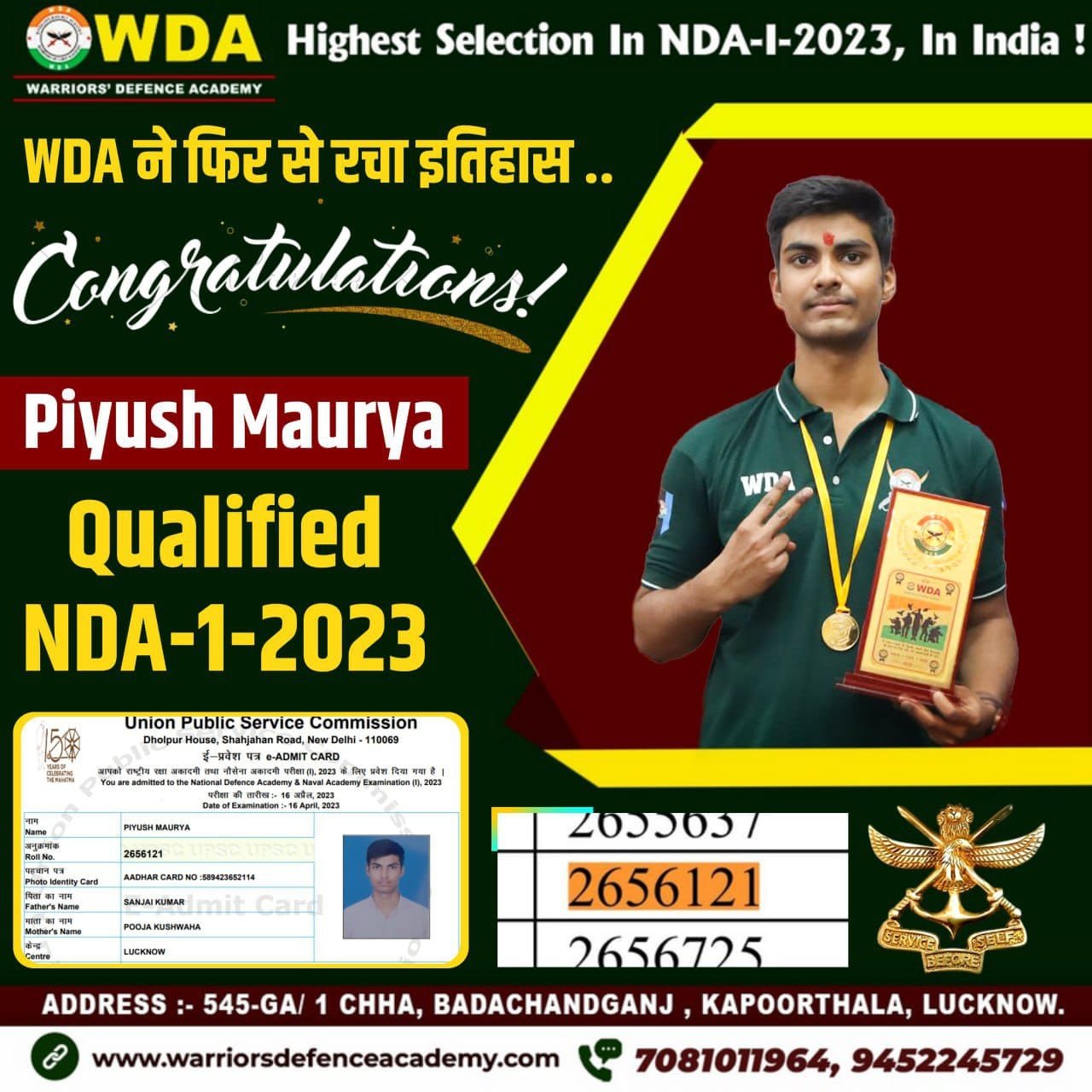 NDA Selection Process 2023: Written Exam
NDA Selection Process: Candidates who will complete the application process successfully will be able to attend the written exam. The NDA admit card for the written exam will be released on the official website. Here are the key points of the written exam:
The written examination is the first stage of the selection of candidates.
NDA 2023 is a 900 marks test further divided into two sections – Mathematics and General Ability Test.
The duration of the exam is 180 minutes comprising objective type questions.
If the syllabus is not completed; it is advised to follow NDA study materials for learning all important concepts in a concise way.
Minimum qualifying marks are decided by the commission for participating in the selection process.
Qualifying candidates have to sit for the interview consisting of a Psychological Aptitude Test and an Intelligence or Personality test.
While preparing for the exam, refer to Piyush Thorve's (AIR 16, 2019) Preparation Strategies. ​
NDA Interview
NDA Maths Question Paper with Answer Key- Download PDFs
NDA 1 and NDA 2 Maths Question Paper with Answer Keys of Paper 1 are given below in PDF format.
NDA Selection Process 2023: SSB Interview
Candidates who will secure the cutoff marks of the written exam will be invited for the SSB interview round. For better preparation, the candidates must check out NDA preparation tips. Candidates in SSB Interviews are assessed on Officers' Officers Potentiality. Candidates who apply for Air Force need to qualify Computerised Pilot Selection System (CPSS).
The SSB Interview round comprises two separate tests – Psychological Aptitude Test and Intelligence Test.
The qualifying candidates have to be put on the stage for tests on the first day of reporting at selection centers.
Only those candidates who qualify at stage 1 will be called for the remaining tests.
Upcoming NDA 2023 Exam Dates
NDA GAT Question Paper with Answer Key- Download PDFs
NDA 1 and NDA 2 GAT Question Paper with Answer Keys of Paper 2 are given below in PDF format.
Day-wise SSB Interview
Here is a table on day-wise events of SSB Interview:
| Days | Events |
| --- | --- |
| Day 1 | Picture Perception* test and Description Test |
| Day 2 | Psychology Tests |
| Day 3 | Group Testing Officer's Task |
| Day 4 | Interview |
| Day 5 | Conference |
Note: Besides, candidates with the first choice for the Air Force, and all the SSB qualified candidates with one choice as Air Force, should separately qualify the PABT (Pilot Aptitude Test) and Computerised Pilot Selection System (CPSS), if fulfill the eligibility for Air Force.
Check out NDA Exam Centres 2023.Final Selection
NDA Selection Process 2023: Final Selection
To be accepted for Army/ Navy/ Naval Academy and Air Force under NDA recruitment, candidates need to secure NDA cutoff marks separately in the written exam and SSB Interview.
For Air Force, candidates should separately qualify for the Computerised Pilot Selection System (CPSS).
Final selection for respective academies will be done as per vacancies subjected to their NDA eligibility, medical fitness, and merit-cum-preference of candidates.
Required Documents
Required Documents for NDA Selection Process
The candidates selected for the interview are required to carry and later on submit the following documents to the academy for verification. Candidates claiming admission under reserved categories should carry the relevant documents. Any candidate failing to meet the eligibility criteria at any stage of recruitment will be disqualified.
All the documents should be carried in original as well as photostat copies. Failure to carry any of the necessary documents could lead to the disqualification of the candidate.
Original 10+2 or Class 12th passing certificate or equivalent in support of educational qualification.
Certificate of Eligibility for a certain category of students.
Category or Cast certificate applicable to SC, ST, OBC, etc.
Identity and Address Proof (Aadhar Card/ Voter ID/ Passport/ Nivaas Pramaan Patra)
After Selection
What after NDA Final Selection?
After passing the training, NDA training begins on the very first day of the academic year. The selected candidates for the three services viz, Army, Navy, and Air Force are given Preliminary training both academic and physical for a period of 3 years at the National Defence Academy which is an Inter-Service Institution.
Air Force Cadets are given flying training for a period of 1½ years. However, at the end of one year of training, they are given provisional Commission in the rank of Flying Officer. After successful completion of further training of six months, they are granted permanent commissioned officers post.
During the training period, candidates will be initially paid a stipend of Rs. 56, 100/- per month (at pay matrix of level 10). After the training, the candidate will be commissioned as a Lieutenant with a pay scale of Rs. 56,100/- to Rs. 1, 77, 500/- along with additional allowances.
Check the details of NDA 2023 Result
NDA FAQs
NDA Selection Process 2023: FAQs
Ques. What are the reasons for the candidate's disqualification from the NDA exam?
Ques. How many candidates apply for NDA Exam?
Ques. What is the process of NDA selection?
Ques. What happens after selecting in NDA?
Ques. Is there any capping in the number of limits?
NDA Selection Process 2023 | Best NDA Coaching in Lucknow | Top NDA Coaching in Lucknow
We offer excellent preparatory training for the entrance examinations to get into the Indian armed forces.
Since our inception 7 years ago, under the captaincy of one of India's leading youngest entrepreneurs – Mr. Gulab Singh. Hundreds of our candidates have been selected and many of whom have attained top ranks in final UPSC merit.
The institute has highly qualified and reputed team instructors each fully devoted to providing an unparalleled education for NDA/CDS/SSB/AFCAT/CAPF.
The task of teaching transcends the classrooms so as to guide the students to realize their highest potential, and to encourage them to optimize the results.
Involvement and excellence in extracurricular activities like SSB guidance, personality development, debates, team games, lecture, etc feature in the training.
Our aim at the academy is to make the students imbibe discipline and groom moral and ethical values. Come, be a part of this success story, and fulfill your desire for joining the reputed Indian Armed Forces and serving the nation.
Best NDA Academy in Lucknow | Join WDA Lucknow – Warriors Defence Academy deeply appreciative and offer you our most grateful welcome. We are happy to announce that Ex. GTO Officer Colonel R. K. Tiwari Sir going to Join our Academy to Guide NDA and CDS aspirants For SSB. WDA is the Best NDA and SSB Coaching in Lucknow India.
Warriors Defence Academy is the Best NDA Coaching in Lucknow. We are the Leading Coaching Institute for NDA/CDS/AFCAT/Army/Air Force/Navy Located in Lucknow. Warriors Defence Academy has the Largest GTO Ground in India. The Aspirants of Defence Services are guided by Ex. Defence Officers. WDA was also Awarded as Best NDA Academy in Lucknow.
Address: 545-GA/1-CHHA, Chandganj Garden Road, beside Madhuwan Guest house, near Railway crossing, Kapoorthla, Bara Chandganj, Chandralok, Lucknow, Uttar Pradesh 226006
Website: https://warriorsdefenceacademy.com/
Website: https://www.warriorsndaacademy.com/