Best NDA Coaching in Lucknow
NDA EXAM CENTRE: We offer excellent preparatory training for the entrance examinations to get into the Indian armed forces.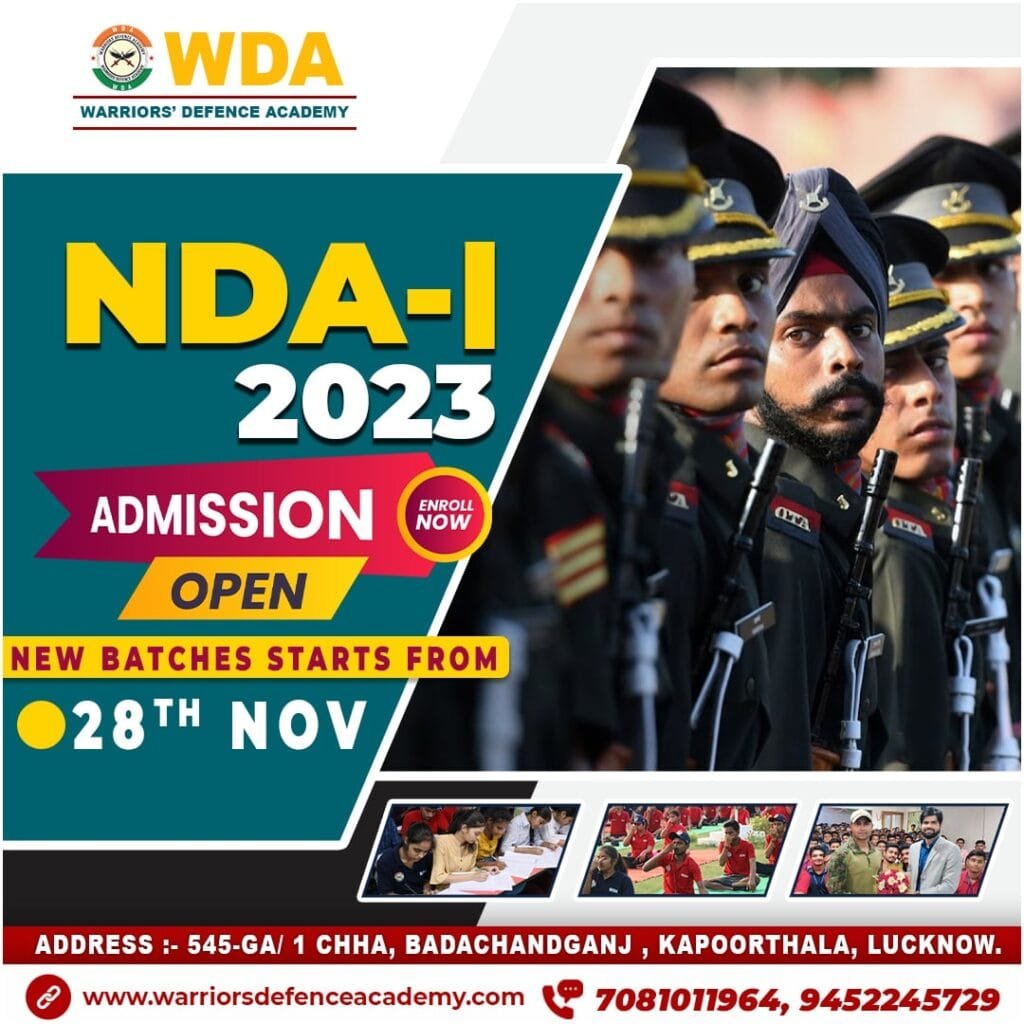 #NDA EXAM CENTRE Since our inception 7 years ago, under the captaincy of one of India's leading youngest entrepreneurs – Mr. Gulab Singh. Hundreds of our candidates have been selected and many of whom have attained top ranks in final UPSC merit.
The institute has highly qualified and reputed team instructors each fully devoted to providing an unparalleled education for NDA/CDS/SSB/AFCAT/CAPF.
The task of teaching transcends the classrooms so as to guide the students to realize their highest potential, and to encourage them to optimise the results.
Involvement and excellence in extracurricular activities like SSB guidance, personality development, debates, team games, lecture, etc feature in the training.
Our aim at the academy is to make the students imbibe discipline and groom moral and ethical values. Come, be a part of this success story and fulfil your desire for joining the reputed Indian Armed forces and serving the nation.
Best NDA Academy in Lucknow | Join WDA Lucknow – Warriors Defence Academy deeply appreciative and offer you our most grateful welcome. We are happy to announce that Ex. GTO Officer Colonel R. K. Tiwari Sir going to Join our Academy to Guide NDA and CDS aspirants For SSB. WDA is the Best NDA and SSB Coaching in Lucknow India.
Warriors Defence Academy is the Best NDA Coaching in Lucknow. We are the Leading Coaching Institute for NDA/CDS/AFCAT/Army/Air Force/Navy Located in Lucknow. Warriors Defence Academy has the Largest GTO Ground in India. The Aspirants of Defence Services are guided by Ex. Defence Officers. WDA was also Awarded as Best NDA Academy in Lucknow.
Address: 545-GA/1-CHHA, Chandganj Garden Road, beside Madhuwan Guest house, near Railway crossing, Kapoorthla, Bara Chandganj, Chandralok, Lucknow, Uttar Pradesh 226006
Website: https://warriorsdefenceacademy.com/
Website: https://www.warriorsndaacademy.com/
Call Now: 07081011964
NDA Exam Centre
NDA EXAM CENTRE: The UPSC – which conducts the NDA Exam – has released the list of exam centres. The exam is slated to take place in 70 cities across the country. Candidates are required to select the exam centre for the exam carefully.
Because once the selection has been made, candidates cannot change the exam centre. Thus, the article will provide a list of the exam centres for the NDA Exam so that candidates can make an informed decision about the choice of the exam centre.
List of Exam Centres for NDA 2022
The list of exam centres for NDA 2022 is as follows:
NDA Exam Centres 2022
Agartala
Ghaziabad
Panaji (Goa)
Agra
Gorakhpur
Patna
Ajmer
Gurgaon
Port Blair
Ahmedabad
Gwalior
Prayagraj (Allahabad)
Aizawl
Hyderabad
Puducherry
Aligarh
Imphal
Pune
Almora (Uttarakhand)
Indore
Raipur
Anantpur (Andhra Pradesh)
Itanagar
Rajkot
Aurangabad
Jabalpur
Ranchi
Bengaluru
Jaipur
Sambalpur
Bareilly
Jammu
Shillong
Bhopal
Jodhpur
Shimla
Bilaspur
Jorhat
Siligudi
Chandigarh
Kochi
Srinagar
Chennai
Kohima
Srinagar (Uttarakhand)
Coimbatore
Kolkata
Thane
Cuttack
Kozhikode (Calicut)
Thiruvananthapuram
Dehradun
Leh
Tiruchirapalli
Delhi
Lucknow
Tirupati
Dharwad
Ludhiana
Udaipur
Dispur
Madurai
Varanasi
Faridabad
Mumbai
Vellore
Gangtok
Mysore
Vijayawada
Gaya
Nagpur
Visakhapatnam
Gautam Buddh Nagar
Navi Mumbai
Warangal
#NDA EXAM CENTRE
*Points to be noted when selecting an NDA Exam Centre:
Applicants should note that there is a ceiling on the number of candidates allotted to each of the centres except Chennai, Dispur, Kolkata, and Nagpur
Candidates are required to enter the details of the exam centre while filling NDA application form
Allotment of exam centres for the NDA exam will be on a first-apply-first-allot basis and once the capacity of a particular Centre is attained, the same will be frozen
Applicants, who cannot get a centre of their choice due to the ceiling, will be required to choose a centre from the remaining ones
Applicants are advised that they should apply early to get their preferred exam centres
The details of NDA exam centres will be mentioned on the admit card.
Candidates admitted to the examination will be informed of the timetable and place or places of examination. Candidates should note that no request for a change of centre will be granted.
Guidelines to be followed at the exam centre:
The aspirants should reach the NDA exam centre one hour before the exam.
Do not forget to carry the printout of your e-admit card of NDA 2022, otherwise, you will not be allowed to appear for the exam.
Additionally, the candidates should also carry a valid photo id of you. For instance, you can carry any of the driving license/voter id/PAN card/Aadhaar card/Passport/ Aadhaar enrollment receipt/ ration card 2022.
Do not carry any metallic equipment or electronic gadgets or phone, calculator, camera, tape recorder, pager, or microphone to the examination hall.
Frequently Asked Questions about NDA Exam CentreCan the exam centre of NDA be changed?
Can the exam centre of NDA be changed?
Applicants are advised to apply for the NDA 2022 exam centres early so that they get an exam centre of their choice. Candidates should note that no request for a change of exam centres of NDA will be entertained at a later stage.
How many NDA exam centres are in India?
The Union Public Service Commission has enlisted almost 75 exam centres for the NDA 2022 Exam. During the NDA application process, candidates are able to choose 3 exam centres as per their choice.