GLOBAL MARITIME SUMMIT WOULD PUSH INVESTMENTS: SONOWAL
'New eastern route to handle cargo shipments between India and Russia'
MUCH OF the cargo traffic that comes into India is transshipped through major hubs such as Colombo, Singapore, Jabel Ali, or Port Klang. In an interaction with SUKALP SHARMA and ANIL SASI, Union Minister for Ports, Shipping and Waterways SARBANANDA SONOWAL said the government is cognisant of this issue and is building international transshipment ports like Galathea Bay and Wadhavan ports to tackle the problem. He said the upcoming global maritime summit would give a fillip to investments in the ports and shipping sector and that his Ministry was actively charting out a new route to Russia through the east to handle rising cargo shipments between the two countries.
The dismantling of the TAMP (Tariff Authority for Major Ports) and the delegation of freedom to major ports to set tariffs has been a major reform. Which is the next big ticket reform push that the government is working on for the ports sector?
Global players are now recognizing India's potential as a maritime country and are also interested in the huge market that the country offers in the form of 1.4 billion people. There is no doubt about India's potential and it is our responsibility to channel and realise that potential.
Coastal shipping for domestic cargo handling is economically very viable and has a huge potential for growth…We expect investments worth Rs 10 lakh crore to be announced at the Global Maritime India Summit in October. GLOBAL MARITIME SUMMIT WOULD PUSH INVESTMENTS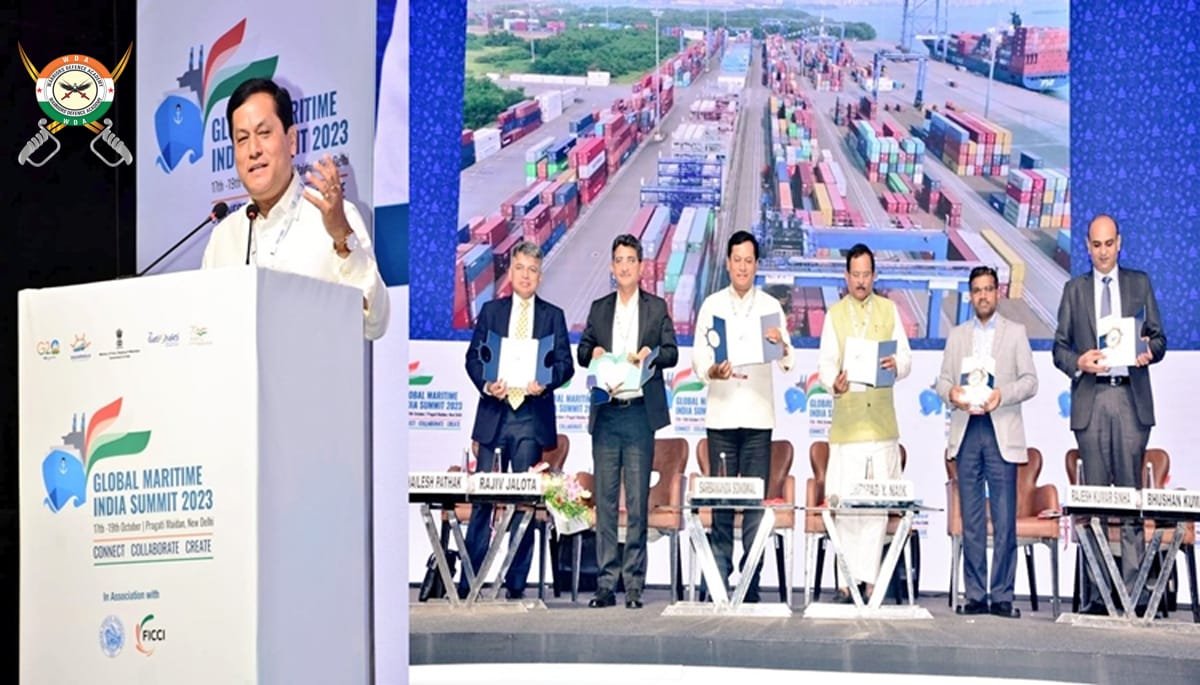 What are your expectations from the Global India Maritime Summit?
This Global Maritime India Summit is one of the biggest events in the maritime industry and among the maritime nations. It will have participation from global players and will also have best practices and technology on display.
As I said, we expect major investment announcements, which will exceed that of earlier editions. We being the largest transporter of the country, you know we do 96 percent by volume of India's import and export, so it is our major responsibility to make the country economically powerful by pushing our products into the global market and empowering our manufacturing units and producers to capture the global market. GLOBAL MARITIME SUMMIT WOULD PUSH INVESTMENTS
How would you assess the government's work in the ports sector over the past few years?
Before 2014, the cargo handling capacity of our ports was not at a level of satisfaction and we were not considered competitive. Things were a little subdued. But with some of the flagship initiatives under the Prime Minister's leadership, the ports' condition is being transformed through efforts towards modernization, mechanization, and digitization. We are working towards ported industrialization and port-led connectivity enhancement, as well as coastal shipping, coastal community development, and inland waterways. Because of many of these efforts, we have been able to enhance the efficiency of our ports in a big way.
As you have seen the World Bank Logistic Performance Index reports, the data is the voice of our success story. It shows how we have considerably improved on various parameters.
Earlier, it was just not there in the thought process as far as the ports sector was concerned. That such a roadmap and such initiatives can be implemented in a time-bound manner and with quality of implementation, that mindset was not there. I now see that managers of the ports are building a competitive attitude, to compete with the best of the best. They are now aiming to become major players in the global market. GLOBAL MARITIME SUMMIT WOULD PUSH INVESTMENTS
What are the plans for the Eastern Maritime Corridor (EMC)-Vladivostok to Chennai?
Both sides (India and Russia) are interested and discussions are moving well. GLOBAL MARITIME SUMMIT WOULD PUSH INVESTMENTS
But why did it not take off earlier, since it makes a lot of sense considering the Suez Canal route to reach Russia takes a long time?
Coking coal, crude oil, LNG, and fertilizers could be the potential cargo that can be transported to India from Russia. The market and the feasibility have been assessed. Instead of over 40 days through the Baltic route, the goods can reach India from Russia and the other way around in just 12 days. We are organizing a workshop in Chennai in October for the EMC. Russian stakeholders and business houses will also participate and the workshop will be dedicated to activating this trade route. Such deliberations and consultations will help build a roadmap for future course of action. GLOBAL MARITIME SUMMIT WOULD PUSH INVESTMENTS
When do you expect the EMC to emerge as a working and stable commercial maritime route?
Now that both sides have made up their minds, it will certainly materialize. It is economically feasible and commercially viable. There are enough items that can be transported to India from Russia and its neighboring countries, and vice versa. GLOBAL MARITIME SUMMIT WOULD PUSH INVESTMENTS
Is there any update on the India-Middle East-Europe corridor, which was recently announced at the New Delhi G20 Summit?
We will follow a whole of government approach to it. As the shipping and ports ministry, we are the transporter. There are other stakeholders involved like railways, roadways, and of course, the commerce and finance ministries. There will be close coordination at our end between various departments and ministries, and we will be working in an integrated fashion. Also, there will be multiple countries involved in this initiative. We will have to work closely with them as well.
Why is Warriors Defence Academy the Best NDA Coaching in Lucknow?
At Warriors Defence Academy, we're the premier choice for many NDA and Army exam aspirants, including those seeking to understand NDA 2024 Exam Eligibility for Females. Our experienced faculty is dedicated to personalized guidance, ensuring every student excels in their studies. We provide an extensive range of study materials, including mock tests, previous years' papers, and specialized books designed for NDA exam preparation, meticulously curated for comprehensive NDA syllabus coverage. Our simulated mock tests enable students to practice and assess their progress in an environment closely resembling the NDA exam.
Warriors Defence Academy has consistently produced NDA and Army exam success stories, with many alumni serving with distinction in the armed forces, a testament to the quality of our NDA Coaching in Lucknow. Indian Navy Eligibility 2024
Conclusion
The NDA 2024 exam eligibility for females opens the door to a fulfilling and honorable career in the Indian defense forces. By meeting these criteria and seeking support from NDA Coaching in Lucknow, you can significantly boost your chances of success. Your unwavering determination and dedication can lead to a fulfilling career dedicated to serving your nation. Indian Navy Eligibility 2024
In summary, if you're a determined young woman with a strong aspiration to join the defense forces through the NDA 2024 exam, ensure you meet the eligibility requirements and consider enrolling in NDA Coaching in Lucknow. Your dream of serving your nation can become a reality with dedication and the right guidance.
If you have any more questions about NDA 2024 exam eligibility for females or need further information, please don't hesitate to reach out. Best of luck with your NDA 2024 journey!