Top Coaching for NDA in India | Best NDA Coaching in Lucknow
HOW WILL INDIA COUNTER THE J-20 DRAGON? MAYBE WITH THE F-35?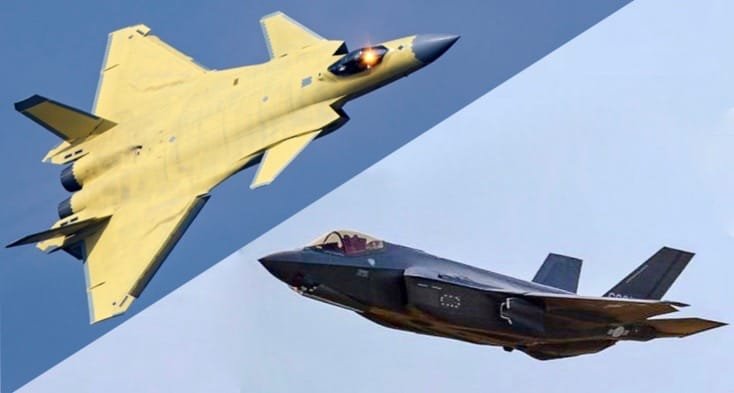 The US recently approved the sale of 24 Lockheed Martin F-35A Joint Strike Fighters to the Czech Republic for US$5.6 billion. This package includes weaponry and spare parts. The Czech Republic will also receive 25 Pratt & Whitney F135-PW-100 engines to improve NATO operations. The Czech Air Force chose this fifth-generation fighter over the Lockheed F-16 and Saab Gripen JAS 39 fighter.
Similarly, Israel plans to purchase 25 more F-35 stealth jets in a US$3 billion deal. This will increase Israel's F-35 fleet to 75. The funds for this purchase are part of Israel's defence aid package from the US. Israel was the first country outside the US to introduce the F-35, also known as "Adir" in Hebrew. In May 2018, Israel was the first to use the aircraft in active combat. Lockheed Martin and Pratt & Whitney agreed to let Israeli defence companies produce aircraft parts.
F-35 And India: A Potential Match?
Despite no formal offer or request concerning the F-35 between the US and India, the two countries' political interests have strengthened considerably. The F-35s were presented at Aero India 2023, marking their first appearance in India. The US appears more focused on India purchasing F-16, F-18, or F-15 class aircraft. India's recent acquisition of Russia's S-400 air defence system is also significant.
India's own Advanced Medium Combat Aircraft [AMCA] with stealth features won't be ready for around 15 years. Some suggest India should buy two F-35A squadrons, but their main goal is securing 114 fighters. With the Indian Air Force's [IAF] need for additional AEW&C and FRA, the cost of buying and maintaining the F-35 could be significant. However, as India's economy grows, significant security investments may be necessary.
Thanks to Russian supplies, the IAF has surplus capital funds. China already has 150 fifth-generation J-20s, and Pakistan is increasing its fighter squadron strength. India is still advancing through the Light Combat Aircraft [LCA] stages, but acquiring around 40 F-35s could significantly improve the IAF's operational capability. This decision lies with India's security establishment, given the urgent need to increase the IAF's fighter aircraft numbers.
F-35 Lightning-II
The F-35 is a powerful combat aircraft designed for air superiority and strike missions. It has advanced electronic warfare and reconnaissance capabilities. Lockheed Martin, Northrop Grumman, and BAE Systems collaborated to create the F-35 aircraft, which comes in three main versions: F-35A, F-35B, and F-35C. These designs won the Joint Strike Fighter [JSF] program competition in 2001.
The F-35 program was primarily funded by the US, with contributions from the UK, Australia, Canada, Italy, Norway, Denmark, the Netherlands, and Turkey, though Turkey was later excluded. The UK was the only Tier 1 partner. The F-35's development began with the X-35A demonstrator in 2000, followed by the F-35 prototype in 2006. The F-35 models started service with the US military between 2015 and 2019. The aircraft is designed to last for 8,000 hours. Top Defence Coaching for NDA in India
The US plans to acquire approximately 2,500 F-35s by 2044 and operate them until 2070, following the completion of initial flight tests in 2018. As of mid-2023, nearly 950 F-35s have been produced. The aircraft is expected to replace several US multirole and strike fighters, signifying a new era in aerial warfare.
F-35 Design Overview
The F-35 design is distinguished by its strong, stealth-enhanced structure, including a wing-tail configuration and composite body. It has a heavy 13,300 kg weight compared to the lighter F-16, which weighs 8,573 kg. Top NDA Coaching in India
The F-35's design reduces drag and its powerful F135 engine enables it to reach speeds of Mach 1.6, even when fully loaded. The F-35's thrust-to-weight ratio compares favourably to the F-16's. The F-35B variant also features the Shaft-Driven Lift Fan for Short Take-off and Vertical Landing operations, plus roll control during slow flight through wing-mounted thrust nozzles.
The F-35 aircraft is a leading-edge machine with advanced manoeuvrability and stealth features. Its avionics and sensor fusion enhances situational awareness and net-centricity.
Features such as the APG-81 AESA radar and an advanced helmet display set the F-35 apart. The display allows pilots to have a comprehensive view, including off-bore-sight curing of sensors and weapons. Aside from stealth and agility, the F-35 is a powerful electronic warfare system proven in manned-unmanned teaming roles.
Weapons Platform
The F-35 has two internal weapons bays and six external weapons stations, carrying a total of 8,400 kg. These can house a variety of American stand-off weapons and air-to-air missiles.
In addition to the AIM-120 AMRAAM and the AIM-260 JATM, the F-35 carries chaffs, flares, and towed decoys. A future upgrade includes a weapon rack for two AIM-120s, increasing the internal payload to six missiles. Looking ahead, the F-35 will carry the B61 nuclear bomb, with future enhancements considering hypersonic missiles and direct energy weapons.
F-35 Future Insights
The F-35, a constantly evolving marvel, is currently at the Block 3F stage. It's set to see numerous improvements under the Continuous Capability Development and Delivery [C2D2] plan. Next is the Block 4 stage, which will add more weapons, improve avionics, and enhance ESM capabilities. Additionally, it will feature agile software, powerful adaptive cycle engines, and advanced infrared countermeasures.
GE and P&W are tasked with creating a 200kN thrust class engine and improving the baseline F135. Expected by the mid-2020s, GE predicts the A100 could serve the F-35A and C by 2027.
Understanding The F-35 Program
The F-35 program has received criticism for its high costs, software problems, and delayed deliveries. The three versions of the aircraft only share 25% of their parts, instead of the expected 70%, increasing the overall program cost. Each F-35 aircraft costs about $100 million.
In 2001, the program was estimated to cost $200 billion. By 2017, due to delays and cost overruns, this figure rose to $406.5 billion. The total cost, including operations and maintenance until 2070, is approximately $1.5 trillion. Full production began in 2023.
The F-35 is also expensive to operate. The cost per flight hour was $35,000 in 2019, higher than other aircraft. Even with plans to reduce this cost by 2025, doubts remain about the practicality of using the same design for different variants.
This strategy also presents risks. With no backup plan, delays and extra costs were unavoidable. Some argue that the F-35, with a 69% readiness rate, is less reliable than the cheaper F-16. About 12 F-35s have been lost in accidents.
Additionally, China's export control on gallium and germanium could affect the production of F-35s and other radar-equipped aircraft. Gallium, used in AESA radars, is mainly produced in China. The F-35 has also been targeted by cyber-attacks, with allegations of design theft by China.
F-35s Across The World
The F-35 is flown by the military in 17 countries worldwide including Australia, Belgium, Canada, Denmark, Finland, Germany, Israel, Italy, Japan, Netherlands, Poland, Singapore, Switzerland, the UK, and the USA.
Taiwan showed interest in the F-35, but US concerns about classified data leakage to China halted the deal. The US denied Thailand's request to buy 8 to 12 F-35s in May 2023, offering F-16 Block 70/72 Viper and F-15E Strike Eagle fighters instead.
Despite being a founding partner in the F-35 program, Turkey was banned from purchasing the F-35 due to their acquisition of the Russian S-400 air defence system. The United Arab Emirates showed initial interest in the F-35 but withdrew its request due to additional US terms.
The F-35: A Brief Overview
USMC F-35Bs first participated in the Red Flag exercise in July 2016 and made their international debut in Japan in 2017. By 2018, they launched their first combat strike in Afghanistan from the USS Essex.
In hostile areas, F-35Bs have secured temporary bases. The first USMC F-35C squadron became operational in July 2021 and was deployed on a carrier in January 2022. The USAF F-35As demonstrated their capabilities in the 2017 Red Flag exercise and made their combat debut in northern Iraq after being deployed in UAE in April 2019.
RAF F-35Bs conducted their first combat mission in June 2019, targeting Islamic State in Iraq and Syria. Since January 2022, Norway has replaced its F-16s with F-35As for quick-reaction alert missions. In 2018, Israeli F-35Is reportedly flew to Tehran and back to Tel Aviv. They have been used for strikes against Iranian missile shipments and targets in Iraq. As of March 2022, F-35Is have intercepted and shot down two Iranian drones in the Gaza Strip.