Best Study Material for NDA Exam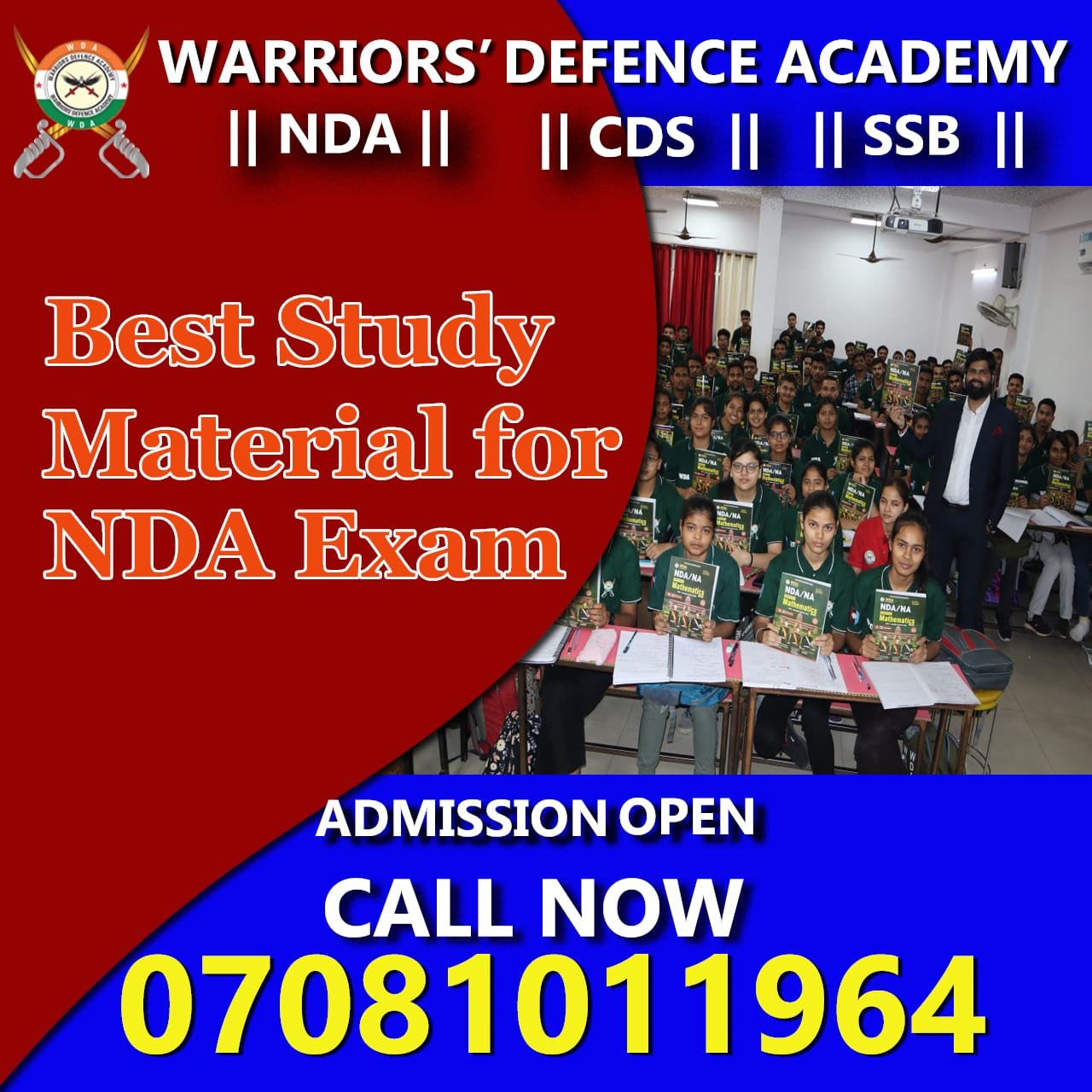 Best NDA Coaching in Lucknow. We are the Leading Coaching Institute for NDA/CDS/AFCAT/Army/Air Force/Navy Located in Lucknow. Warriors Defence Academy has the Largest GTO Ground in India. The Aspirants of Defence Services are guided by Ex. Defence Officers. WDA was also Awarded as Best NDA Academy in Lucknow.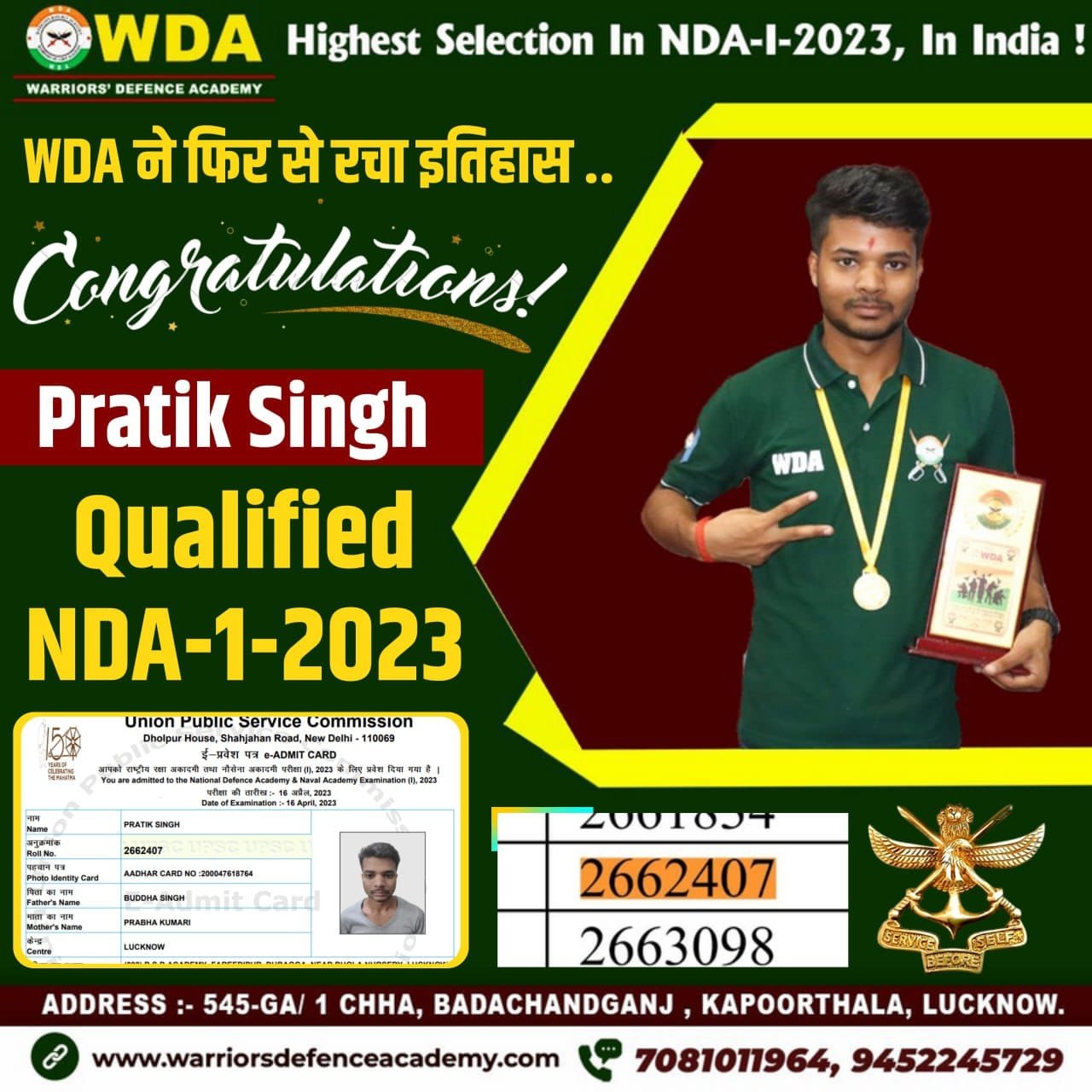 Before we go list out the details of the booklist needed for the NDA exam it is important to know the exam pattern.
The exam pattern consists of a written Test and an interview conducted by the Service Selection Board (SSB). The written test is further divided into Mathematics and General Ability Test (GAT)
The GAT consists of the following subjects:
English
General Knowledge
Physics
Chemistry
General Science
History, Freedom Movement, etc
Geography
Current Affairs
Code
Exam Name
Duration
No. of Questions
Maximum Marks
01
Mathematics
2 hours 30 minutes
120
300
02
General Ability Test
2 hours 30 minutes
50
200
100
400
SSB Interview
50
900
Total
1800
Aspirants can check the detailed topic-wise NDA syllabus and exam pattern on the link provided.
Based on the above exam pattern the list of books for the subjects is as follows:
Booklist for NDA Exam 2023
Mathematics
NCERT Mathematics Textbook of Class 11 and Class 12Mathematics for NDA and NANDA Entrance ExamStudy Package Mathematics NDA/NA Entrance ExamQuantitative Aptitude for competitive examinations
English
Objective General EnglishWren & Martin's High School English Grammar & CompositionWord Power Made Easy
Physics
NCERT 11th and 12th std Books
Chemistry
NCERT 11th and 12th std Books
General Science
Objective GK
History
Objective GKNCERT Books
Geography
Objective GKNCERT Books
Current Affairs
Pratoyogita Darpan/ Competition Success Review
With proper plans and strategies, it is not as difficult to outshine the competition in the NDA/NA exam.
Candidates can go through preparation strategies for competitive exams to do diligent preparation for the examination.
For further assistance on preparation, strategy, tips, important books, etc. look no further than Warriors Defence Academy.
Frequently asked questions about NDA Books
Q1. Which are the best books for NDA English?
Ans. Candidates can refer to Word Power Made Easy by Norman Lewis and High School Grammar and Composition by Wren and Martin for the English section of NDA.
Q2. Are NCERT books enough for NDA?
The NDA exam consists of questions that are of Class 12 standard or below. If one follows the NCERT books thoroughly and grasps all the concepts mentioned in the books, one will not need any other reference book to pass the exam.
Q3. Which is the best book for UPSC NDA General Ability Test subject?
Ans: There are lots of good books in the market, but General Knowledge 2021, History of Modern India, and Science and Technology in India are some of the best books for NDA Preparations.
Q4. How many mock tests should I attempt for NDA preparation?
Ans: To prepare for the NDA, you should take one or two mock examinations per subject each day.
Q5. What are the top NDA Current Affairs books?
Ans: In order to prepare for the NDA exam, candidates can use the Manorama Yearbook or the Pratiyogta Darpan.