Best NDA Coaching in Lucknow Branch
Best NDA Coaching in Lucknow Branch: We offer excellent preparatory training for the entrance examinations to get into the Indian armed forces.
Since our inception 7 years ago, under the captaincy of one of India's leading youngest entrepreneurs – Mr. Gulab Singh. Hundreds of our candidates have been selected and many of whom have attained top ranks in the final UPSC merit. "Best NDA Coaching in Lucknow Branch"
The institute has highly qualified and reputed team instructors each fully devoted to providing an unparalleled education for NDA/CDS/SSB/AFCAT/CAPF.
The task of teaching transcends the classrooms so as to guide the students to realize their highest potential, and to encourage them to optimize the results.
Involvement and excellence in extracurricular activities like SSB guidance, personality development, debates, team games, lecture, etc feature in the training.
Our aim at the academy is to make the students imbibe discipline and groom moral and ethical values. Come, be a part of this success story and fulfill your desire to join the reputed Indian Armed forces and serve the nation.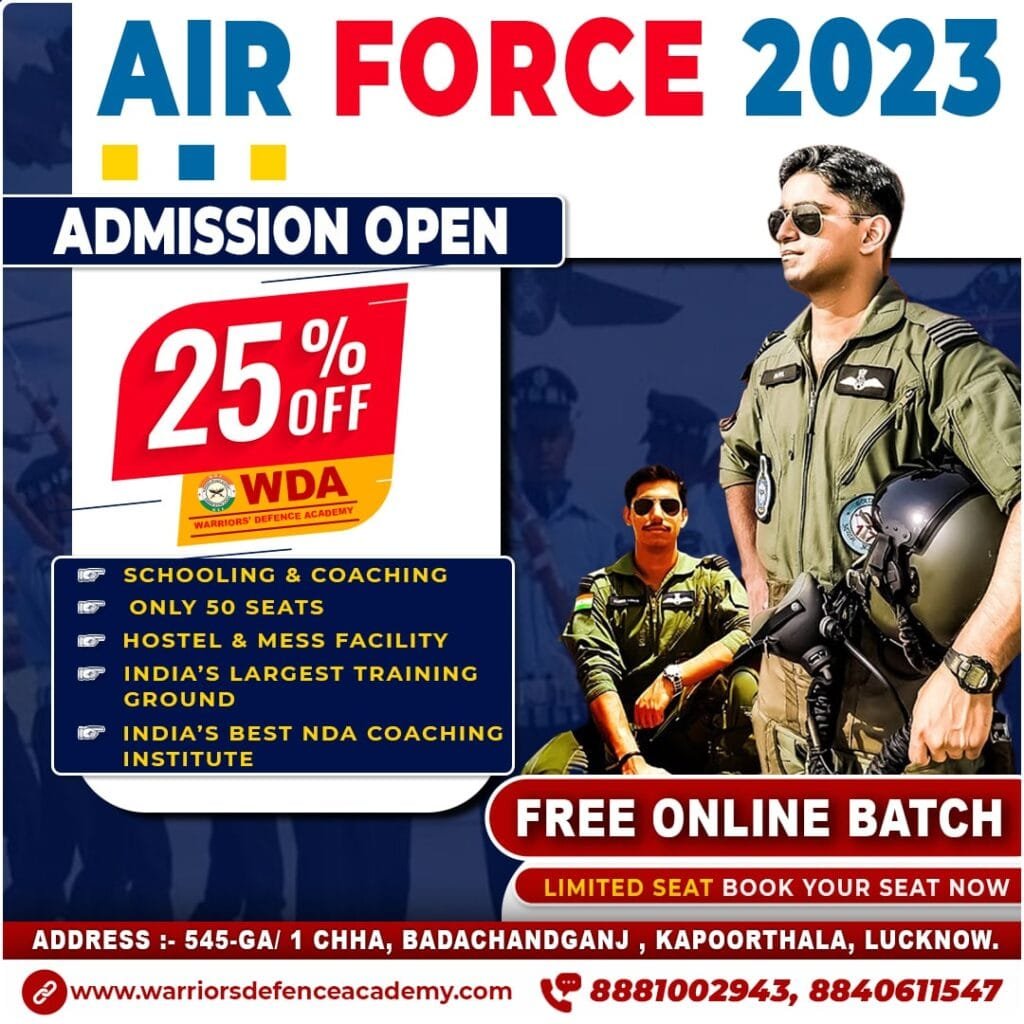 Best NDA Academy in Lucknow | Join WDA Lucknow – Warriors Defence Academy deeply appreciative and offer you our most grateful welcome. We are happy to announce that Ex. GTO Officer Colonel R. K. Tiwari Sir going to Join our Academy to Guide NDA and CDS aspirants For SSB. WDA is the Best NDA and SSB Coaching in Lucknow India. "Best NDA Coaching in Lucknow Branch"
Warriors Defence Academy is the Best NDA Coaching in Lucknow. We are the Leading Coaching Institute for NDA/CDS/AFCAT/Army/Air Force/Navy Located in Lucknow. Warriors Defence Academy has the Largest GTO Ground in India. Ex. Defence Officers guide the Aspirants of Defence Services. WDA was also Awarded as Best NDA Academy in Lucknow. "Best NDA Coaching in Lucknow Branch"
Address: 545-GA/1-CHHA, Chandganj Garden Road, beside Madhuwan Guest house, near Railway crossing, Kapoorthla, Bara Chandganj, Chandralok, Lucknow, Uttar Pradesh 226006
Website: https://warriorsdefenceacademy.com/
Website: https://www.warriorsndaacademy.com/
WHAT ABOUT THE SUDANESE ARMY'S PLANS TO BUY CHINESE FIGHTING JETS: SUDANESE MEDIA
Khartoum – Chinese media recently reported that the Sudanese army is looking to purchase Chinese J-10C fighter jets, to enhance its military capabilities in case of war with Ethiopia as the two countries are at odds over the GERD and the fertile al-Fashaga border stripe.
Sudan Tribune sought to investigate the validity of this information from Sudanese generals who rarely speak about such issues. "Best NDA Coaching in Lucknow Branch"
The Chinese website sohu.com quoted a high military official linked to aviation industries in China as saying: "the Sudanese Air Force is in contact with the Chinese aviation industry to procure a batch of J-10CE fighter jets from China."Best NDA Coaching in Lucknow Branch"
The Sudanese military choose this fighter jet to intercept possible attacks by the FTC-2000G (Guizhou JL-9 an illegal copy of the Soviet/Russian MiG-21) light fighter jets manufactured by the Guizhou factory of the aviation industry, which the Ethiopian army got last year.
According to the Chinese website, if a deal stroke with Sudan it would be the second agreement after the first contract with Pakistani Air forces which purchased 36 jets as a first batch as they are expected to buy 80 aircraft. "Best NDA Coaching in Lucknow Branch"
Inducted into service with the Chinese Air Forces in 2006, the jet is a multi-role combat aircraft that operates day and night. Chinese media compared it to the American Jet fighter of (F-16), French jet -(Mirage-2000) and Russian jet fighter of (Su-27).
Sudanese army retired General Hassan Yahia cast doubts about the reliability of the story which was reprinted in Sudanese media.
"The Sudanese army tends to use Russian weapons including fighter jets," he told Sudan Tribune.
"Sudan now is able to produce weapons locally including drones of which we manufactured several types," he further stressed.
The retired general underscored that the Sudanese army has a defensive doctrine and does not prioritise expansive or offensive operations.
"So the weapons are not initially directed against any party," he added.
Sudan Tribune failed to reach the command of Sudan Air forces to confirm or deny this report.
However, military sources close to the Sudanese army command said they checked the information with Sudan Air forces officials who denied the Chinese fighter jet deal.
The Sudanese Air Force, since the sixties of last century, is equipped with Soviet or Russian weapons including transport aircraft, (Antonov, Ilushin L-76), fighter aircraft (MiG-29) and helicopters (Mi-24 and Mi-8). But it bought also Chinese aircraft such as Chengdu J-7, Hongdu JL-8, and Nanchang Q-5.
On August 3, Sudan's foreign ministry supported China's claims to Taiwan reiterating that Khartoum supports the principle of one China, considering Taiwan as an inalienable part of it".
The unnecessary statement was released as U.S House Speaker Nancy Pelosi paid a visit to Taiwan.
The foreign ministry said that the two countries have distinguished political, economic and diplomatic relations before pointing to the mutual support in regional and international forums.