Best Coaching For NDA, CDS, and SSB in Lucknow
Best Coaching For NDA, CDS, and SSB in Lucknow: We offer excellent preparatory training for the entrance examinations to get into the Indian armed forces.
Since our inception 7 years ago, under the captaincy of one of India's leading youngest entrepreneurs – Mr. Gulab Singh. Hundreds of our candidates have been selected and many of whom have attained top ranks in final UPSC merit.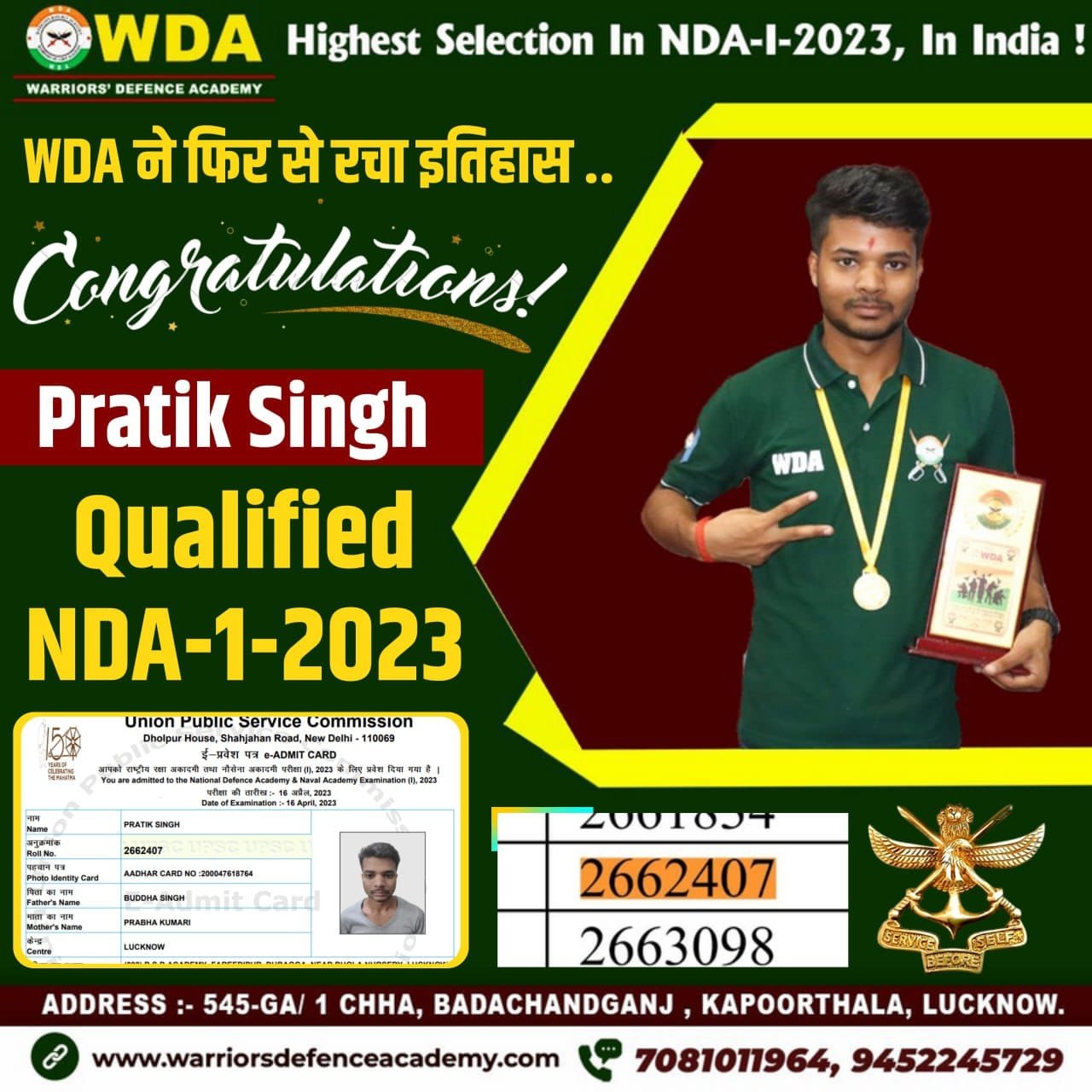 The institute has highly qualified and reputed team instructors each fully devoted to providing an unparalleled education for NDA/CDS/SSB/AFCAT/CAPF.
The task of teaching transcends the classrooms so as to guide the students to realize their highest potential, and to encourage them to optimize the results.
Involvement and excellence in extracurricular activities like SSB guidance, personality development, debates, team games, lecture, etc feature in the training.
Our aim at the academy is to make the students imbibe discipline and groom moral and ethical values. Come, be a part of this success story, and fulfill your desire for joining the reputed Indian Armed forces and serving the nation.
Best NDA Academy in Lucknow | Join WDA Lucknow – Warriors Defence Academy deeply appreciative and offer you our most grateful welcome. We are happy to announce that Ex. GTO Officer Colonel R. K. Tiwari Sir going to Join our Academy to Guide NDA and CDS aspirants For SSB. WDA is the Best NDA and SSB Coaching in Lucknow India. #Best Coaching For NDA, CDS and SSB in Lucknow
Warriors Defence Academy is the Best NDA Coaching in Lucknow. We are the Leading Coaching Institute for NDA/CDS/AFCAT/Army/Air Force/Navy Located in Lucknow. Warriors Defence Academy has the Largest GTO Ground in India. The Aspirants of Defence Services are guided by Ex. Defence Officers. WDA was also Awarded as Best NDA Academy in Lucknow.
Address: 545-GA/1-CHHA, Chandganj Garden Road, beside Madhuwan Guest house, near Railway crossing, Kapoorthla, Bara Chandganj, Chandralok, Lucknow, Uttar Pradesh 226006
Website: https://warriorsdefenceacademy.com/
Website: https://www.warriorsndaacademy.com/
Is the SSB through NCC Special Entry tough?
Imagine yourself in two situations.
Making a place among the top 50 out of 10,000 candidates (NCC Entry). The number of seats is less.
Coming in the top 500 among 10,000 candidates (NDA/CDS Entry). Though the number of applicants who sit for the exam is more, they already get filtered out after the written.
So, even if the criteria are the same in both cases, the mathematical probability of you making it through 2 is much more than your chance in 1.
The only thing which makes it look tough is the number of seats to the number of applicants. But since the criteria are the same, your chances of making it though if you have it in you are the same in both cases.
So, Good Luck! #Best Coaching For NDA, CDS and SSB in Lucknow