15 Aug 1947 Happy Independence Day
Independence Day on August 15 holds immense significance for India. It marks the day in 1947 when our country gained freedom from British colonial rule. Here's why it's so important:
Historical Milestone: August 15, 1947, is a historic milestone in India's history. It ended nearly two centuries of British rule, granting the nation the right to self-govern and determine its destiny.
Sacrifices of Freedom Fighters: Independence Day honors the sacrifices made by countless freedom fighters who struggled, protested, and sometimes even gave their lives for India's freedom. Their dedication and resilience are remembered and celebrated on this day.
National Unity: Independence Day brings people from diverse backgrounds together as one nation. It reinforces the idea of unity in diversity, highlighting that India is a land of many cultures, languages, and religions, all united under the Indian flag.
Democratic Values: It underscores the core democratic values that India upholds. The country adopted a democratic system of governance, with its Constitution guaranteeing fundamental rights and equality for all citizens.
Progress and Aspirations: Independence Day is an occasion to reflect on India's progress since 1947, celebrating its achievements in various fields, including science, technology, arts, and sports. It's also a time to look forward to a better, more prosperous future.
Renewal of Commitment: The day is a reminder of the responsibilities that come with freedom. It encourages citizens to contribute to the development of the country and to protect the democratic ideals that India stands for.
International Importance: Independence Day showcases India's emergence as a global player. The celebrations often have international significance, with leaders and representatives from around the world recognizing India's role on the global stage.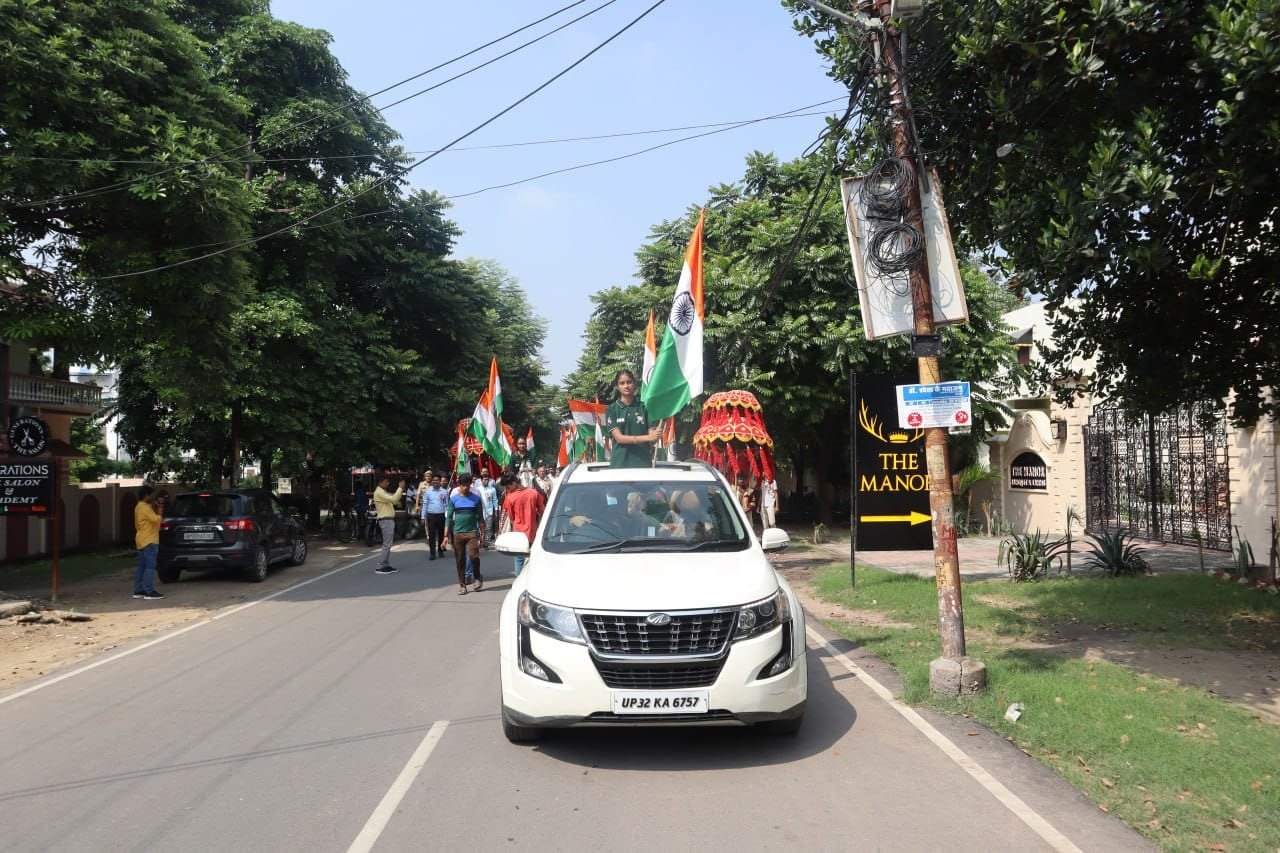 Independence Day 2023 National Holiday
On August 15, 2023, India is having a special day off. It's a big deal because it's the 77th time they're celebrating Independence Day. This day is all about remembering when India became free from British rule a long time ago in 1947. The Prime Minister will raise the national flag, and the theme for this year is "Nation First, Always First," showing how India wants to keep growing and being diverse and fair. It's a day to feel proud of the past and hopeful for the future. #15 Aug 1947 Happy Independence Day
Interesting Facts About Independence Day 2023
Historic Event: Independence Day commemorates India gaining freedom from British colonial rule on August 15, 1947.
National Flag Evolution: The Indian tricolor flag has evolved over the years, with its current design officially adopted in 1947.
Gandhi's Influence: Mahatma Gandhi's philosophy of nonviolent resistance, or "Satyagraha," played a significant role in India's struggle for freedom.
Red Fort Tradition: The Prime Minister of India hoists the national flag at the Red Fort in Delhi, followed by a patriotic speech.
Cultural Showcases: Parades, traditional dances, and cultural events celebrate India's rich diversity and unity.
Salt Satyagraha: Mahatma Gandhi's symbolic Salt March in 1930 highlighted civil disobedience and ignited the freedom movement.
Symbolic Midnight Hour: India's first Prime Minister, Jawaharlal Nehru, delivered his iconic "Tryst with Destiny" speech at midnight on Independence Day.
Iconic Songs: The national anthem "Jana Gana Mana" and the patriotic song "Vande Mataram" evoke strong feelings of nationalism.
Inspirational Icons: Heroes like Bhagat Singh, Netaji Subhas Chandra Bose, and Rani Lakshmi Bai are celebrated for their contributions to freedom.
Global Diaspora: Indians worldwide mark Independence Day, fostering a sense of unity and pride in their cultural heritage.
Story of Freedom (Azadi) 15 Aug 1947 Happy Independence Day
India's freedom story was a long fight. People wanted India to be free from British rule. They protested peacefully, like Gandhi's ways, and faced tragic events, like the Jallianwala Bagh tragedy in 1919. The Indian National Congress was formed in 1885 to work for self-governance. During World War II, big movements pushed the British to leave. Finally, on August 15, 1947, India became independent, ending almost 200 years of British rule. This struggle shows how people, through unity and determination, can win their freedom. #15 Aug 1947 Happy Independence Day
Some songs tribute to Freedom Fighters and our Heroes
Several songs in India pay tribute to freedom fighters and heroes who played significant roles in the country's struggle for independence. Some of these songs are:
"Ae Mere Watan Ke Logon" – This iconic song sung by Lata Mangeshkar beautifully commemorates the sacrifices of Indian soldiers and is often dedicated to the memory of freedom fighters.
"Rang De Basanti" – This title track from the movie "Rang De Basanti" reflects the spirit of youth inspired by the stories of freedom fighters and their willingness to bring about change.
"Vande Mataram" – The timeless and patriotic "Vande Mataram" celebrates the love for the motherland and the spirit of India's freedom struggle.
"Maa Tujhe Salaam" – Sung by A.R. Rahman, this song is a tribute to the sacrifices of freedom fighters and the unity of the nation.
"Ae Watan" – This heartfelt song from the movie "Raazi" expresses the deep love for the country and acknowledges the bravery of those who fought for its freedom.
Warriors Defence Academy Lucknow
15 Aug 1947 Happy Independence Day: Warriors Defence Academy is the Best NDA Coaching in Lucknow. We are the Leading Coaching Institute for NDA/CDS/AFCAT/Army/Air Force/Navy Located in Lucknow. Warriors Defence Academy has the Largest GTO Ground in India. The Aspirants of Defence Services are guided by Ex. Defence Officers. WDA was also Awarded as Best NDA Academy in Lko.
We have complete facilities to Prepare you for Defence Exam…
Faculty – Some of the best names in the field of Defence career coaching are available to impart psychology, GTO, and interview training.
Infrastructure – State of the Art infrastructure facility for indoor-outdoor coaching.
Fees – Competitive fee structures have been devised to allow deserving candidates from every strata of society to get an opportunity to avail of a coaching facility.
Computer-aided coaching for NDA/CDS written test
Expert coaching in Personality Development, Leadership, Team Building, and Soft Skills Specialized coaching for GTO tasks.
SSB Interview guidance for TGC, NDA, TES, CDSE, SSC
Outdoor task training
Proficiency in Group Discussions
Personal attention and grooming
545-GA/1-CHHA, Chandganj Garden Road, beside Madhuwan Guest house, near Railway crossing, Kapoorthla, Bara Chandganj, Chandralok, Lucknow, Uttar Pradesh 226006