Vikram Lander Spotted by Radar Images by Chandrayaan-2 lunar orbiter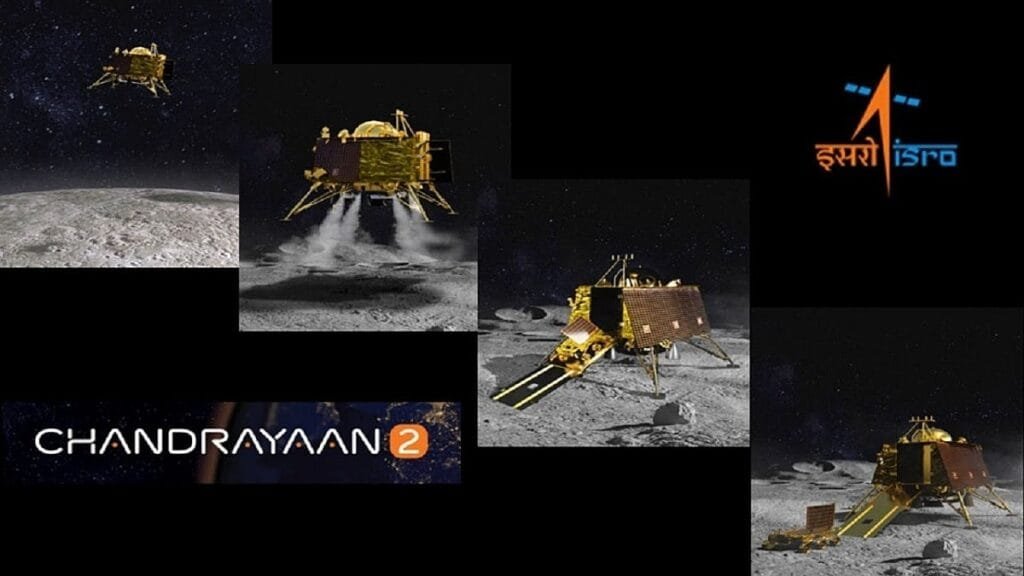 The Chandrayaan-3 VIKRAM lander from India was spotted on the lunar surface on Sept. 6, 2022, by Chandrayaan-2, which has been orbiting the moon since 2019
The mission is sleeping on the surface after a successful two-week sojourn. India's new moon lander and rover were just spotted by ISRO's another lunar probe. Small flashes of light can be seen against the grey surface of the moon
The Chandrayaan-3 mission from India, which landed on the moon on Aug. 23, shines in new pictures from a fellow spacecraft in orbit. The lander is visible in radar imagery taken by another Indian Space Research Organisation (ISRO) moon mission: Chandrayaan-2, which arrived in lunar orbit in 2019.
ISRO released the new imagery on X (formerly called Twitter) on Saturday (Sept. 9), based on data taken three days beforehand. The Chandrayaan-3 lander is not active right now, however; the near side of the moon (where the mission landed) is in darkness right now for two weeks, meaning all the solar-powered hardware is hibernating.
It may be that Chandrayaan-3's lander and its small ride-along rover emerge from their sleep when sunlight appears again, but the duo have met all their major objectives, per ISRO officials. The rover, named Pragyan, successfully deployed from its lander, Vikram, and took pictures of the area around it.
This isn't the first time that the Indian moon mission has been imaged from space. NASA's Lunar Reconnaissance Orbiter, which takes high-definition imagery from the moon in orbit, captured the historic mission earlier this month. Vikram Lander Spotted by Radar
India is only the fourth nation ever to land on the moon, following the Soviet Union, the United States, and China. But more missions may be coming shortly. NASA has funded several robotic missions in support of its Artemis program, some of which may touch down as soon as 2023.
Artemis aims to establish a permanent human presence on and around the moon by the end of the 2020s.; Artemis 3 will be the first human surface mission of the series; it's scheduled to launch in late 2025 or 2026. Vikram Lander Spotted by Radar
Numerous nations are targeting the moon's south pole, including India, to learn more about the ice preserves that are situated there. If all goes to plan, NASA plans to set up one or more bases in this area to use the lunar ice to support its astronauts and machinery. Vikram Lander Spotted by Radar
India isn't the first country to try landing on the moon recently. For example, Russia attempted to send its own lander last month to the surface, but the Luna-25 probe crashed during a touchdown-setup maneuver. Attempts have also been made in recent memory by private companies in Israel and Japan, and Japan's national space agency recently launched a moon lander called SLIM that will attempt a touchdown a few months from now. Vikram Lander Spotted by Radar
Warriors Defence Academy | Best NDA Coaching in Lucknow
Warriors Defence Academy is the Best NDA Coaching in Lko. We are the Leading Coaching Institute for NDA/CDS/AFCAT/Army/Air Force/Navy Located in Lucknow. Warriors Defence Academy has the Largest GTO Ground in India. The Aspirants of Defence Services are guided by Ex. Defence Officers. WDA was also Awarded as Best NDA Academy in Lko. Vikram Lander Spotted by Radar
We have complete facilities to Prepare you for the Defence Exam…
Faculty – Some of the best names in the field of Defence career coaching are available to impart psychology, GTO and interview training.
Infrastructure – State of the Art infrastructure facility for indoor-outdoor coaching.
Fees – Competitive fee structures have been devised to allow deserving candidates from every strata of society to get an opportunity to avail coaching facility.
Computer-aided coaching for NDA/CDS written test
Expert coaching in Personality Development, Leadership, Team Building and Soft Skills Specialized coaching for GTO tasks.
SSB Interview guidance for TGC, NDA, TES, CDSE, SSC
Outdoor task training
Proficiency in Group Discussions
Personal attention and grooming
545-GA/1-CHHA, Chandganj Garden Road, beside Madhuwan Guest house, near Railway crossing, Kapoorthla, Bara Chandganj, Chandralok, Lucknow, Uttar Pradesh 226006