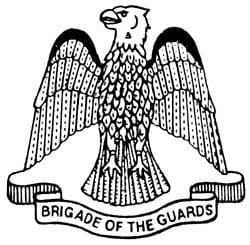 Motto: Pehla Hamesha Pehla (First Always First)
War Cry: "Garud ka hun bol pyare" (I am the son of Garuda, Say O my friend)
Regimental Centre: Kamptee, Maharashtra
Active From: 1948.
Theatre Honours: Jammu & Kashmir – 1947-48, Rajasthan – 1965, Punjab – 1965, East Pakistan – 1971 and Jammu & Kashmir – 1971.
Battle Honours: Akhaura, Burki, Gadra Road, Hilli, Naushera, Gurais, Shingo River Valley, Sylhet and Ganga Sagar.
THE BRIGADE OF THE GUARDS
Honours & Awards: 2 Param Vir Chakras, 2 Ashok Chakras, 1 Padma Bhushan, 8 Param Vishisht Seva Medals, 6 Maha Vir Chakras, 4 Kirti Chakras, 46 Vir Chakras, 18 Shaurya Chakras, 77 Sena Medals, 10 Ati Vishisht Seva Medals, 3 Yudh Seva Medals, 16 Vishisht Seva Medals, 45 Mention-in-Despatches, 151 COAS's Commendation Cards and 79 GOC-in-C's Commendation Cards.
The Brigade of The Guards is a mechanised infantry regiment of the Indian Army. It was raised as the first "all India", "all class" infantry regiment of the Army where troops from all parts of India serve together, as opposed to other regiments that recruit from specific regions, ethnic groups, or religions. The Brigade of The Guards distinguished itself by being awarded the greatest number of battle honours after Indian independence. The regiment was the brainchild of Field Marshal K. M. Cariappa, who was the first Indian commander-in-chief (C-in-C) of the Indian Army. He raised the Brigade of the Guards and coined the phrase; "The Guards, The Elite". The President of India is the Honorary Colonel-in-Chief and the Chief of Army Staff is the Colonel-in-Chief of The Guards.
The Guards Regimental Centre is at Kamptee in Maharashtra. The Brigade of The Guards was the senior most line infantry regiment of the Indian Army before its selection and conversion to the mechanised infantry role. It now holds the title of the senior-most infantry regiment in an honorary/ceremonial capacity. Together with the Mechanised Infantry Regiment, they form part of the 'Mechanised Infantry' arm, part of the Mechanised Forces (along with the Armoured Corps).