SSB TRAINING BY SSB EXPERTS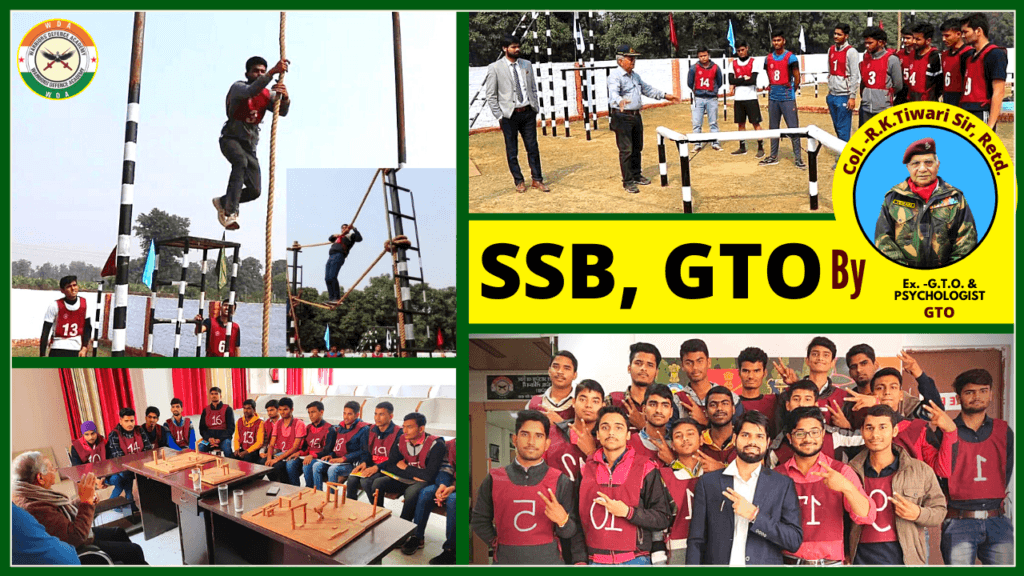 SSB TRAINING BY SSB EXPERTS: Warriors Defence Academy is a versatile defence coaching institute that believes insincere commitment towards the individual and organizational ability for human capital management and development through scientific measures and processes of creative, emotional, and interpersonal skills. The range of this institute's activities covers Personality Assessment with Competence, Team Spirit, Leadership, and Social Skills Development. The trend to establish oneself as an efficient corporate leader is a basic requirement of every defense aspirant. The institute caters to all those needs. The institute emphasizes imparting pre-selection training and believes in inculcating essential OLQs thus bringing out a complete personality ready to face challenges.
WHY WE ARE BEST FOR SSB TRAINING
SSB TRAINING BY SSB EXPERTS: Warriors Defence Academy has a 91% selection rate in the first stage of the SSB interview. The Coaching institute specializes in SSB coaching for written and interview examinations, NDA written examination and coaching, CDS written examination and coaching, AFCAT written examination and coaching, MNS written exam and coaching, Air Force 'X' and 'Y' written examination and coaching, Merchant Navy written examination and coaching and much other defence examinations. #SSB TRAINING BY SSB EXPERTS
The institute is all decked up with complete art of infrastructure, air-conditioned classes, including audio-visual support, a parade once a week, outdoor GTO tasks, DIPR inspector, personalized training including individual feedback by the completion of the task, and most important weekly health checkups by health experts are facilities available for defense aspirants.
Warriors Defence Academy is the best defence coaching institute in Lucknow. With its large staff and faculty member, the art of infrastructure competitive study material, and all other facilities, the institute has reached the heights in a comparatively short span of time. #SSB TRAINING BY SSB EXPERTS
STAGE 1:
OIR: Warriors Defence Academy has an online lab and portal known as www.onlinedefenseexam.com which has a variety of OIR sheets that helps the aspirants to relate and work on Day 1 of the SSB interview. These OIR sheets are not just any sheets. After a complete analysis, experiment, feedback, and working on various aspects, these OIR sheets are created and are available free of cost for the students enrolled here. These mock test papers are a great source of help for SSB aspirants. #SSB TRAINING BY SSB EXPERTS
PP&DT: We at Warriors Defence Academy, make students practice all exercises repeatedly to ensure their success in the SSB interview. One of the most important tests in SSB is PP&DT. The PP&DT sessions are organized in such a way, that students can practice them twice a week. It works exceptionally well when it is practiced repeatedly. By the time student finishes his course, he is well versed and ready to face any kind of such test. #SSB TRAINING BY SSB EXPERTS
STAGE 2:
PSYCHOLOGY: The four psychological tests: Thematic Appreciation Test (TAT), Word Association Test (WAT), Situation Reaction Test (SRT), and Self-Description are conducted on the 2nd day of the SSB interview. TAT helps to analyze the pessimistic bent of mind, WAT is designed to assess the aspirant's social attributes, team spirit, intellectual quotient, and dynamism in his personality, and SRT helps to analyze the presence of mind, general awareness, and resourcefulness of the aspirant. These tests assess the personality through the given responses in the psych dossier. We, at Warriors Defence Academy, guide and train the Psychological dossier examination of aspirants enhances the possibility of selection in SSB. These tests help repeaters to make them realize the flaws and errors in their previous attempts. The preparation of these tests is made very interesting so that the aspirant does not lose his true personality traits and temper. Constant practice in constraint time and in progression helps the aspirant to portray his true and actual personality traits. #SSB TRAINING BY SSB EXPERTS
INTERVIEW: PIs in SSB are the time when the aspirant can one-on-one talk with a high-rank officer. It is the chance when the aspirant interacts and express his personality. This interview does not test the information and knowledge of the aspirant. It rather examines honesty, and information about an individual and their surrounding. Warriors Defence Academy guides the aspirants towards overall personality development which is most important in PIs. We nurture the aspirants to develop Officer Behavior through day-to-day drills, like teaching sessions, OIR practice sessions, Group Dynamics, and more. Interview sessions are included in day-to-day practice to make the aspirants confident and avoid any hesitation. The institute trains them to analyze individual skills, goals, achievements, and hobbies. Along with Communication and Interpersonal skills, there are various other aspects that the aspirant gets to focus on.
GTO: Warriors Defence Academy has the exact replica of the GTO ground and activities just like the SSB 5 days interview process. The GTO ground is fully equipped with all outdoor training aids including the Progressive Group Task (PGT), Half Group Task (HGT), and the Final Group Task (FGT). We train candidates through GPE (Group Planning Exercise) models providing the same environment as in SSB.