NDA Exam Preparation 2024 with the Best NDA Coaching in Lucknow – Warriors Defence Academy
Introduction:
Are you aspiring to become a part of the prestigious National Defence Academy (NDA)? The NDA Exam Preparation 2024 will serve as a gateway for individuals aiming to embark on a glorious career in the Indian Armed Forces. To guide you on your path to success, we present to you Warriors Defence Academy, the best NDA coaching center in Lucknow.
1. A Nurturing Environment for Aspiring Warriors:
Warriors Defence Academy, renowned for its exceptional coaching programs, provides the perfect environment to shape young minds into successful warriors. Aspiring candidates can benefit from the academy's top-notch faculty, who have immense experience in successfully coaching students for NDA Exam Preparation 2024.
2. Tailored Coaching Approach:
Understanding that every student is unique, Warriors Defence Academy adopts a personalized approach to coaching. With small batch sizes, the academy ensures each student receives individual attention and personalized guidance. This approach helps them identify and work on their strengths and weaknesses efficiently.
3. Comprehensive Course Curriculum:
Warriors Defence Academy offers a well-structured and comprehensive course curriculum, covering all the vital concepts and subjects required for the NDA Exam Preparation 2024. The academy's faculty diligently focuses on all aspects, including mathematics, English, general knowledge, and current affairs, ensuring students are well-prepared in every domain.
4. Interactive Learning:
The academy believes in making learning an enjoyable experience so that students can stay motivated throughout their NDA Exam Preparation 2024. Warriors Defence Academy employs innovative teaching methodologies, interactive sessions, and frequent doubt-solving sessions to foster a better understanding of complex topics.
5. Regular Mock Tests and Assessments:
To provide students with an edge over their competition, Warriors Defence Academy organizes regular mock tests and assessments. These help students evaluate their progress, get a feel of the actual examination pattern, and improve time management skills. Detailed analysis and feedback on performance allow candidates to identify their strong and weak areas, enabling them to focus their efforts effectively.
6. Motivational and Personality Development:
Apart from academic excellence, the NDA is known for seeking candidates with strong leadership qualities and a well-rounded personality. Warriors Defence Academy pays special attention to the development of students' overall personality, enhancing their communication skills, leadership abilities, and confidence levels through motivational sessions and personality development classes.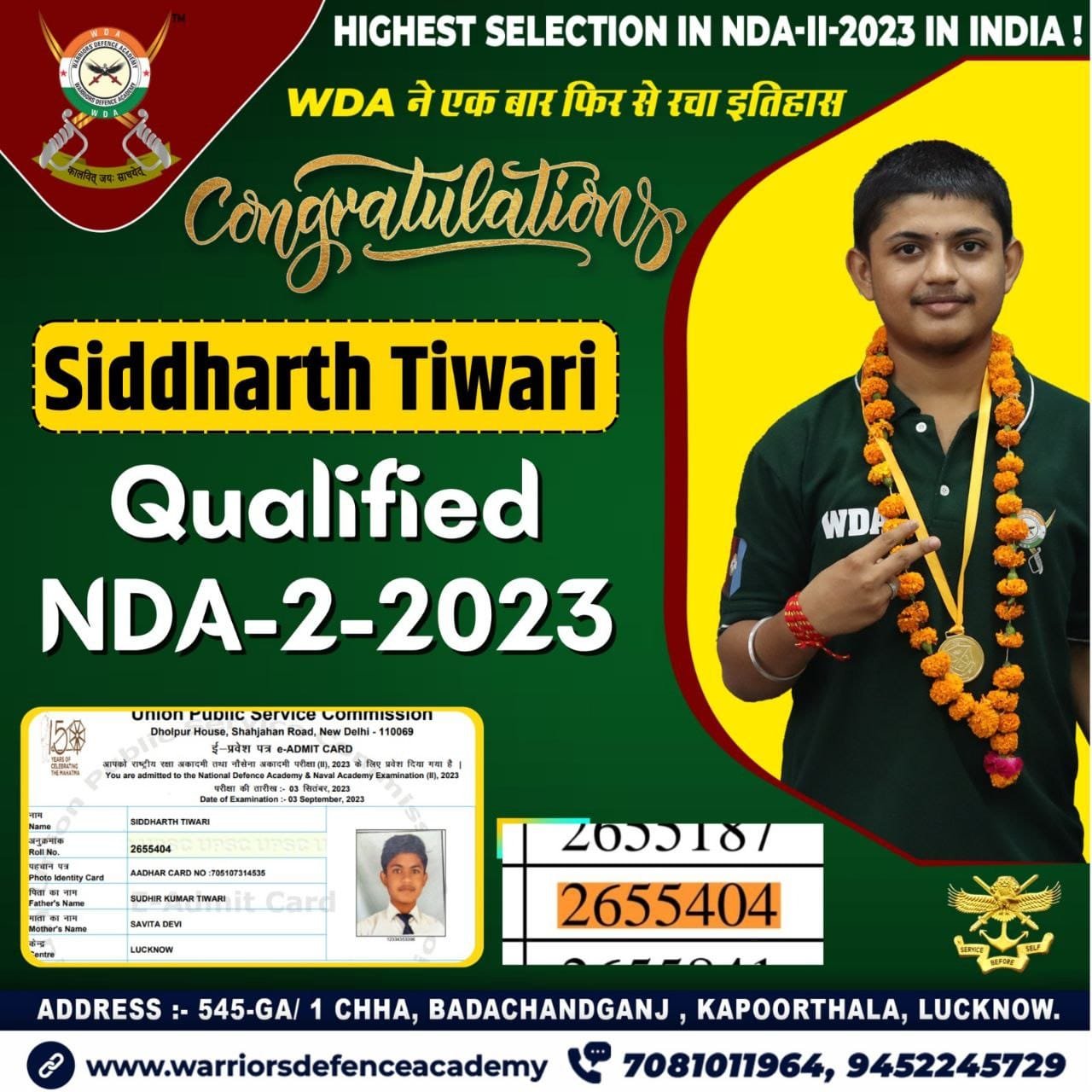 Conclusion:
As the NDA Exam 2024 approaches, it is crucial to equip yourself with the right guidance and coaching to secure your spot in the esteemed National Defence Academy. With Warriors Defence Academy in Lucknow, you can be assured of receiving the finest coaching by experienced faculty members, a personalized approach to learning, comprehensive course content, regular assessments, and personality development training. Prepare to conquer the NDA Exam 2024 and soar to new heights with Warriors Defence Academy's expert guidance. Enroll today and pave your way to success!