NDA Exam Centres 2022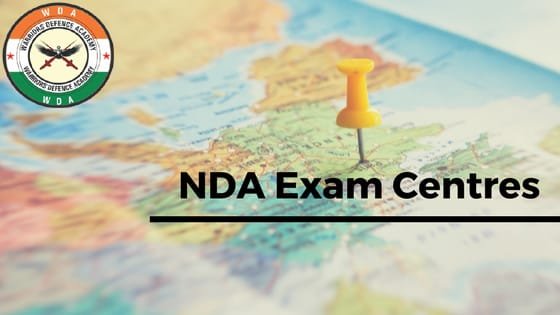 Candidates who will appear for the NDA 2022 exam, can go through the table that is given below and contains the names of NDA exam centres 2022.
List of NDA exam cities 2022
| | | |
| --- | --- | --- |
| AGARTALA | GHAZIABAD | PANAJI (GOA) |
| AGRA | GORAKHPUR | PATNA |
| AJMER | GURGAON | PORT BLAIR |
| AHMEDABAD | GWALIOR | PRAYAGRAJ (ALLAHABAD) |
| AIZAWL | HYDERABAD | PUDUCHERRY |
| ALIGARH | IMPHAL | PUNE |
| ALMORA (UTTARAKHAND) | INDORE | RAIPUR |
| ANANTPUR (ANDHRA PRADESH) | ITANAGAR | RAJKOT |
| AURANGABAD | JABALPUR | RANCHI |
| BENGALURU | JAIPUR | SAMBALPUR |
| BAREILLY | JAMMU | SHILLONG |
| BHOPAL | JODHPUR | SHIMLA |
| BILASPUR | JORHAT | SILIGUDI |
| CHANDIGARH | KOCHI | SRINAGAR |
| CHENNAI | KOHIMA | SRINAGAR (UTTARAKHAND) |
| COIMBATORE | KOLKATA | THANE |
| CUTTACK | KOZHIKODE (CALICUT) | THIRUVANANTHAPURAM |
| DEHRADUN | LEH | TIRUCHIRAPALLI |
| DELHI | LUCKNOW | TIRUPATI |
| DHARWAD | LUDHIANA | UDAIPUR |
| DISPUR | MADURAI | VARANASI |
| FARIDABAD | MUMBAI | VELLORE |
| GANGTOK | MYSORE | VIJAYAVADA |
| GAYA | NAGPUR | VISHAKHAPATNAM |
| GAUTAM BUDDH NAGAR | NAVI MUMBAI | WARANGAL |
NDA Exam Centres 2022 | Best Defence Coaching in Lucknow
Also read:
NDA Exam Centres 2022 – Important instructions
While filling the application form of NDA, aspirants must note that there is a ceiling on the number of candidates allotted to each of the NDA 2022 exam centres except for Chennai, Dispur, Kolkata and Nagpur.
The allotment of exam centres of NDA 2022 is done on a first-apply-first-allot basis and once the capacity of a particular exam centre is fulfilled, the same will be frozen.
Applicants who cannot get their desired NDA exam centres will be required to choose an exam centre from the remaining ones.
Applicants are advised to apply for the NDA 2022 exam centres early so that they get an exam centre of their choice.
Candidates should note that no request for change of exam centres of NDA will be entertained at a later stage.
UPSC reserves the right to change the NDA exam centres 2022 at their discretion if the situation demands.
Candidates admitted to the examination will be informed of the time table, NDA 2022 exam centres prior to the exam.
While filling in the application form, aspirants should carefully decide about their choice of exam centres of NDA 2022 for the examination.
If an aspirant appears at a NDA exam centre 2022 other than the one indicated by UPSC in their admit card, the NDA question papers of such aspirants will not be valued and their candidature will be cancelled.
Aspirants will have to fill three NDA 2022 exam centres in the application form.
Candidates will have to carefully read and adhere to all the instructions printed on the admit card related to the exam centres of NDA 2022.
Candidates must not misbehave or create disorder in the exam centres of NDA 2022.
They must support the exam centre officials and not harass them. Any such misconduct will be severely penalised.
Candidate's must not copy from papers of any other candidate's copy sheet nor give nor attempt to give or obtain irregular assistance of any kind inside the NDA exam centres 2022.
Also read:
NDA exam centre 2022 – Exam Day Guidelines
If possible, aspirants must visit the NDA exam centre at least once before appearing in the exam to know the routes, traffic congestion and local accommodation if the exam centre is far away.
Aspirants must reach the exam centres of NDA 2022 at least 30 minutes before the reporting time to help the exam centre invigilators and to relax before writing the paper.
Applicants must not carry any restricted item at the NDA 2022 exam centres.
Also read:
NDA Exam Centre 2022 – COVID-19 Guidelines
Due to the fear of the COVID-19 spread, there are certain guidelines that need to be followed by candidates to ensure their safety. Some of the mandatory COVID-19 guidelines are mentioned in the following points which are issued by the centre, state government as well as the health authorities.
Wear face mask, carry face shield, hand sanitizer and water in a transparent bottle inside the NDA 2022 exam centres.
Follow all the COVID-19 guidelines at the exam centres of NDA.
Get your temperature checked at the NDA exam centres 2022.
If there are COVID-19 symptoms, share them with the NDA 2022 exam centres and refrain from appearing in the exam.
Also read:
What to carry and what not to carry at the NDA exam centre 2022?
A black ball pen to write details in the OMR sheet. Any other colour pen is prohibited inside the NDA 2022 exam centres.
Use of mobile phone even in switched off mode or any electronic
device or programmable device or storage media like pen drive, smart watch etc. are banned inside the NDA 2022 exam centres.
Items not permitted inside NDA 2022 exam centres are – NDA books, notes, loose sheets, electronic or any other type of calculators, mathematical and drawing instruments, Log Tables, stencils of maps,
slide rules, Test Booklets and rough sheets pertaining to
the previous session of the NDA exam etc.
Candidates must not carry camerass or Bluetooth devices or communication devices in working or switched off.
Failing to follow these instructions, disciplinary action including a ban from future examinations might be taken against the perpetrators.
Candidates must not wear, carry any valuable/costly items to the exam centres of NDA 2022, as no special arrangement will be made for the safe-keeping of such items.
UPSC will not be responsible for any loss of candidates' stuff at the NDA exam centres 2022.
Also read:
NDA admit card 2022
UPSC will release the NDA admit card on its official website. To download the NDA admit card, aspirants will have to use their registration number/ roll number and date of birth. UPSC NDA admit card consists of details such as exam centres of NDA 2022, date, time of exam etc. Applicants who successfully submitted the NDA application form will be issued the admit card to appear in the exam. On downloading the admit card will be required to carry the admit card along with one valid ID proof on UPSC NDA exam day.