Makar Sankranti 2023
Makar Sankranti 2023: Makar Sankranti, which ushers in the lucky Uttarayan, is a significant festival that is observed throughout the nation. This festival is the perfect example of unity in diversity. While Makar Sankranti is observed in various ways throughout India's states, the theme of the harvest season unites them all.
The mythological tale connected to Makar Sankranti, on the other hand, signifies the conclusion of an unlucky phase that starts around mid-December, known as Kharvaans in Hindi. Furthermore, it marks the beginning of warmer, longer days relative to nights occurring on the auspicious day of Makar Sankranti. Let's find out what mythology has to say about this fortunate day. #Makar Sankranti 2023
It is believed that Sankranti, after whom the holiday is named, was a deity who put an evil force known as Sankarasur to death. Karidin or Kinkrant is the name of the day that comes after Makar Sankranti. Devi killed the evil Kinkarasur on this day. In Panchang, you can learn more about Makar Sankranti and catch a glimpse of it. The Hindu Almanac, or Panchang, contains information about Sankranti's age, structure, attire, movement, and development. #Makar Sankranti 2023
An episode of the Mahabharata epic mentions how people back then also regarded the day as auspicious. Even after suffering injuries during the Mahabharata War, Bhishma Pitamah persisted until Uttarayan arrived so that he could enter a heavenly abode during auspicious times. It is believed that dying on this day grants the deceased Moksha, or salvation. #Makar Sankranti 2023
Makar Sankranti 2023: Wishes, Greetings, WhatsApp & Facebook Status, Quotes & More
On this day, devotees worship the Sun God while also paying homage to Lord Vishnu and Goddess Lakshmi in honour of Makar Sankranti. The owner of the constellation Makar, God Shani, is said to pay Lord Sun a visit on this day. Sun and Shani don't get along well because Shani is one of Sun's foster children. However, Shani is in charge of looking after his father. Therefore, this day also represents the importance of obligations. #Makar Sankranti 2023
Do you know that the Hindus celebrate Makar Sankranti every twelve years with the Kumbha Mela, one of the largest mass pilgrimages in the world with an estimated attendance of 60 to 100 million people? A tradition credited to Adi Shankaracharya, people pray to the sun and take a bath at the Prayagaraj confluence of the Rivers Ganga and Yamuna.
A domestic household begins Makar Sankranti by performing ritualistic baths and prayers to the rising Sun before dawn. Additionally, it entails promising to provide food, clothing, and cash to Brahmins known as Purohitas. The generous gifts of food, clothing, jewelry, and cash are made to female relatives, such as married daughters, sisters, and daughters-in-law, as well as to those relatives families. Following the prayers, people eat yogurt, sesame seeds, jaggery, chiura, and chiura. The next meal of the day is Khichdi, which comes after this.
Is Makar Sankranti on the 14th or 15th of January? Check Date, Puja Timings, Rituals, Significance & More
Happy Makar Sankranti !!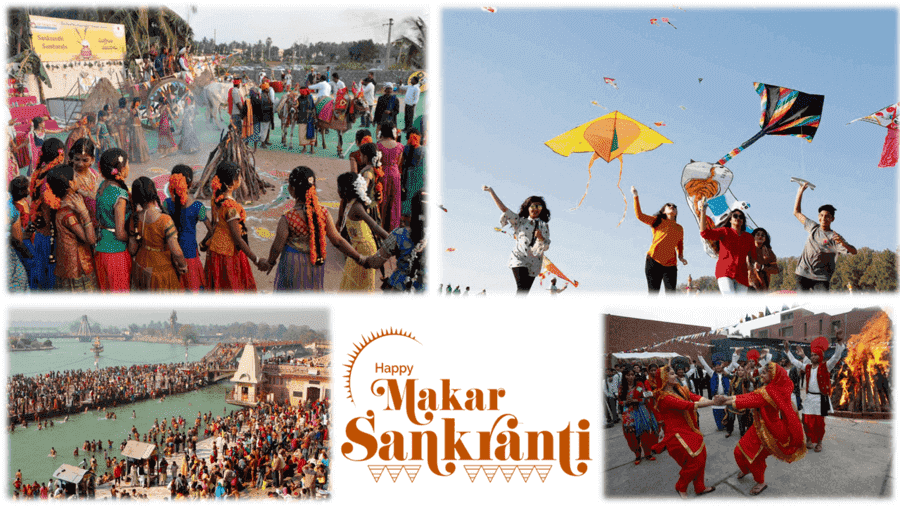 Best NDA Coaching in Lucknow
We offer excellent preparatory training for the entrance examinations to get into the Indian armed forces.
Since our inception 7 years ago, under the captaincy of one of India's leading youngest entrepreneurs – Mr. Gulab Singh. Hundreds of our candidates have been selected and many of whom have attained top ranks in final UPSC merit.
The institute has highly qualified and reputed team instructors each fully devoted to providing unparalleled education for NDA/CDS/SSB/AFCAT/CAPF.
The task of teaching transcends the classrooms so as to guide the students to realize their highest potential, and to encourage them to optimize the results.
Involvement and excellence in extracurricular activities like SSB guidance, personality development, debates, team games, lecture, etc feature in the training.
Our aim at the academy is to make the students imbibe discipline and groom moral and ethical values. Come, be a part of this success story and fulfill your desire for joining the reputed Indian Armed forces and serving the nation.
Best NDA Academy in Lucknow | Join WDA Lucknow – Warriors Defence Academy deeply appreciative and offer you our most grateful welcome. We are happy to announce that Ex. GTO Officer Colonel R. K. Tiwari Sir going to Join our Academy to Guide NDA and CDS aspirants For SSB. WDA is the Best NDA and SSB Coaching in Lucknow India.
Warriors Defence Academy is the Best NDA Coaching in Lucknow. We are the Leading Coaching Institute for NDA/CDS/AFCAT/Army/Air Force/Navy Located in Lucknow. Warriors Defence Academy has the Largest GTO Ground in India. The Aspirants of Defence Services are guided by Ex. Defence Officers. WDA was also Awarded as Best NDA Academy in Lucknow.
Address: 545-GA/1-CHHA, Chandganj Garden Road, beside Madhuwan Guest house, near Railway crossing, Kapoorthla, Bara Chandganj, Chandralok, Lucknow, Uttar Pradesh 226006
Website: https://warriorsdefenceacademy.com/
Website: https://www.warriorsndaacademy.com/
Call Now: 07081011964