International Day of the World's Indigenous Peoples 2024
SHILLONG, INDIA – APRIL 16: Tribal Khasi maidens and young men dressed in traditional costume participate in dance during the Shad Suk Mynsiem Festival on April 16, 2012, in Shillong, Meghalaya. Shad Suk Mynsiem, literally meaning, Dance of the joyful soul, is one of the most important festivals of the Khasis, the indigenous tribe of Meghalaya's Khasi Hills. It is an annual Thanksgiving dance festival when people of the Khasis tribes offer prayer to God for a bumper harvest. The maidens dressed in expensive silk costumes with heavy gold, silver, and coral ornaments dance in the inner circle of the arena. The men form an outer circle and dance to the accompaniment of traditional music. The festival lasts for three days.#International Day of the World's Indigenous Peoples 2024
Annually, on August 9th, the world observes World Tribal Day, dedicated to advocating for and safeguarding the rights of indigenous populations.
It's a day to recognize their valuable contributions and accomplishments that have enhanced global living conditions. #International Day of the World's Indigenous Peoples 2024
Also referred to as World Indigenous Day or International Day of World's Indigenous People, this occasion offers a prime opportunity to actively work towards safeguarding the fundamental rights of tribal communities worldwide.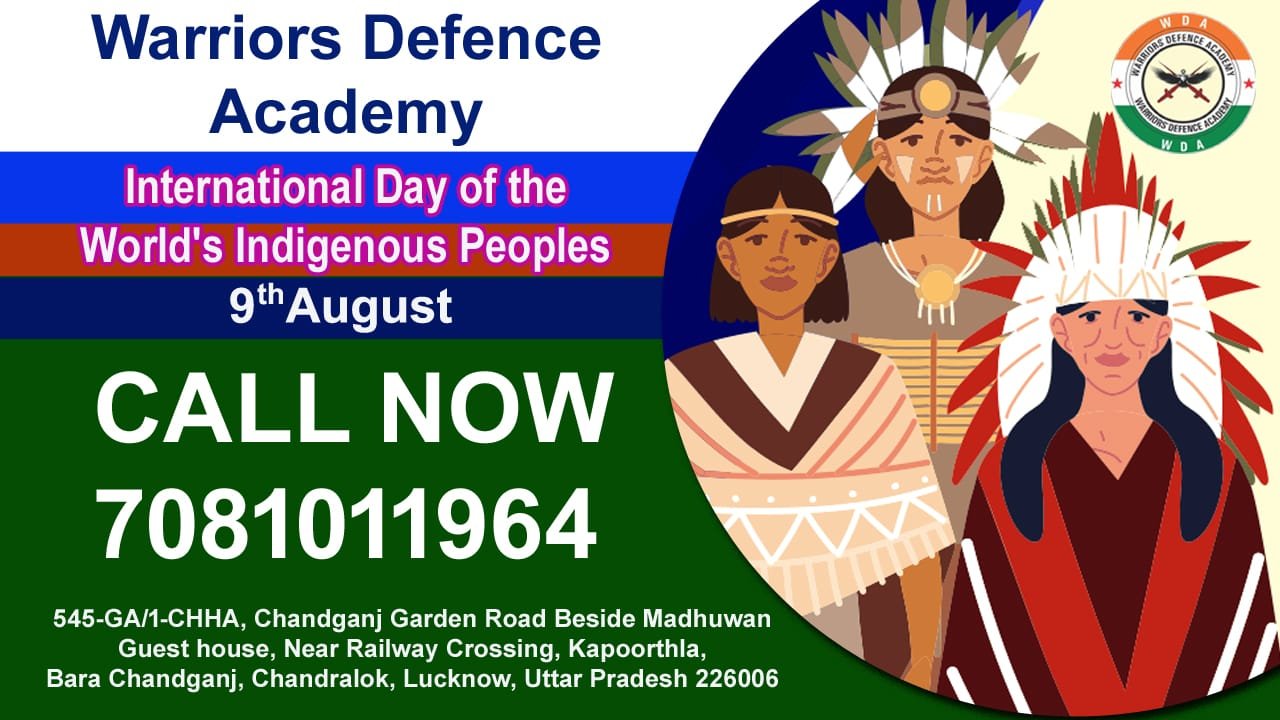 545-GA/1-CHHA, Chandganj Garden Road, beside Madhuwan Guest house, near Railway crossing, Kapoorthla, Bara Chandganj, Chandralok, Lucknow, Uttar Pradesh 226006
History
The origins of observing this day stem from a worldwide movement aimed at acknowledging the rights and valuable contributions of indigenous peoples. Despite constituting around 6% of the global population, indigenous communities are frequently marginalized, even though they possess rich cultural diversity.
The concept of designating a day to honor indigenous people's started within the United Nations. The primary goal was to safeguard the rights of these populations and ensure their voices received global recognition.
In December 1994, the UN General Assembly adopted a resolution to officially recognize and commemorate the International Day of the World's Indigenous People.
Theme
The theme chosen for World Tribal Day 2023 centers around "Indigenous Youth as Agents of Change for Self-determination." #International Day of the World's Indigenous Peoples 2024
Significance
The significance of the #International Day of the World's Indigenous People in 2024 lies in its capacity to spotlight the difficulties encountered by numerous indigenous communities.
These challenges encompass issues such as poverty, prejudice, and limited availability of education and healthcare services.
This occasion functions as a prompt to uphold and rejoice in the abundant cultural legacy, customs, languages, and insights that indigenous individuals contribute to the global tapestry. It's intended to cultivate unity among indigenous communities and to increase consciousness within the wider populace.
Grasping and valuing indigenous cultures facilitate heightened empathy and regard, thus aiding in establishing a society that is more comprehensive and caring.
'Adivasi' in India
In India, the term 'Adivasi' is used to encompass a diverse range of ethnic and tribal communities that are regarded as the original inhabitants of the country.
These tribal groups make up approximately 8.6% of India's overall population, which amounts to around 104 million individuals as per the 2011 census.
Although the most substantial tribal communities are concentrated in central India, they constitute merely about 10% of the total population in that region. #International Day of the World's Indigenous Peoples 2024
Warriors Defence Academy Lucknow Uttar Pradesh
Warriors Defence Academy is the Best NDA Coaching in Lko. We are the Leading Coaching Institute for NDA/CDS/AFCAT/Army/Air Force/Navy Located in Lucknow. Warriors Defence Academy has the Largest GTO Ground in India. The Aspirants of Defence Services are guided by Ex. Defence Officers. WDA was also Awarded as Best NDA Academy in Lko. #International Day of the World's Indigenous Peoples 2024