CDS 2024: Unveiling Exam Date, Age Limit, Application Form & Eligibility
Introduction:
Are you passionate about serving the nation and dream of joining the esteemed Indian Armed Forces? The Combined Defence Services (CDS) examination has always been a gateway to fulfilling this noble aspiration. CDS 2024 is on the horizon, and to help you navigate this challenging journey, we bring you a comprehensive guide on everything you need to know. In this article, we will discuss the CDS 2024 exam date, age limit, application form, and eligibility, and also introduce you to the best CDS coaching institute in Lucknow – the Warriors Defence Academy.
Exam Date and Age Limit:
First things first, it's essential to mark your calendar with the CDS 2024 exam date. The Union Public Service Commission (UPSC) is entrusted with conducting this highly competitive examination, which consists of a written test followed by an interview for the selected candidates. The CDS 2024 written exam is scheduled to take place on April 21, 2024, so gear up and start your preparations well in advance.
As for the age limit, candidates aspiring to join the Indian Military Academy (IMA) and Officers' Training Academy (OTA) must be between 19 and 24 years of age. For the Air Force Academy (AFA), the age limit is between 19 and 23 years, while for the Naval Academy (NA), it is between 19 and 22 years. Ensure that you meet the age criteria before applying for the examination.
Application Form and Eligibility:
To embark on this exciting journey, candidates need to fill out the CDS 2024 application form. The application form is typically available on the UPSC's official website approximately four to six weeks prior to the exam date. Aspiring candidates must carefully fill in their personal details, and educational qualifications, and pay the required fee before the stipulated deadline.
When it comes to eligibility, the examination requires a degree from a recognized university or equivalent for IMA, INA, and AFA. For OTA, a degree from a recognized university or equivalent is required for male candidates, while female candidates can possess either a degree or be in the final year of their degree program.
Introduction to the Warriors Defence Academy – The Best CDS Coaching in Lucknow:
Preparing for a prestigious examination like CDS demands expert guidance and mentorship. Lucky for aspirants in Lucknow, the Warriors Defence Academy stands tall as the leading CDS coaching institute. With its proven track record of success, experienced faculty, and holistic approach to training, they have earned the reputation of being the best in the region.
The Warriors Defence Academy offers specialized courses for CDS aspirants, aimed at enhancing their problem-solving skills, enhancing their knowledge of current affairs, and providing comprehensive coverage of the syllabus. Their dedicated faculty members, personalized attention, and rigorous training methodology have helped numerous students realize their dreams of serving the nation.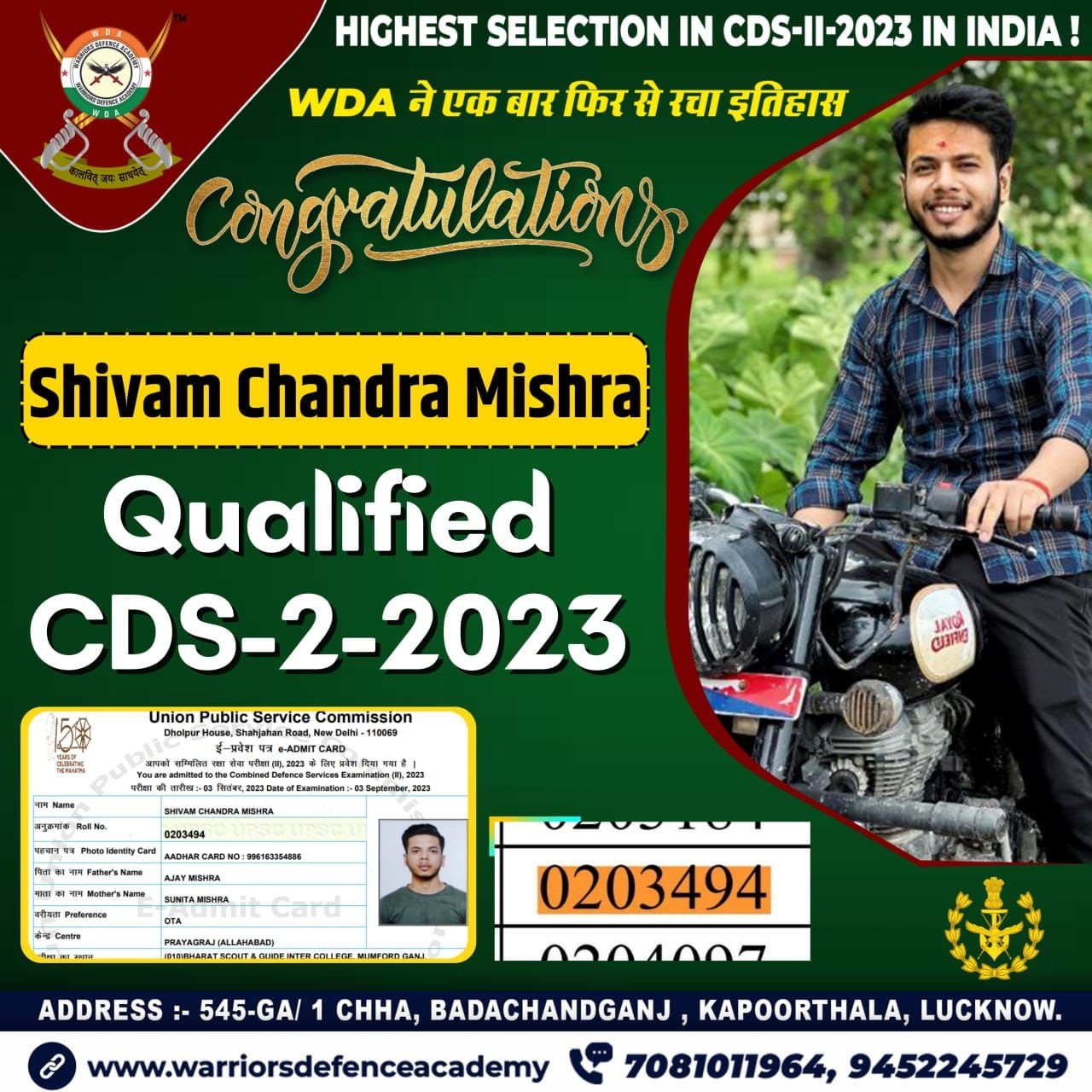 Conclusion:
As the clock ticks towards CDS 2024, stay focused, prepare diligently, and remember that the journey to joining the Indian Armed Forces is not an easy one. However, armed with the right information and guidance from the best CDS coaching institute like the Warriors Defence Academy in Lucknow, there is nothing that can stop you from achieving your goal. So, buckle up, give it your all, and let the warrior within you shine bright as you march forward toward a brighter, more fulfilling future. Good