Warriors Defence Academy
Subtitle: Breaking records and molding heroes, Warriors Defence Academy sets the bar high in NDA coaching, solidifying its position as the best in Lucknow.
Lucknow, Uttar Pradesh – September 20, 2023
In the competitive arena of NDA coaching institutes, Warriors Defence Academy has emerged as the undisputed leader, claiming the title of the best NDA coaching institute in Lucknow. Garnering accolades, producing outstanding results, and creating countless success stories, this institution has earned the trust and respect of students aspiring to join the prestigious National Defence Academy.
Combining a winning formula of knowledgeable faculty, comprehensive study material, and an innovative teaching approach, Warriors Defence Academy has carved a niche for itself in the realm of NDA coaching. With a commitment to deliver excellence and a proven track record of success, this coaching institute has become the go-to destination for students seeking to crack the NDA examination.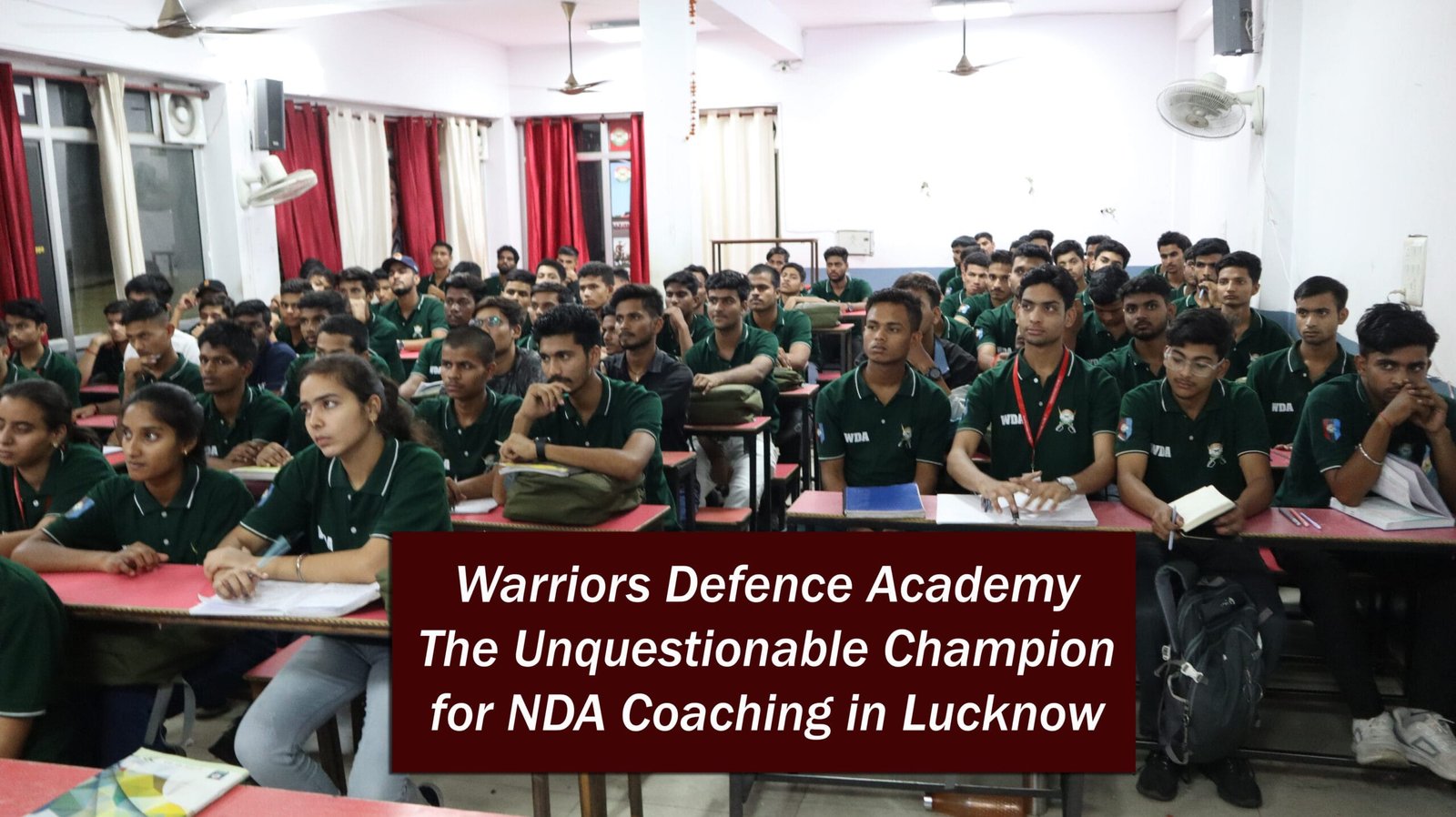 What sets Warriors Defence Academy apart from its competitors? The answer lies in their dedication to providing top-notch coaching and unmatched facilities. With a faculty comprising seasoned defence experts, retired army personnel, and subject matter specialists, students receive unparalleled guidance and support. The academy's well-researched study materials, regularly updated to keep up with the evolving examination patterns, ensure that students are well-prepared and equipped to tackle any challenge that may come their way.
Boasting an outstanding success rate, the Warriors Defence Academy has consistently produced a large number of NDA selections. This accomplishment is a testament to the institution's meticulous training methods, rigorous mock tests, and personalized attention to each student's strengths and weaknesses. It is no wonder that the academy has rightfully earned the title of the top NDA coaching institute in Lucknow.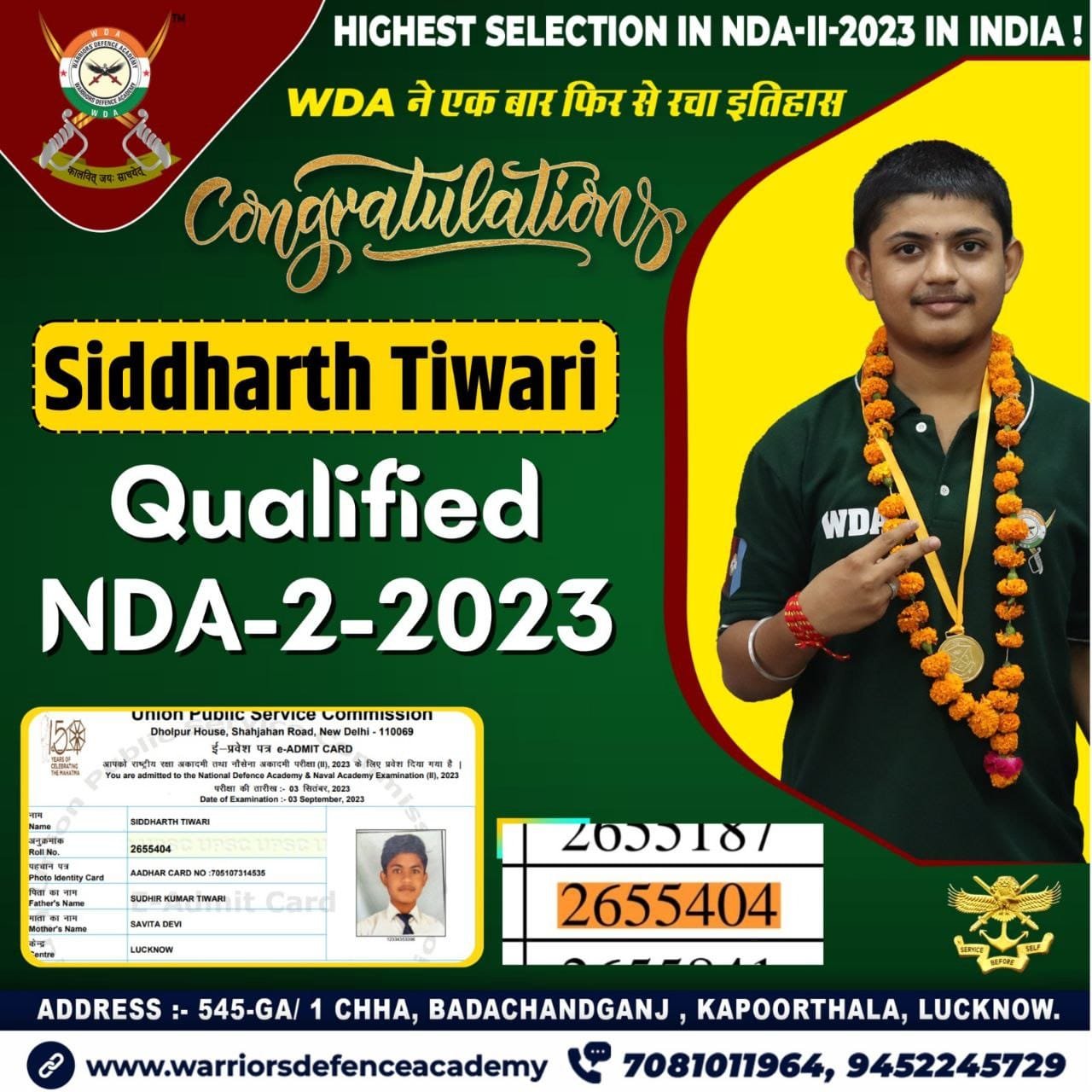 Mr. Anuj Tripathi, a former student and now an officer in the Indian Army, attests to the academy's influence on his successful journey. He says, "Warriors Defence Academy not only taught me the syllabus but also instilled in me the discipline, determination, and confidence required to excel in the NDA examination. The faculty's personalized approach and constant motivation played a crucial role in shaping my career."
Warriors Defence Academy's commitment to excellence goes beyond the classroom. The institute provides comprehensive guidance for physical fitness, personality development, and interview preparation, ensuring holistic grooming of aspiring candidates. The state-of-the-art infrastructure, including spacious classrooms and well-equipped libraries, offers a conducive learning environment that promotes overall growth.
With their unwavering focus on quality education, meticulously designed programs, and a plethora of successful candidates, Warriors Defence Academy has rightfully earned the position as the number one NDA coaching institute in Lucknow. Moreover, their dedication to producing not just successful candidates but also responsible and disciplined individuals has won the hearts of both students and parents alike.
As the new NDA examination season approaches, aspiring candidates can rest assured that Warriors Defence Academy will continue to provide exceptional coaching, guiding them towards a bright and rewarding future in the Indian Armed Forces.
For more information or to enroll in their programs, visit the official website of Warriors Defence Academy at www.warriorsdefenceacademy.com, or feel free to call their helpline at +91- 70810-11964
Press Contact:
Name: Warriors Defence Academy
Email: [email protected]
Phone: +91- 70810-11964