List for NDA Exam Centers | Best NDA Coaching in Lucknow | WDA Lucknow
List for NDA Exam Centers | Best NDA Coaching in Lucknow | WDA Lucknow is the Best NDA Coaching in Lucknow. We are the Leading Coaching Institute for NDA/CDS/AFCAT/Army/Air Force/Navy Located in Lucknow. Warriors Defence Academy has the Largest GTO Ground in India. The Aspirants of Defence Services are guided by Ex. Defence Officers. WDA was also Awarded as Best NDA Academy in Lucknow.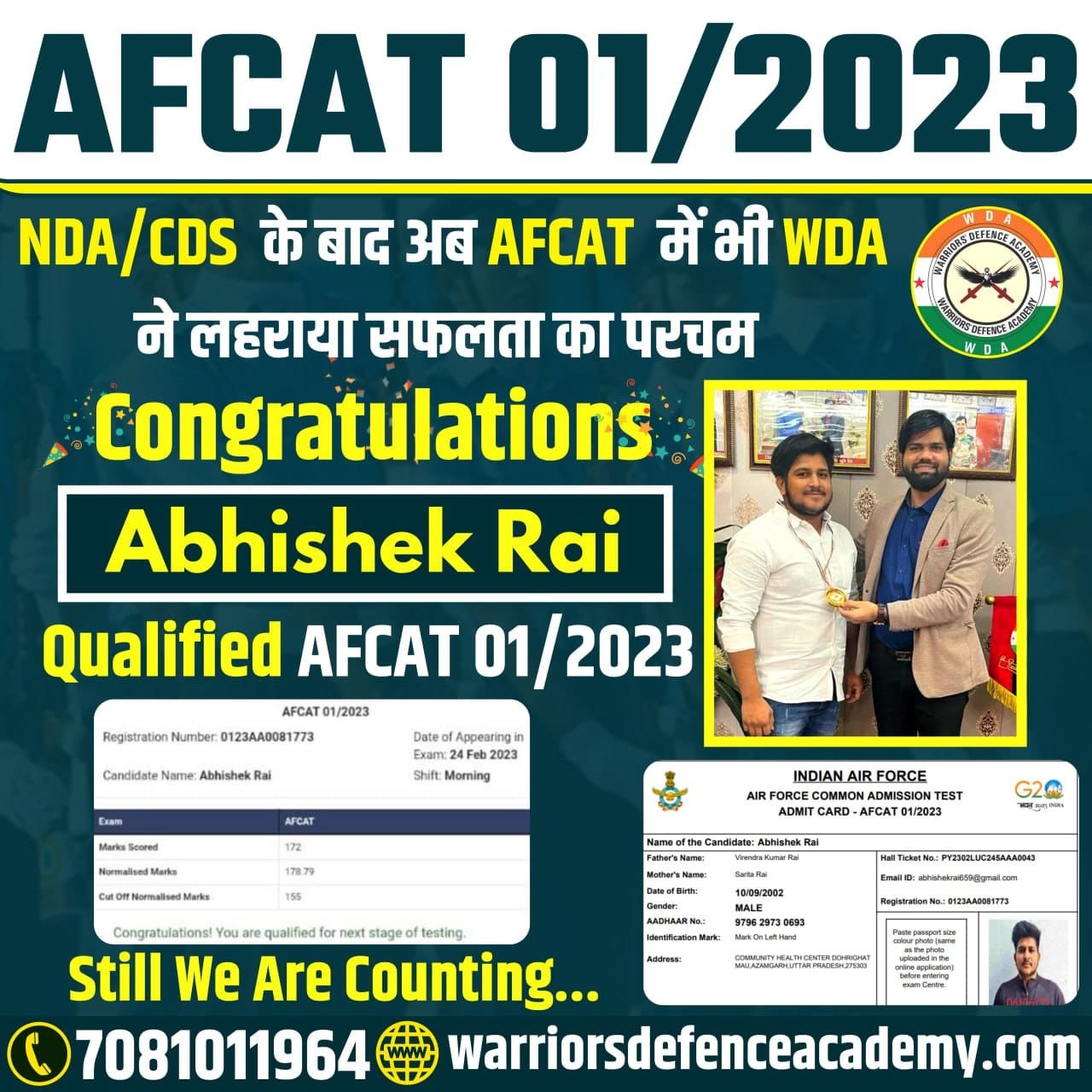 Warriors Defence Academy | Best NDA Coaching in Lucknow | Best Airforce Coaching in Lucknow | Best Defence Coaching in Lucknow India.
Address: 545-GA/1-CHHA, beside Madhuwan Guest house Chandganj Near Railway Crossing, Kapoorthla, Lucknow, Uttar Pradesh 226006
List for NDA Exam Centers – Latest List
The number of candidates that can choose a specific examination centre is limited.
NDA exam centres will be allotted to candidates on a first-come-first-serve basis.
Once a centre has reached its capacity, candidates will not be able to select that particular centre and should opt for other centres nearby.
Seat limits have not been imposed on the following exam centres – Chennai, Dispur, Kolkata, and Nagpur.
UPSC will not accept the request to make changes in exam centres.
NDA Latest Exam Centres
Agartala
Bilaspur
Agra
Chandigarh
Ahmedabad
Chennai
Aizwal
Coimbatore
Aligarh
Cuttack
Almora
Delhi
Ananthapur
Dharwad
Aurangabad
Dispur
Bareilly
Faridabad
Bengaluru
Gangtok
Jorhat
Garwhal (Srinagar)
Bhopal
Gautam Budh Nagar
Ghaziabad
Gurgaon
Gorakhpur
Gwalior
Hyderabad
Imphal
Indore
Itanagar
Jabalpur
Jaipur
Jammu
Jodhpur
Kochi
Kohima
Kolkata
Kozhikode
Leh
Lucknow
Ludhiana
Madhurai
Mysuru
Mumbai
Nagpur
Sambalpur
Navi Mumbai
Shillong
Panaji (Goa)
Shimla
Patna
Siliguri
Port Blair
Srinagar
Prayagraj (Allahabad)
Thane
Puducherry
Thiruvananthapuram
Pune
Tiruchirapalli
Raipur
Tirupati
Rajkot
Udaipur
Ranchi
Varanasi
Vellore
Vijayawada
Vishakhapatnam
Warangal
List for NDA Exam Centers
---
Choose NDA Exam Center
How to Choose NDA Exam Centres 2021?
NDA 2 Application Form 2021 can be filled out at upsc.gov.in. NDA 2021 Registration will be done in two parts.
In registration Part I, candidates have to fill in their personal, qualifications, communication & other required details.
After completing Part I, candidates will receive the registration number. In Part II of the registration, candidates have the option to select the exam centres.
Select NDA exam centres from the given list of cities.
Give up to three preferences, keeping in mind the nearest cities.
Allotment of the examination centres will be done on a first-apply-first-allotment basis.
After selecting the exam centres, make a payment, and upload their recent photograph and signature.
Instructions
NDA Exam Centre Instructions
Candidates will be allotted NDA 2021 Exam Centres on a first-apply-first-allot basis and once the capacity of a particular Centre is attained, the same will be frozen.
Applicants, who cannot get an exam centre of their choice due to the ceiling, will be required to choose an exam centre from the remaining ones.
Applicants should note that there will be a ceiling on the number of candidates allotted to each of the NDA Exam Centres 2021 except Chennai, Dispur, Kolkata and Nagpur.
Candidates can select three exam centres of their choice while applying for NDA & NA 2021.
Applicants will have to enter the preferences of exam centres in the NDA Application Form 2021.
Aspirants will have to appear for the written exam at the NDA Exam Centres 2021 allotted by UPSC. The name of the exam centres will be mentioned in the Admit Card.
Candidates should reach the exam centre at least 1 hour before the reporting time along with NDA Admit Card and identity proof.
No request for a change in the NDA Exam Centres 2021 will be entertained once it is allotted.
Exam Guidelines #List for NDA Exam Centers
NDA Exam Centre 2021: Exam Day Guidelines
The aspirants should reach the NDA exam centre one hour before the exam.
Do not forget to carry the printout of your e-admit card of NDA 2021, otherwise, you will not be allowed to appear for the exam.
Additionally, the candidates should also carry a valid photo id of you. For instance, you can carry any of the driving license/voter id/PAN card/Aadhaar card/Passport/ Aadhaar enrollment receipt/ ration card 2021.
Do not carry any metallic equipment or electronic gadgets or phone, calculator, camera, tape recorder, pager, or microphone to the examination hall.
NDA FAQs
NDA Exam Centres: FAQs
Ques. How many NDA exam centres are in India?
Ques. How can I change my NDA exam centre?
Ques. How many attempts are there in NDA Exam?
Ques. How many cities can be selected for NDA Exam?
Ques. In how many shifts are NDA 2021 Exam conducted?
Ques. What do I need to carry to the NDA exam centre?
Ques. When should I reach the NDA exam centre?
Ques. Are the travel allowances provided for SSB Interviews?
Ques. Is a calculator allowed in the NDA exam hall?