DEFENCE SPENDING UP 76% IN 10 YEARS | Warriors Defence Academy Lucknow
Warriors Defence Academy | Best NDA Coaching in Lucknow | Best Airforce Coaching in Lucknow | Best Defence Coaching in Lucknow India.
Address: 545-GA/1-CHHA, beside Madhuwan Guest house Chandganj Near Railway crossing, Kapoorthla, Lucknow, Uttar Pradesh 226006
Phone: 07081011964
https://warriorsdefenceacademy.com/
#bestnavycoachinginindia #bestnavycoachinginlucknow #topnavycoachinginindia #topnavycoaching #bestnavycoaching #indiannavy #indiandefence #warriorsdefenceacademy #warriorsndaacademy #bestarmycoachinginlucknow #topdefencecoachinginindia #bestdefencecoaching #indianarmy #aircraft #indianairforce #indianaircraft
DEFENCE SPENDING UP 76% IN 10 YEARS

The government on Friday said in the Lok Sabha that India was the third-largest spender in the defence sector after the US and China and there was no shortage in the defence budget which had increased.
Citing the report of the Stockholm International Peace Research Institute (SIPRI), Minister of State (MoS) for Defence Ajay Bhatt said India's spending between 2011 to 2020 rose 76 per cent against the global average of 9 per cent.
In reply to questions on low defence spending as a percentage of the GDP, posed by DMK's TR Baalu, Bhatt said, "The defence budget, which was Rs 2,53,346 crore in 2013-14, has more than doubled to Rs 5,25,166 crore in 2022-23. More importantly, spending under the capital outlay which includes modernisation and infrastructure development of the defence services has grown by 76 per cent to Rs 1,52,370 crore in 2022-23 from Rs 86,741 crore in 2013-14. It is the highest among all ministries."
Bhatt said defence spending trends were encouraging and assured the House there was no shortage in the budget. Intervening, Defence Minister Rajnath Singh said the Kargil Review Committee, which studied defence expenditure in detail, had not recommended any fixation of the defence budget as a percentage of the GDP.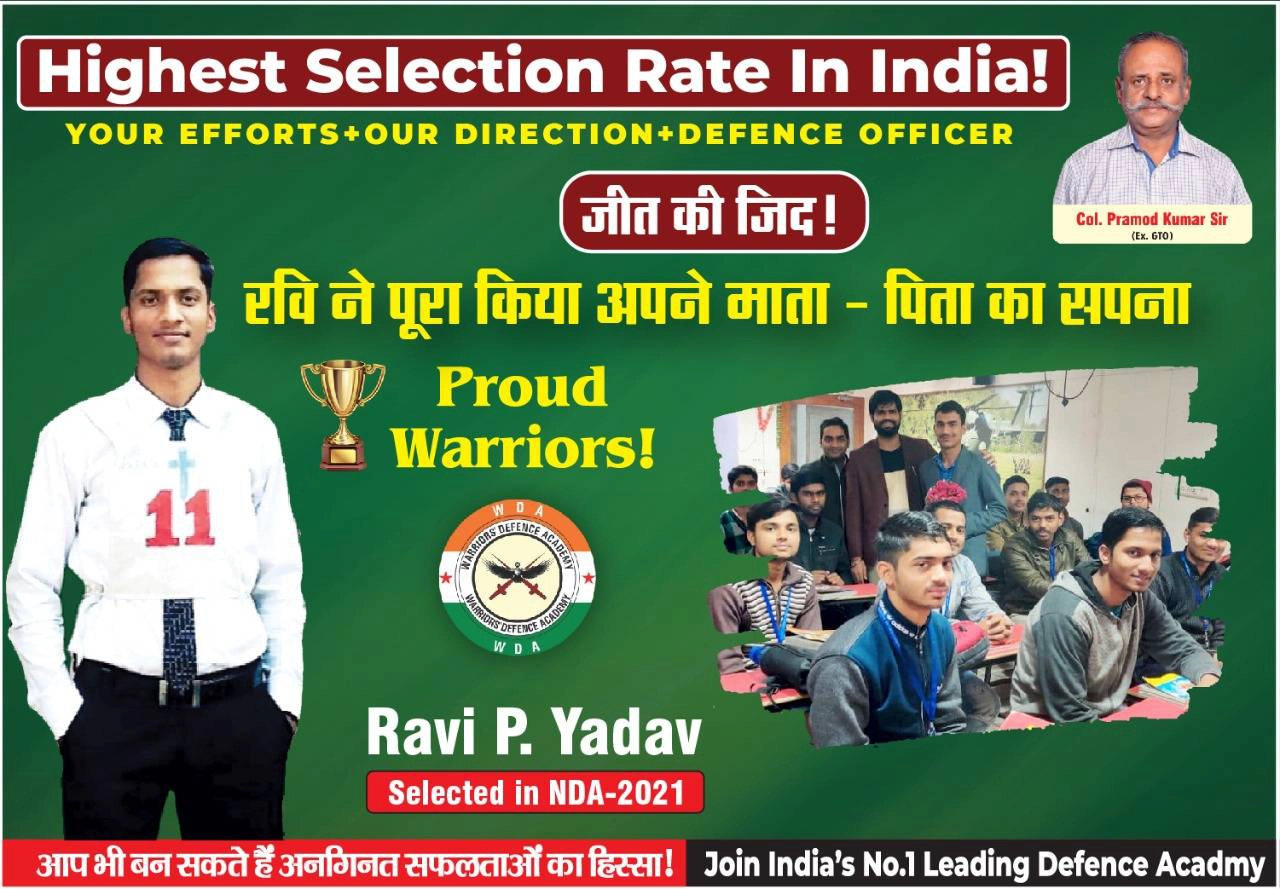 Warriors Defence Academy is the Best NDA Coaching in Lko. We are the Leading Coaching Institute for NDA/CDS/AFCAT/Army/Air Force/Navy Located in Lucknow. Warriors Defence Academy has the Largest GTO Ground in India. The Aspirants of Defence Services are guided by Ex. Defence Officers. WDA also Awarded as Best NDA Academy in Lko. #DEFENCE SPENDING UP 76% IN 10 YEARS
We have complete facilities to Prepare you for Defence Exam…
Faculty – Some of the best names in the field of Defence career coaching are available to impart psychology, GTO and interview training.
Infrastructure – State of the Art infrastructure facility for indoor-outdoor coaching.
Fees – Competitive fee structures have been devised to allow deserving candidates from every strata of society to get an opportunity to avail of coaching facility.
Computer-aided coaching for NDA/CDS written test
Expert coaching in Personality Development, Leadership, Team Building and Soft Skills Specialized coaching for GTO tasks.
SSB Interview guidance for TGC, NDA, TES, CDSE, SSC
Outdoor task training
Proficiency in Group Discussions
Personal attention and grooming
545-GA/1-CHHA, Chandganj Garden Road, beside Madhuwan Guest house, near Railway crossing, Kapoorthla, Bara Chandganj, Chandralok, Lucknow, Uttar Pradesh 226006