Best Coaching for Warriors Defence Academy in Lucknow
Best Coaching for Warriors Defence Academy in Lucknow: We offer excellent preparatory training for the entrance examinations to get into the Indian armed forces.
Call Now: 07081011964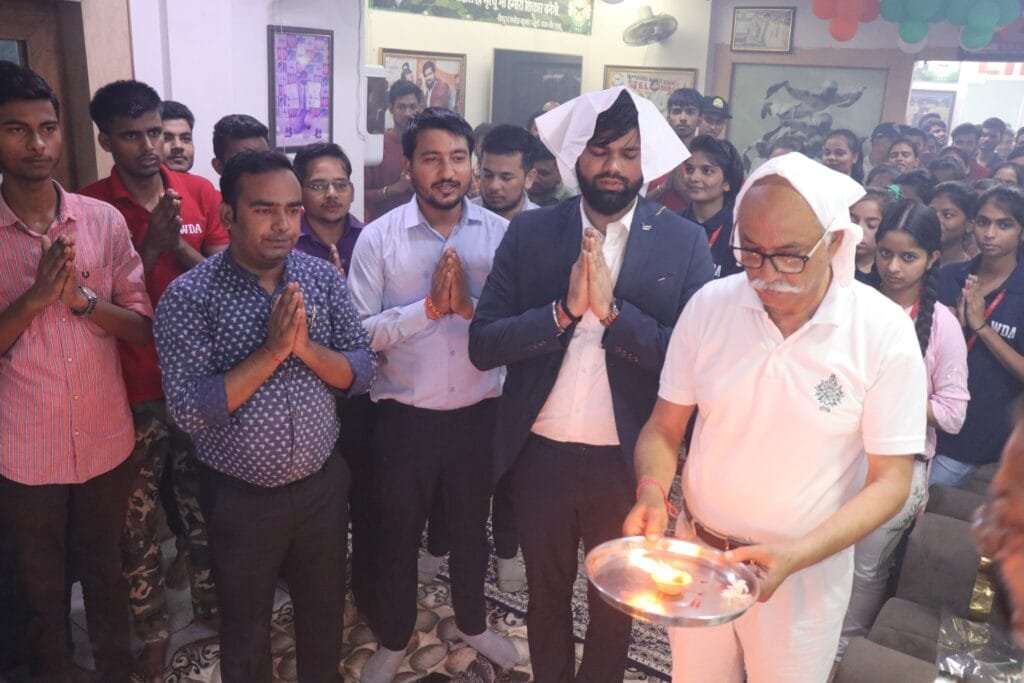 Since our inception 7 years ago, under the captaincy of one of India's leading youngest entrepreneurs – Mr. Gulab Singh. Hundreds of our candidates have been selected and many of whom have attained top ranks in the final UPSC merit. "Best Coaching for Warriors Defence Academy in Lucknow"
The institute has highly qualified and reputed team instructors each fully devoted to providing unparalleled education for NDA/CDS/SSB/AFCAT/CAPF.
The task of teaching transcends the classrooms so as to guide the students to realize their highest potential, and to encourage them to optimize the results.
Involvement and excellence in extracurricular activities like SSB guidance, personality development, debates, team games, lecture, etc feature in the training.
Our aim at the academy is to make the students imbibe discipline and groom moral and ethical values. Come, be a part of this success story and fulfill your desire for joining the reputed Indian Armed forces and serving the nation.
Best Coaching for Warriors Defence Academy in Lucknow: Best NDA Academy in Lucknow | Join WDA Lucknow – Warriors Defence Academy deeply appreciative and offer you our most grateful welcome. We are happy to announce that Ex. GTO Officer Colonel R. K. Tiwari Sir going to Join our Academy to Guide NDA and CDS aspirants For SSB. WDA is the Best NDA and SSB Coaching in Lucknow India.
Best Coaching for Warriors Defence Academy in Lucknow: Warriors Defence Academy is the Best NDA Coaching in Lucknow. We are the Leading Coaching Institute for NDA/CDS/AFCAT/Army/Air Force/Navy Located in Lucknow. Warriors Defence Academy has the Largest GTO Ground in India. The Aspirants of Defence Services are guided by Ex. Defence Officers. WDA was also Awarded as Best NDA Academy in Lucknow.
Address: 545-GA/1-CHHA, Chandganj Garden Road, beside Madhuwan Guest house, near Railway crossing, Kapoorthla, Bara Chandganj, Chandralok, Lucknow, Uttar Pradesh 226006
Website: https://warriorsdefenceacademy.com/
Website: https://www.warriorsndaacademy.com/
HOW THE WAR IN UKRAINE HAS FORCED INDIA TO STEP UP ITS DEFENCE INDIGENISATION PROGRAM
The IAF's light combat aircraft, the TEJAS, at  an Air Show
Faced with a shortage of spares from Russia and Ukraine, defence minister Rajnath Singh has okayed domestic procurement of 780 critical military components and sub-systems
As a solution to the Indian military's requirement for spares amidst the protracted Russia-Ukraine war, the Narendra Modi government is turning towards the domestic industry to meet the supply gaps.
Defence minister Rajnath Singh has given the go-ahead for domestic procurement of 780 critical components and sub-systems used in fighter jets, helicopters, transport planes, armoured tanks and submarines. This means all this military hardware will come under a phased import ban between December 2023 and December 2028.
The new Positive Indigenisation List includes critical spares and sub-systems for India's frontline fighter jet Sukhoi-30, Jaguar, TEJAS and Dornier-228 planes. Some spares for the Indian Navy's operational Kilo-class submarines as well as equipment for the Indian Army's T-90 and Arjun tanks are also part of the list. With this list, the government aims to further reduce imports by DPSUs (defence public sector undertakings).
India is the world's second biggest importer of arms, accounting for 9.2 per cent of the total global arms imports. Next comes Saudi Arabia. There has, however, been a push by the Modi government for self-reliance in defence. About 80 per cent of the country's domestic defence industry is owned by the government.
The ministry of defence (MoD) has set a target of Rs 1.75 lakh crore worth of indigenous defence production by 2025, including exports to the tune of Rs 35,000 crore. DPSUs will have to play a major role in achieving this goal.
The MoD says the new Positive Indigenisation List is in continuation of two such lists for sub-systems, assemblies and components issued in December 2021 and March 2022. The first two lists together contain 2,500 items that are already indigenized and 458 which will be indigenized within the given timelines. Indigenous development of these sub-systems and components will give a boost to the DPSUs and reduce dependence on imports. "Best Coaching for Warriors Defence Academy in Lucknow"
The war in Ukraine has adversely impacted several upcoming projects of the Indian military. India uses more than 70 Russian military platforms. More than 80 percent of the products made by India's ordnance factories are Russian-based and the units continue to depend on Russia for critical spares. A majority of fighter jets of the Indian Air Force (IAF) are Russian, including the 272 Su-30MKIs and over 100 MiG-21 'Bison'. The IAF also operates the Russian-made Mi-17 and Mi-8 helicopters. "Best Coaching for Warriors Defence Academy in Lucknow"
Best Coaching for Warriors Defence Academy in Lucknow: Military observers say the Russia-Ukraine conflict has cast a shadow on critical defence equipment supplies from both nations. Besides new purchases, existing platforms of the Indian military—fighter planes, air defence missiles, artillery guns, tanks—are heavily dependent on Russia and Ukraine for critical spares. The impact is showing on key projects, such as the upgrade of IAF's Antonov AN-32 fleet, supply of critical R-27 air-to-air missiles for Sukhoi Su-30MKI and MiG-29, upgrades of existing artillery and air defence systems, and sourcing of engines for four guided-missile frigates of the navy.